10 Tag Teams That Could Very Well Work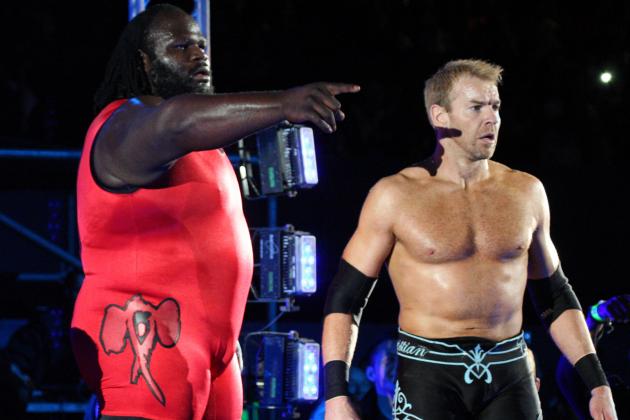 Gallo Images/Getty Images

The Tag Team Division has a very rich history.
And great Tag Teams throughout the years.
1970 : The Blackjacks
1980 : The Mega Powers
1990 : The New Age Outlaws
2000 : Edge And Christian
2010 : __________
That's right, there are no top tag teams in this generation.
They're all spur of the moment and barely have any thought put together because they have nothing else going on.
The following eight tag teams, if they are booked right, could revitalize the tag team division.
Begin Slideshow

»
I know it seems odd, but really, they're close.
They are both arrogant heels.
They both cut damn good promos.
They are both well above-average in the ring.
A 2012 version of the Hollywood blondes could work.
Christian oozes charisma, but does not have the build to look threatening in the ring. He's a future Hall Of Famer and the last true Tag Team man in WWE.
Henry is just brute force and menacing personality, but his promos never seemed like he was being all he could be.
The two together would look great, and could also function well as a tag team.
This would be one of the most charismatic tag teams in history.
The array of moves and comedy would flow well together.
If they turn Zack Ryder into a serious face (God, I hope they do) then this tag team would never have a chance.
But if they keep him as a joke, these two would rule the division.
Are you DZB? Down with Zack and Brodus ?
Slater is certainly not the best on the mic, but he's also not bad in the ring.
Christian is awesome in every aspect.
They have a similar look, and during their time together on NXT, I felt a connection between the two.
Little charisma, Lotta skill.
While these two can cut a semi decent promo, that's not good enough to be champions.
If Swagger were to keep Vickie Guerrero as a manager, him and Drew could run rampant with skill.
A Latin version of the nation of domination.
Now I'm trying to keep this list closer to teams as opposed to stables, but if we were to make a stable, you'd need to add Hunico, Camacho, and even a possibility of Rosa and Vickie.
But the three of them would certainly be interesting to say the least.
Come on, they'd look great together.
Two African superstars, one with high flying ability and one with the menacing appearance of an Oxen.
I could very well see them clicking as a cohesive unit.
MiZiggler would be great.
The grounded style of Miz meeting the more quick paced style of Ziggler.
With their abilities to give a Five Star promo, a Tag Team title would be befitting of them.
And they are one of the few tag teams on this list that wouldn't need a manager.
"Because Were MiZiggler, and we're Awesomely Perfect!"
Imagine a modern day Al Snow and Head.
This would be a better version of Eric Young and his Manican.
Little Jimmy and R Truth winning the titles from Epico and Primo.
R-Truth comes out next week and tells Triple H that Little Jimmy lost his belt.
A comical tag team indeed.
They are the best Mid-High Card Heels on their respective brand.
They have such a similar style, and they flow oh so smoothly in the ring.
The charisma oozes out of these men on a day-to-day basis.
If they're not going to get a World Title push anytime soon, a Tag Team Championship reign would severely improve the division, and their careers.
The tag team division is in dire strengths
These teams could revitalize the division, the WWE, and the world.