Alabama Football: Preview of the 2012 Receiving Corps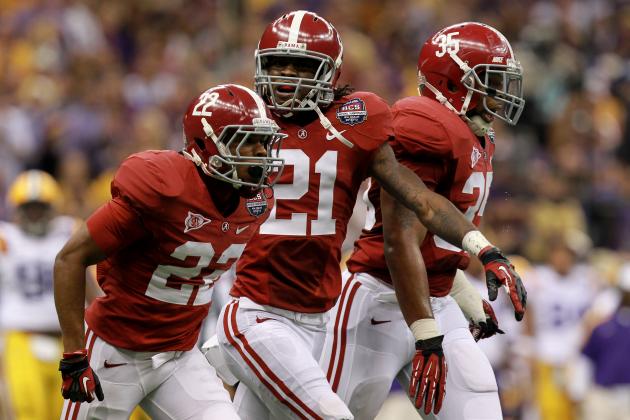 Ronald Martinez/Getty Images

Alabama fans are expecting great things out of quarterback A.J. McCarron in 2012. His success will be determined by himself and the pair of hands on the business end of his cannon.
Alabama's receiving corps is stout and diverse. They have the small guys, the tall guys, the fast guys, the shifty guys and the downright big guys.
Here is a quick glimpse at the receiving squad, to include tight ends and running backs, with their future classes and my predictions for their playing time outlook listed.
These are players that will be expected to see some time on the field or at least make a very strong case in the spring and fall practices.
Begin Slideshow

»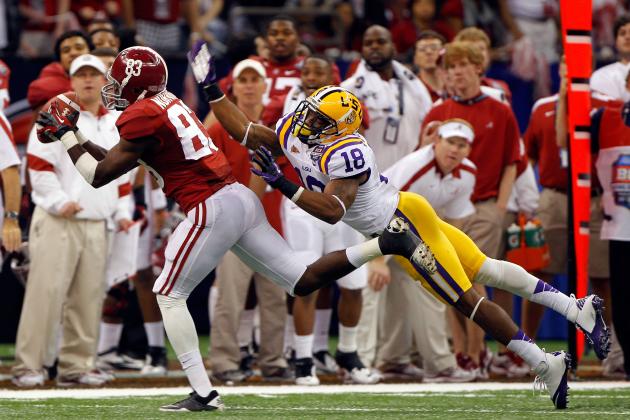 Chris Graythen/Getty Images

Junior, 6'2", 193 lbs., Wide Receiver
This is a photo of Kevin Norwood beating LSU senior safety Brandon Taylor, who will likely be a mid-round NFL draft pick in April.
Norwood actually beat up on the LSU secondary all night on Jan. 9, 2012. He had only four catches but racked up a relatively whopping 78 yards and almost a 20 yards-per-catch average, very good numbers against the second-best defense in the nation.
Norwood has come a very long way since his silly somersault into the end zone back in 2010. His size is great, and he has a very bright future at Alabama.
Playing time prediction: Starter, go-to receiver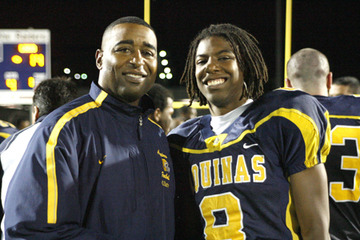 Duron Carter with his father, legendary NFL wideout Cris Carter.
Junior, 6'4", 210 lbs., Wide Receiver
Duron Carter has some very high expectations and looks to fill the void Julio Jones left, though Carter is a bit slower.
He's a great receiver with solid hands, and he could certainly have great spring and fall practices.
He'll finally be eligible in 2012 and looks to make a big impact early. If not, there are other guys ready to step up.
When Alabama prepared for the first matchup with LSU, Carter played the role of Jordan Jefferson, the scrambling quarterback, during practices.
What he can contribute in 2012 may be a bit of a mystery, but I fully expect him to shine, just like his father.
Playing time prediction: Starter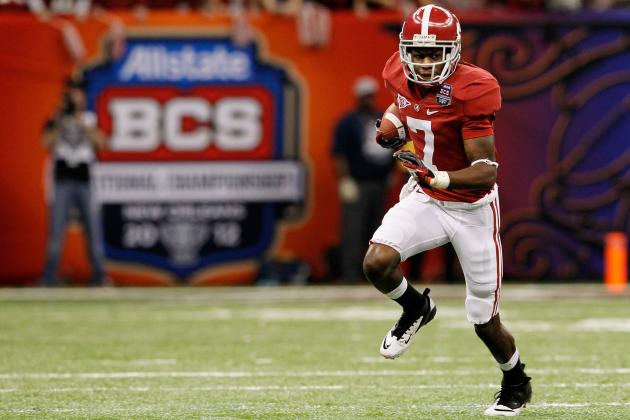 Kevin C. Cox/Getty Images

Sophomore, 6'1", 175 lbs., Wide Receiver
Kenny Bell looks to be a perfect replacement for departing senior Darius Hanks, but Bell has more potential than simply catching difficult passes through the middle that are followed by brutal hits by safeties.
Bell could be the answer for Alabama's screen-pass game that was somewhat lacking in 2011 with Julio Jones gone.
He showed this in the title game against LSU (watch for the ref doing a faceplant for a good laugh), and he's a threat with the deep passes as well.
He's not a burner and he's not a hefty guy, either, but he is one of those shifty, deceiving guys that will make someone miss.
He'll provide a much-needed boost to Alabama's receiving prowess and even looks a bit like Julio Jones out on the field with the haircut.
Playing time prediction: Possible Starter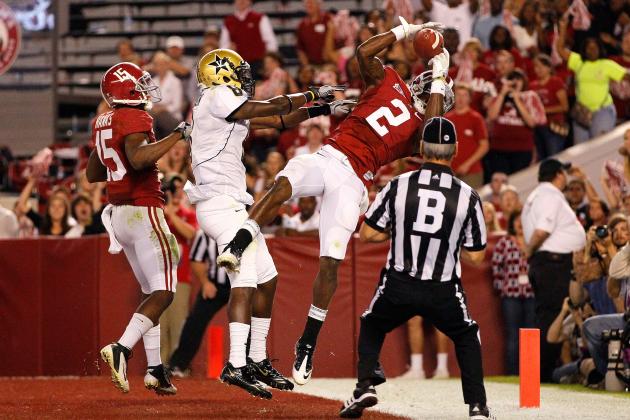 Kevin C. Cox/Getty Images

Sophomore, 6'0", 181 lbs., Wide Receiver
DeAndrew White isn't a big receiver, but he is a burner. He's about as shifty as greased lightning.
He raised quite a few eyebrows earlier in the year, especially against Vanderbilt. He is incredibly explosive in both straight-line speed and his jumping ability. He could develop into a serious red-zone threat.
He's one heck of a player and is certain to wear the No. 2 jersey better than ex-Tide quarterback Star Jackson did.
Playing time prediction: Primary backup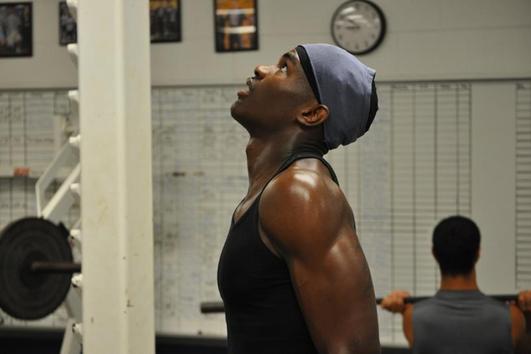 Freshman, 6'4", 205 lbs., Wide Receiver
Eddie Williams could be a great safety for the Tide but I expect him to play wide receiver, a position he should excel at.
The only reason I don't think he'll be a starter is the fact that he needs time to adjust to the SEC defenses.
Though the Tide may not see another Julio Jones any time soon, they do have a lot of different players with a mix of Julio-esque qualities.
Williams' familiar qualities are his size and his outstanding potential as a blocking wide receiver. No receiver blocked for the Capstone like Julio Jones did.
As a capable receiver with a strong defensive mindset, Eddie Williams can lay the wood with the best of them. Would-be tacklers, beware.
Playing time prediction: Primary backup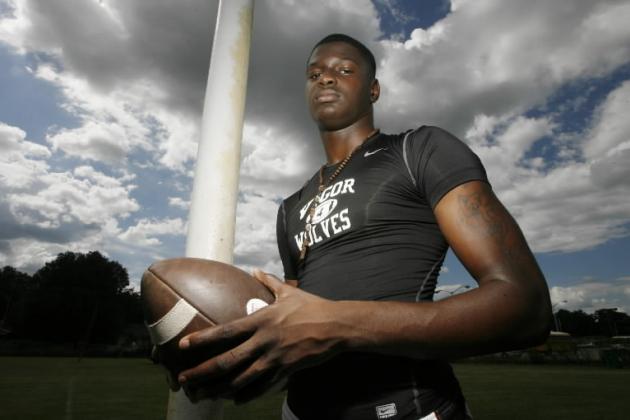 Redshirt Freshman, 6'4", 195 lbs., Wide Receiver
Marvin Shinn dropped off the radar during his redshirt freshman year, but his potential is through the roof, as is his size.
He's tall and doesn't weigh a lot, but he has some ridiculously long arms. This makes him an over-the-top threat, as well as making him difficult to jam at the line of scrimmage.
His weight at 195 lbs. is certainly a bit out of date, but we'll have to find out until fall to see how much impact strength and conditioning coach Scott Cochran had on him.
Playing time prediction: Primary backup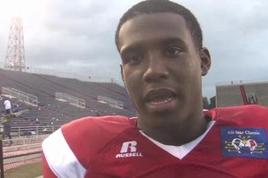 Redshirt Freshman, 6'2", 205 lbs., Wide Receiver
Danny Woodson, Jr. isn't the biggest receiver, but he has great size. He also has a good pedigree, as his father played for Alabama.
He's another guy that isn't on a lot of peoples lips, but he's destined to be the kind of player in 2012 that makes people say, "Who is that guy?"
Woodson, Jr. is another player similar to Darius Hanks. He won't get very far after the catch, but after the snap, he'll get separation, make the catch and hang onto it for a first down.
Playing time prediction: Backup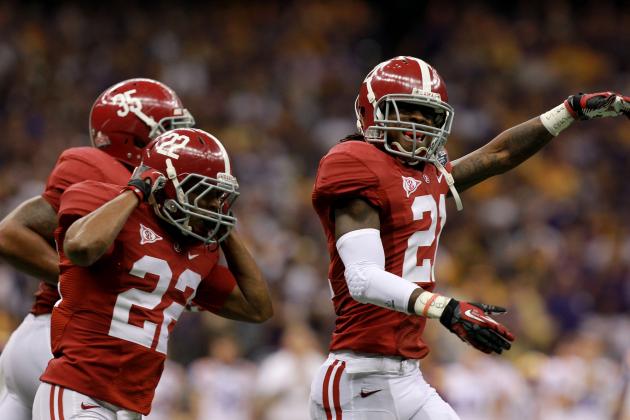 Ronald Martinez/Getty Images

Sophomore, 5'11", 175 lbs., Wide Receiver
Christion Jones (it is spelled correctly) is a promising prospect as a smaller, speedy and elusive receiver.
His potential for playing time as a receiver in 2012 will likely be somewhat limited, but he should make quite an impact in the return game and looks a bit reminiscent of Javier Arenas.
He filled in for Marquis Maze in the title game against LSU after Maze pulled a hamstring, effectively sidelining him.
Playing time prediction: Backup, possible primary return man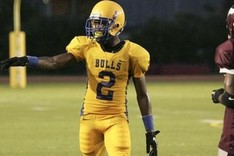 Freshman, 6'2", 180 lbs., Wide Receiver
Cooper is an incoming 4-star receiver, and if you read between the lines, it's apparent that he and A.J. McCarron have a bright future together.
In Scout's description they say he's good at "...using his body to shield a defender that should have been in position to make a play."
With a quarterback in a system that is designed to avoid interceptions, the potential should be obvious. Amari Cooper will be a panic button for McCarron, as well as a reliable target in coverage.
I hope that A.J. McCarron blows up the SEC this year and heads to the NFL early, but if not, he and Amari Cooper will be magic in 2013.
Playing time prediction: Backup, possible redshirt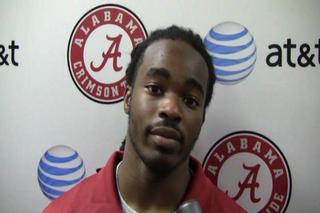 Freshman, 6'0", 175 lbs., Wide Receiver
Chris Black, a 4-star recruit, is the second of only two wide receivers in the 2012 recruiting class.
He is another smaller, elusive receiver with blinding speed. His explosive playmaking ability is a perfect compliment to the deliberate, methodical play of Amari Cooper.
He was offered a scholarship at Alabama, so his future is naturally bright, but only time will tell just how he shines.
I smell return duties and splash plays on special teams in his near future.
It's hard to tell from the photo, but Chris Black has some really sweet dreads.
Playing time prediction: Backup, possible redshirt.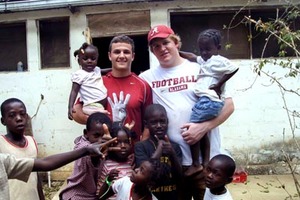 Hardie Buck (wearing red shirt).
Senior, 5'9", 190 lbs., Wide Receiver
Yes, his name is Hardie Buck. Quite an awesome name, isn't it? You probably also asked yourself, "Who?"
Buck has been a great contributor on special teams during his time in a crimson jersey, but I think he has a bit more to give.
Call me crazy, but I believe you will hear his name a few more times before the 2012 season is over.
His physical appearance and stature reminds me a lot of a little guy from the New England Patriots who just happened to be the second-most prolific receiver in the 2011 NFL regular season.
The photo of Buck is of him helping out in Haiti with fellow teammate Barrett Jones.
And yes, he is a walk-on athlete.
Playing time prediction: Special teams starter, dark-horse wide receiver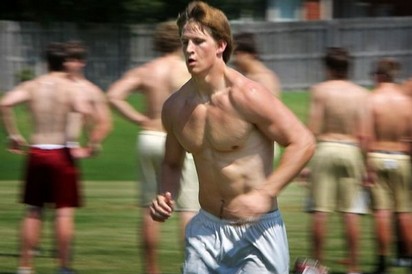 Redshirt Freshman, 6'4", 248 lbs., Tight End/H-back
Harrison Jones may not be as big as his older brother, Barrett, but he's certainly as ferocious and brilliant.
He's a shoe-in to play as the next great Alabama hybrid tight end, and his receiving ability will make big impacts when least expected.
Colin Peek, Preston Dial and Brad Smelley, his predecessors, will be proud of what Harrison Jones does on the field in 2012.
Playing time prediction: Starting tight end, go-to receiving tight end
Senior, 6'6", 270 lbs., Wide Receiver
Michael Williams will reprise his role as the massive blocking tight end that is narrowly lighter than many college offensive linemen—though certainly not shorter.
He's a bruiser in the trenches, but he will see some balls come his way, and he won't give up an "interception" in the red zone.
He's no Rob Gronkowski, but he is going to make some plays. He won't get a lot of receptions, but that's good; people will forget to cover him.
And who knows? Maybe Barrett Jones will be there to fake the catch for him again.
Playing time prediction: Starter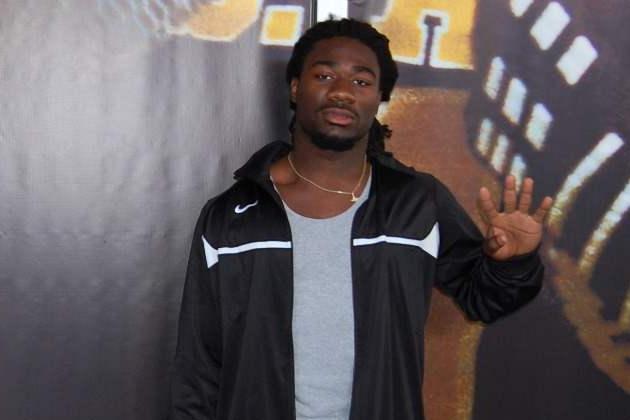 Medical Redshirt Freshman, 5'9", 190 lbs., Running Back
Demetrius Hart, at only 190 lbs., should be well-recovered from his torn ACL come fall, and you can expect him to go trailblazing.
He's not the most terrifying running back at first look, but he'll leave defenders face-flat on the turf as he speeds to the end zone.
Hart will get some carries between the tackles but he is going to shine on the running back screen passes and other similar functions, very similar to what the New Orleans Saints did this year with Darren Sproles.
Eddie Lacy will be the No. 1 running back, but there will undoubtedly be plenty of designed plays that utilize Demetrius Hart as a receiver out of the backfield.
Playing time prediction: Backup, primary running back receiver