Philadelphia Phillies: 25 Players Who Most Embody the City of Philly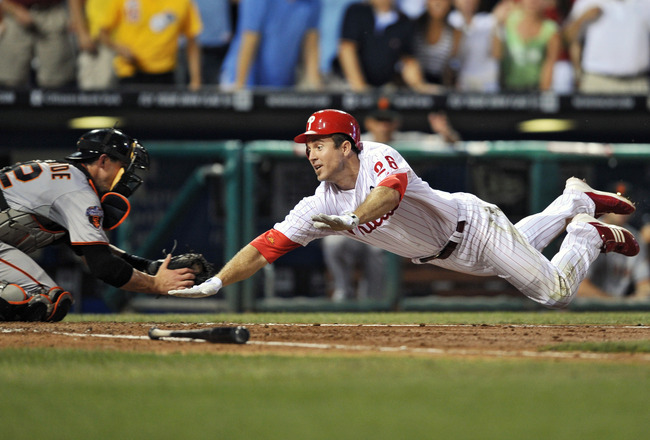 Drew Hallowell/Getty Images
When players come to play for the Philadelphia Phillies, they know that the fans expect a few things out of them. Phillies fans are notorious for a number of reasons, and one of the most well-known qualities is their love of hard-nosed, blue collar athletes.
I'm sure you've heard it said about the relationship between Phillies fans and players before: Play the game hard and play it the right way and the fans will support you.
I don't often get the chance to connect the Phillies and the WWE here, so hang with me for a moment.
Long before I sat down at my computer to write this slide show, there was a certain slogan by WWE superstar John Cena that I believed perfectly described what Phillies fans expected out of their players: Hustle, loyalty, respect.
So when I think of players that "embody" the spirit of the Phillies, of the city of Philadelphia, those are the types of players that I come up with.
They hustle. A player that embodies the Phillies plays like each game could be his last; like his pants are on fire.
They're loyal. When these players put on the Phillies' uniform, they have one goal in mind: Winning the game. I think of players who played all or most of their careers with the Phillies.
They show respect. These players know that they won't be able to play this game forever, but respect it enough to play like they have something to prove each and every night. They respect the fans as much as the fans respect their play.
It isn't difficult to embody the spirit of the Phillies, but only certain players have managed to do it the right way.
For up to the minute Phillies information, check out Greg's blog: The Phillies Phactor.
Honorable Mentions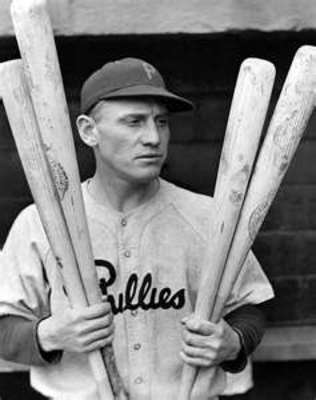 When composing this list, I came across a few players who I am absolutely, positively sure embodied the city of Philadelphia and the club. However, there just isn't enough information around for me to efficiently rank them against some of the players that would come later, so here, we'll list some of the old timers that belong on this list, but I'm not sure just where.
-Pete Alexander
-Ed Delahanty
-Chuck Klein
25. Brad Lidge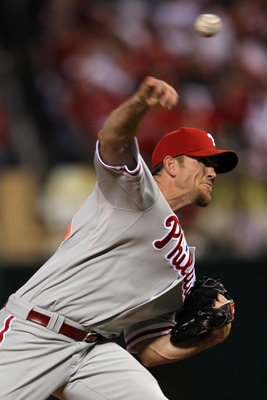 Jamie Squire/Getty Images
Brad Lidge is somewhat of an unorthodox pick for a list like this, and I had debated about whether or not he warranted an inclusion for quite a bit. At the end of the day, I decided that he did, and my reasoning was simple.
Philadelphia has always been the type of city to have its share of success. However, what defines this city is its ability to take a few punches, get knocked down and get right back up, but always roll with whatever life threw at it.
What player defines that trait in baseball more than Brad Lidge?
There was once a time when Lidge was arguably the most feared closer in all of baseball with a potent fastball / slider repertoire, but then injuries struck, and by 2011, his fastball was a below average pitch. He had stared numerous injuries that threatened his career right in the face, and instead of retiring, learned how to pitch; continued to hone his slider.
Although his career with the Phillies is over, the fact that Lidge is still playing baseball in 2012 is something that I find admirable.
24. Greg Luzinski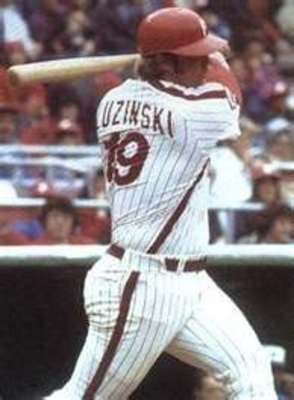 After several years of losing seasons, the emergence of powerful, slugging outfielder Greg Luzinski gave Phillies' fans hope that better days were on the horizon, and as history shows, they were.
That rise to the top isn't all that unlike the course the city of Philadelphia took, as after years of budget crisis and turmoil, the city made leaps and bounds to push itself back to the top of the food chain, becoming a force to be reckoned with.
Luzinski, of course, was a force to be reckoned with in the middle of the Phillies' order. His large frame and powerful bat earned him the nickname, "The Bull," and more often than not, when you messed with Luzinski, you got the horns.
23. Chris Short
Chris Short may be somewhat of an off pick for a list like this, as he is often one of the more underrated pitchers in the history of the Phillies, but few players were able to represent the city of Philadelphia's versatility quite like this lefty.
Short spent 14 seasons as a member of the Phillies, and his role changed just as many times. A talented left-handed pitcher, Short would start when the Phillies needed a start, come in the game during the middle innings when that as need, set-up the closer, or even close out a few games.
He was one of the club's most reliable pitchers for many years, and that was an aspect of his career that earned him a lot of respect as a member of the Phillies.
22. Mitch Williams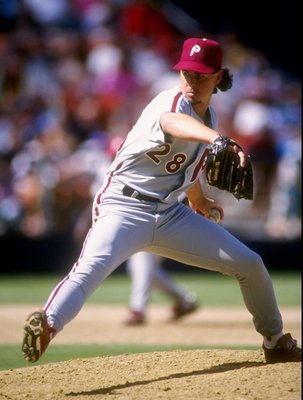 Stephen Dunn/Getty Images
If you were going to pick a single team to "embody" the city of Philadelphia, I would imagine that a strong amount of consideration would go to that 1993 club that challenged the Toronto Blue Jays in the World Series, so it should be no surprise to see a few of the players on that club on this list.
The first of those guys is the fiery, passionate closer that went by the nickname of "Wild Thing," Mitch Williams.
With his creative delivery, flowing mullet, and inability to throw a consistent fastball, Williams helped to define what today's closer should look like during his tenure with the Phillies.
The fans could relate to him because he wasn't your cookie-cutter reliever. Williams marched to the beat of his own drum, and you could still make that argument about him today.
Then again, Philly always was the type of city to march to the beat of its own drum.
21. Carlos Ruiz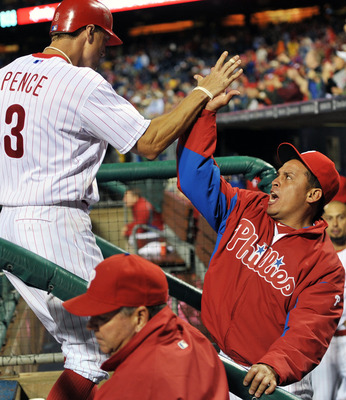 Drew Hallowell/Getty Images
Over the last couple of seasons, Carlos Ruiz has evolved.
Once upon a time, Ruiz was a questionable, shy prospect with hopes of making the MLB club. When the 2011 season concluded, Ruiz had become once of the most well loved sports figures in the city of Philadelphia thanks to his fiery personality and underdog persona, something he shares with the city of Philadelphia as a whole.
It's no surprise that "Chooch" is a popular figure in this city.
20. Larry Bowa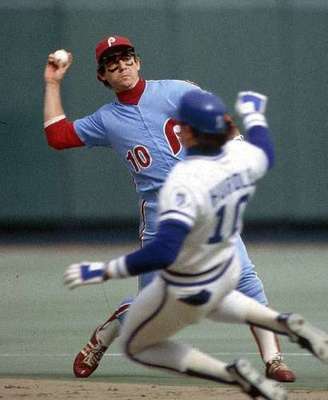 Larry Bowa was the type of player that the opposition consistently underestimated, a trait that I'm sure most residents of Philadelphia feel is a parallel with how their city is viewed.
Bowa wasn't a big guy. He wasn't a great hitter. He didn't run all that well. At the end of the day though, the man was one of the best defensive shortstops in all of baseball. What he lacked in natural talent he made up in heart and passion.
He wasn't going to win many awards at the plate, but he found ways to pester the opposition, earning himself the nickname, "Gnat."
Finding a way, against all odds, to get the job done is something that Philadelphians can appreciate more than most people.
19. Jim Bunning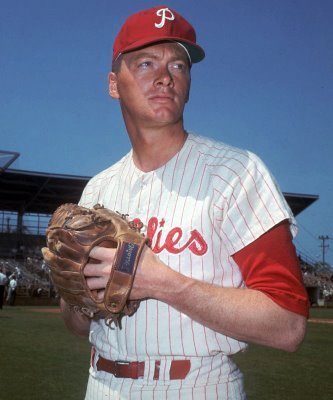 You won't find many politicians receiving a great deal of praise in the city of Philadelphia nowadays, but long before Jim Bunning was involved with politics, he was a leader of a different sorts—the ace of the Phillies' rotation.
In 1964, Bunning became the first member of the organization to throw a perfect game, on Fathers Day no less, and though the Phillies would eventually "fold" that season, it certainly wasn't because of a lack of effort on Bunning's behalf.
He was the type of man that had an obvious respect for the game of baseball, and he approached each game like it could be his last, forcing the best out of himself each and every time he took the mound.
A great leader and better ball player, Bunning embodied Philadelphia well.
18. Johnny Callison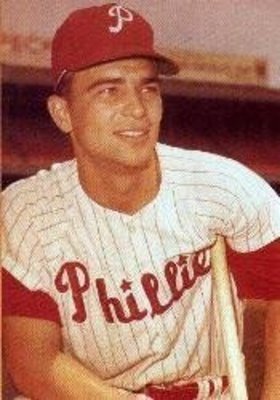 Johnny Callison was the face of the Phillies' franchise throughout most of the 1960s, which was not an easy decade to be a fan.
However, Callison was one of the few bright spots during those years, as the former member of the Chicago White Sox went on to become one of the greatest Phillies' hitters of all-time, and he did so by working hard each and every day.
Callison didn't have the greatest of skill-sets, but his work ethic was rivaled by few. He had that uncanny ability to turn singles into doubles and come through in the clutch, and if the city of Philadelphia, in its long history, should be known for anything, coming through in the clutch is a good starting point.
17. Bob Boone
Fans of Philadelphia sports love an athlete that is fearless, and in the days of Bob Boone, you had to be fearless to be a successful catcher at the MLB level, and Boone was.
Known as a great defender behind the plate, Boone could take a hit and then get back up and dish one out later in the game with the best of them, and that's an aspect of his game that earned him a ton of respect as a member of the Phillies.
He was behind the plate when the Phillies won the World Series in 1980, and his knees were in so much pain by the time Willie Wilson headed back to the dugout after the final out that he all but crawled out to the mound to celebrate, but he never gave up.
The city of Philadelphia never gives up.
16. Shane Victorino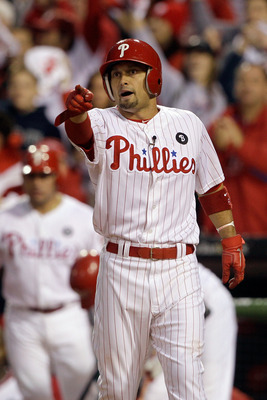 Rob Carr/Getty Images
Anyone that has ever been to the city of Philadelphia knows that the streets are always buzzing. Whether you've been to the Stadium Complex or Center City, or anywhere in between, there is just a certain energy on the streets of this city that few places can equal.
When you think about energy in baseball, Shane Victorino should come to mind rather quickly.
After joining the Phillies in 2005, Victorino used that endless fountain of energy to win the center field job and develop into one of the best all-around center fielders in the game.
Often the spark plug for what has the potential to be an explosive offense, Victorino isn't afraid to make a difficult play, even if that means diving head first or running straight into an outfield wall. He leaves everything he has on the field, and that's something the fans respect.
15. John Kruk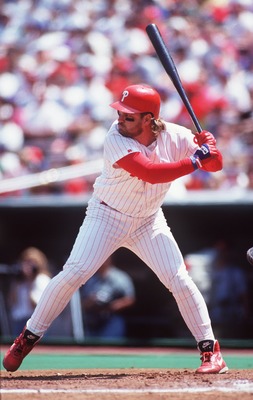 Getty Images/Getty Images
When John Kruk was added to the Phillies' Wall of Fame and listening to the reception he received from the Phillies' faithful, I knew at that moment that there were few players in the lengthy history of this organization that better embodied the spirit of this team and the city of Philadelphia.
As a player, he was the type of guy that Phillies fans loved to cheer for. He didn't look like he was a professional athlete, with his beer belly and mullet, but during his tenure as a member of the Phils, Kruk could rake.
His light-hearted approach to the game made him a fan-favorite (and the author of many a great quote) and a player that most fans could relate to.
14. Curt Simmons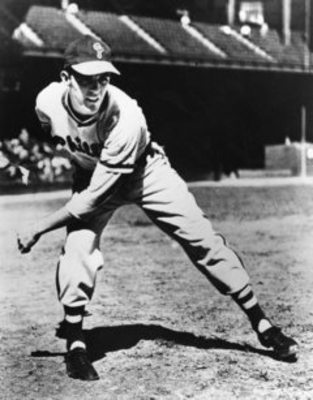 Curt Simmons and the city of Philadelphia go hand in hand.
Simmons, who attended high school in the Lehigh Valley area, was such a good player in high school that he was named the ace of the All-Star team, and as a promotional event, started a game against members of the Phillies.
Well, Simmons pitched so well on that day that, not only did he nearly win the game, but the Phillies offered him a contract, and later that season, he was pitching as a member of the MLB club.
That was the beginning of a long Phillies' career for Simmons, who would spend most of his tenure right behind Robin Roberts in the club's rotation, creating a dynamic one-two punch.
13. Darren Daulton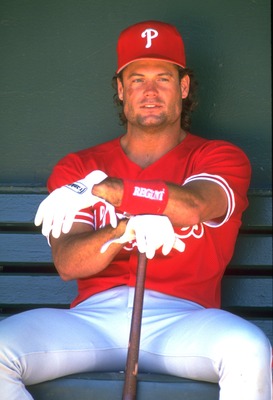 Otto Greule Jr/Getty Images
Darren Daulton was the type of player that Phillies fans could relate to.
Off the field, he was a leader in the clubhouse, and arguably the greatest leader that this organization has ever seen. A member of that favorite 1993 club, Daulton made sure that while the clubhouse was a place the club could enjoy, they never lost focus of the real goal either—stunning the world by competing for a World Series title.
On the field, he led by example. Dutch was one of the best offensive catchers in the club's history, and he wasn't too shabby behind the plate either. His strong leadership qualities made pitchers comfortably throwing to him, and he often got the best out of mediocre pitchers.
Still today, I believe you'll find that the fans feel as though they can relate to Daulton.
12. Lenny Dykstra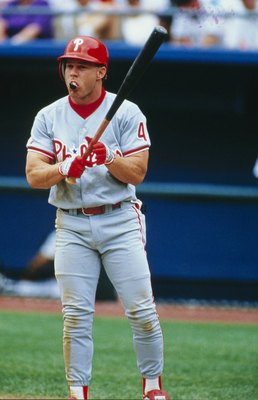 Getty Images/Getty Images
Before he flew over the cuckoo's nest, Lenny Dykstra was easily one of the players who most embodied the spirit of the city of Philadelphia.
After coming over from the New York Mets and winning the center field job, Dykstra played every game like his pants were on fire. A unique talent at the plate, he had an interesting blend of power and speed and the potential to change the entire outlook of a game with a single swing of the bat.
Defensively, he approached the game the same way, and ultimately, his hard-nosed style of play contributed to the fact that he was unable to stay healthy through most of his Phillies' career.
11. Cliff Lee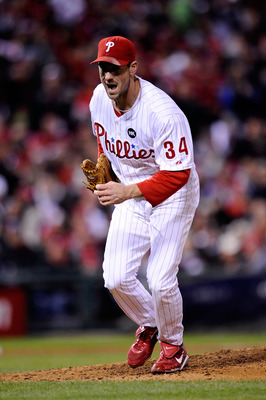 Jeff Zelevansky/Getty Images
The city of Philadelphia is a city of working class people. Each day they find themselves on the grind, working hard and going about their business. Cliff Lee may be the perfect embodiment of that hard-working nature.
After leading the Phillies back to the World Series in 2009, Lee became a fan-favorite and would have to do something utterly disturbing to ever change that, even after spending the 2010 season with two different clubs.
Returning to the Phillies in 2011 only sealed his status as one of this town's all-time favorite athletes.
When Lee takes the mound, it's right to work. After he's done his warm-ups, it's all business, leaving the hitter little time to blink, and that's just the way the fans like it.
10. Jimmy Rollins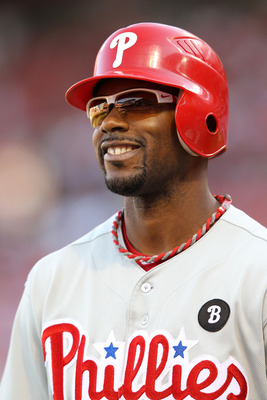 Jamie Squire/Getty Images
After 12 seasons with the MLB club and close to two decades in the organization, you can't mention the Phillies and not bring to mind the club's long time shortstop, Jimmy Rollins.
The Phillies' vocal leader, Rollins has been referred to the offense's "spark-plug" countless times because of his ability to get the scoring going at the top of the lineup. Like a few other guys on this list, Rollins has the ability to change the game with his legs, which of course, also means that he is at his best when he is working his hardest.
Though injuries have slowed him down in recent seasons, Rollins is still one of the game's top shortstops, and now that he is guaranteed to play in the city for at least another three seasons, Rollins and Philadelphia are about to become a bit more synonymous.
9. Tug McGraw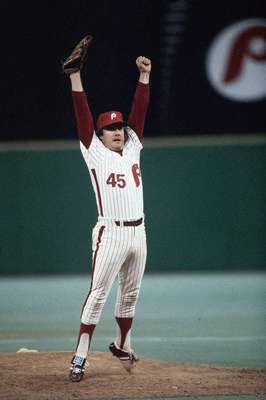 All Tug McGraw had to say was, "Ya gotta believe," and Phillies fans were on board.
They wanted to believe more than anything else. After close to 100 years in existence without a title, all they wanted to do was believe that some how, some way, there was a chance that a World Series title could be within their grasp.
McGraw represented that hope. He was the type of player that the fans would hate in a New York Mets' uniform, but absolutely love once he was a member of the Phillies.
His easy going nature off of the field made him easy to like, but his passionate, fiery approach to the game made him a figure that the fans adored.
After all, all McGraw wanted to do was stick it to the Mets as a member of the Phillies, and Philadelphia will take the opportunity to stick it to New York whenever possible.
8. Aaron Rowand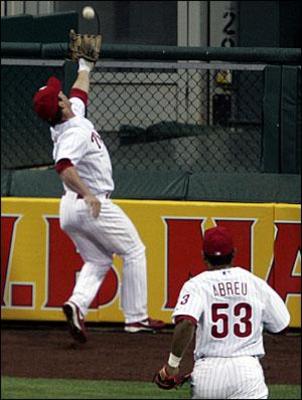 Aaron Rowand spent just two seasons with the Phillies (and took a big hit as far as the "loyalty" aspect of my speech on the first slide is concerned when he signed with the San Francisco Giants,) but in those two seasons, Rowand managed to become the definition of what Phillies fans expect of their players.
That play pictured on the left-hand side of your screen has a lot to do with it.
In everything that he did, Rowand embraced the culture of the city of Philadelphia. When he was talking with the media, he made bold statements. When he was at the plate, he worked hard in each at-bat, and as we know, he wasn't afraid to run into a wall if it gave the Phillies a better chance to win the game.
7. Roy Halladay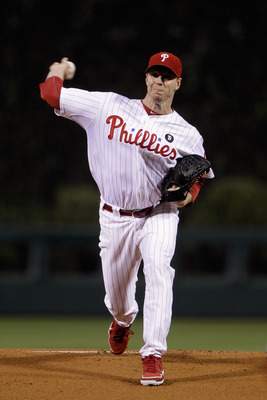 Pool/Getty Images
When the Phillies acquired Roy Halladay from the Toronto Blue Jays, they found themselves citing his work ethic and hard-nosed style of play often. Now entering his third season with the Phillies, you can put those compliments on repeat, because each and every one of them still apply.
Heading into his age 35 season, Halladay is still arguably the hardest working pitcher in all of baseball, and fans respect him for more than the simple fact that few pitchers are more successful, if any. Halladay is the ultimate competitor, a trait that he shares with Philly, born without the ability to give up.
Philly loves a winner, but when you approach the game the way Doc does, you're putting yourself on a level that few men can match.
6. Pete Rose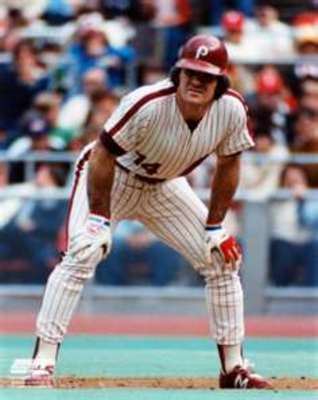 In just five seasons, Pete Rose built the kind of reputation in the city of Philadelphia that some players on this list spent their whole careers building, and it isn't a secret as to why that was possible.
Though he built most of his career with the Cincinnati Reds, Rose was built to play baseball in the City of Brotherly Love. He made a name for himself collecting base hits, using his legs to motor around the bases, sliding head first into bags, and running catchers over whenever he could.
That's the kind of baseball that this city loves.
Of course, winning the World Series in 1980—the first in the organization's history—would seal his legacy in Philly.
5. Robin Roberts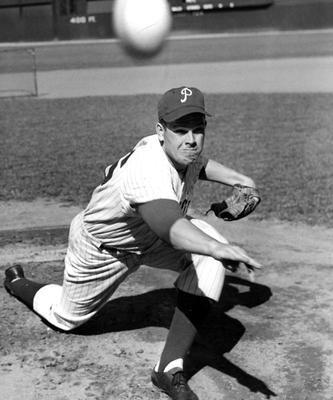 The Sugar House Casino in Philadelphia coined a pretty popular slogan that goes, "Philly loves a winner," and it couldn't be more true. If there is anything that Phillies fans love more than hustle, loyalty, and respect, it's winning.
Robin Roberts may have never won a World Series with the Phillies, though he did help them challenge for one in 1950 as the ace of the "Whiz Kids," but throughout his career with the club, Roberts won a lot of games.
In fact, from 1950-56, Roberts posted one of the most dominant stretches of pitching of all-time, leading the league in wins in four straight seasons at one point and never capturing less than 19 wins.
It was that leadership quality that made him such a respected figure in the city and a no-brainer, especially as far as Phillies fans were concerned, when it came to the Hall of Fame.
4. Richie Ashburn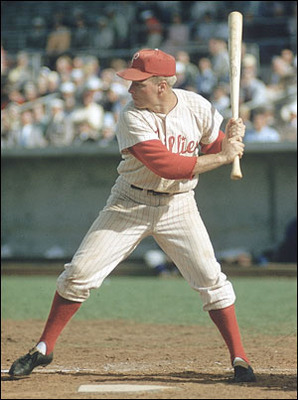 Richie Ashburn wasn't the flashiest of players, but Phillies fans didn't care.
There weren't many players who could be successful with Ashburn's skill-set, but he was. A singles machine, Whitey ran hard on every play and turned bloop hits into doubles. He ran the bases so well that other players asked him for tips on sliding.
A single was never just a single for Ashburn, because he had the ability to use his legs to reach second, and then third, and finally, cross the plate before you knew it, and that's what Phillies fans loved about Whitey.
He was the epitome of that hard-nosed, blue collar type of player that people think of when the Phillies are mentioned.
3. Steve Carlton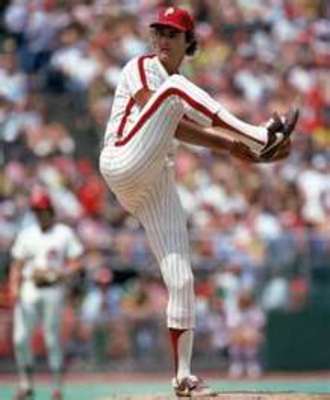 Simply put, Steve Carlton is the greatest pitcher the Phillies' organization has ever seen. What's not so simple is how Lefty embodied the city and organization.
I don't think it would be unreasonable to say that Carlton was a bit of an odd-ball. He loved a good conspiracy theory and never looked like he was enjoying anything that he was doing.
However, when Carlton took the mound, it was all business. With unbelievable focus, Lefty continuously found ways to baffle the opposition, and that helped him to 241 wins over 15 seasons with the Phillies.
2. Mike Schmidt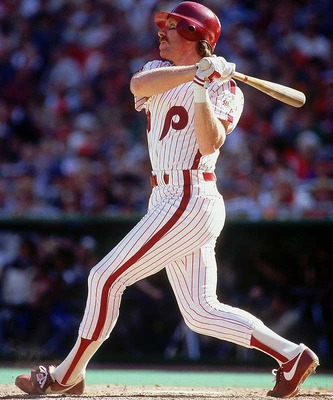 On the field, few players have even come close to embodying the city and the organization like Mike Schmidt.
A talented third baseman that has never been afraid to speak his mind, the Phillies experienced some of their better days during his 18-year career with the club, including two trips to the World Series and a title.
A slick defender and force to be reckoned with at the plate, Schmidt was an easy choice for the Hall of Fame, inducted as arguably the greatest third baseman to every play the game and without a doubt, the greatest player the Phillies have ever had.
1. Chase Utley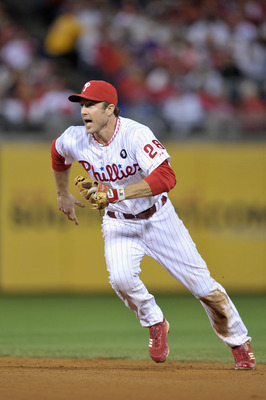 Drew Hallowell/Getty Images
Chase Utley is the perfect storm of elements that represent not only the spirit of Philadelphia, but the Phillies as a franchise as well.
After taking over at second base, Utley began a career that would quickly lead some to question whether or not he could be one of the greatest second basemen to ever play the game. What makes him such a great player is a unique skill-set.
Not only is he a talented offensive player, but few players approach the game with more passion than Utley, who runs out every ground ball, dives for anything within arm's length, and will run right through your catcher if you give him the chance.
Harry Kalas once called him, "The Man," and I think that's all you need to know about Utley.
Keep Reading

Philadelphia Phillies: Like this team?