Glasgow Rangers' Financial Turmoil Spells Disaster for Club and Country
February 17, 2012

Jeff J Mitchell/Getty Images
If Glasgow Rangers were looking for a way of gaining maximum media coverage without really doing much to earn it, they get top prize for their efforts this week.
With administrators ruling the roost over in Govan, today's press scrum—and it was a scrum—pushed Rangers onto every press and media outlet in the western world.
Countless questions were asked of the administrators—few were answered.
Not because they didn't want to give the public the answers they wanted, more that the administrators didn't have the answers that were craved by the fans, supporters and shareholders.
On top of the alleged £9 million unpaid tax bill that has been amassed by now ex-chairman Craig Whyte in his nine months in charge, there is the question of where £24 million in ticket sales has disappeared to.
The writing was on the wall from day one of Whyte's reign at Ibrox, and although the club was already in financial ruin before his stewardship began, it seems to have stumbled and fallen to the lowest point in the club's illustrious history.
It's unusual in these cases for there not to be some sort of staff cull. It's the people—the lifeblood of any business—who seem to suffer most when bad management and financial stupidity causes the downfall of their employer.
Both the administrators and Craig Whyte have spoken to the playing staff, trying to allay fears that their services will no longer be required.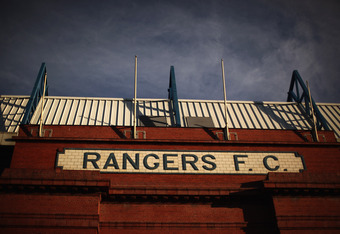 Jeff J Mitchell/Getty Images
It appears that, for the time being, the current squad will continue to carry on as normal.
On the playing note, Daniel Cousin was at Murray Park this morning trying to win himself a deal, and although this current financial disaster would appear to scupper it, the administrators wouldn't dismiss it out of hand.
Cousin's agent, on the other hand, was quick to state that an agreement for a second spell was done and dusted.
Despite the financial mess the club currently find themselves in, Craig Whyte responded by saying on Rangers TV that the club would be "out of administration by the March pay period." 
How he could imagine that this mess could be cleared up by that time is a mystery.
Perhaps he knows things that others don't, but this information appeared to be news to the administrators now in charge of the Gers.
It would seem unlikely they would manage to clear up the current money issues before then.
Many questions need to be answered, as they were unable to be cleared up in today's press conference:
1. Where has the £24 million in ticket sales gone that is owed to the third-party ticket sales supplier?
2. Will Ibrox and/or Murray Park be sold to finance creditors?
3. Who are the parties said to be interested in buying into Rangers? And more importantly, is one of these parties related in some way to Craig Whyte?
4. Will the administrators be able, and have time, to make Rangers ready for the UEFA licence deadline for playing next season by the end of March?
5. Will the staff and players' jobs be secured in the turmoil or will they be culled to save money?
The administrators have been adamant that it is unlikely the club will go into liquidation. However, the worrying part of their statement was that it wasn't a definite no.
This is a story that will change on a day-to-day basis, and for the sake of Scottish football as a whole, I hope that Rangers come out the other end intact.
We may talk a lot about the insipid nature of the Old Firm and how their hatred and sectarianism is the scourge of the nation, but one side failing could potentially collapse the whole set-up of Scottish football.
Celtic may claim they could survive without Rangers, but in what capacity?
Their TV rights income would drop to next to nothing as both Sky and ESPN are only seriously interested in Old Firm derbies.
The match day attendances would drop significantly, and competition in the SPL would fade due to the lack of big games.
Top-name players wouldn't sign for Celtic due to the constant one-horse race, and other teams just simply wouldn't be able to put up a fight.
Rangers' disappearance would filter down the whole of Scottish football and sound the death knell for prosperity and European participation.
This story will roll on for weeks—let's see if Rangers last that long.
*All details from this article came from information given and documented at Thursday's press conference, held by the current administrators at Ibrox Stadium.
Marc Roseblade is a contributor for Bleacher Report, NotJustScottishFootball and acts as PR for Ayr United Football Academy and Galveston Pirate Soccer Club, who play in the NPSL in Texas, USA. All quotes are obtained first-hand unless otherwise stated.