Manchester United Can Cope with the Loss of Antonio Valencia
February 17, 2012

Alex Livesey/Getty Images
Antonio Valencia has arguably been Manchester United's best player this season, but while his injury against Ajax is certainly a blow for the club, the squad is more than capable of coping in his absence.
Sir Alex Ferguson confirmed in his post-match interview that Valencia would be sidelined for four weeks after sustaining a hamstring injury while helping create United's second goal. Valencia had only been on the pitch 10 minutes after coming on as a substitute.
It is upsetting to watch any player suffer an injury, but it is particularly painful to lose a key player in such phenomenal form. Few players have such an impact on their squad, as Valencia is a vital part of United's attacking threat. He created an abundance of chances this season, already contributing 11 assists and four goals, which is particularly impressive given his limited involvement early in the season.
However, it is important to maintain faith in the squad, the whole squad. Some United supporters are worried about the implications of losing a single, albeit important, player, and such overreaction is becoming common among the fans. United's squad is blessed with some of the best depth in the world, and losing one player cannot derail the entire squad. Supporters simply need to have faith.
The club have coped with injuries the entire season. At times, the number of players receiving treatment reached double digits. Sir Alex proved his genius already this season by adjusting tactics to compensate for the loss of key players, thus keeping United in the title race.
There is little doubt that United will feel his loss, but they have the players necessary to carry on without him.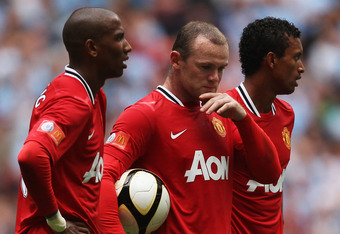 Ian Walton/Getty Images
United are perhaps slightly fortunate as well about the timing of this injury.
Upcoming fixtures should be manageable without the Ecuadorian winger, and the return of other key players from injury will certainly be a boost for the squad. Ashley Young and Nani were both involved Thursday against Ajax after coming back from spells in the treatment room, and the duo's return will ease the loss of Valencia.
United already have one foot into the Europa League Round of 16, and Valencia should not be needed to assure their progression in the second leg at Old Trafford. Fixtures away to Norwich City and at home against West Bromwich Albion should also be winnable encounters, with or without Valencia involved.
The most concerning fixture that Valencia is likely to miss is against Tottenham Hotspur at White Hart Lane on March 4. Currently sitting in third place, Tottenham have been excellent this season, and any club competing against them would hope to have all their key players available. Valencia will be sorely missed, but United can still get the job done.
He will probably also miss both ties of the Europa League Round of 16, which could also prove a setback to the club's ambitions of being the first English club to win the Europa League. However, the overlying message remains: The squad can cope.
There is, however, no denying that, without Valenica, United will be missing a player who is responsible for so much of their attacking production. Nani's decision-making was abysmal for most of the match against Ajax, while Young appeared rusty after return from injury.
If United are to cope with the loss of Valencia, both will need to step up and rediscover their form. They showed in early fixtures how devastating they could be on the wings, and once they get back in the rhythm of playing and build some momentum, they should be terrorizing defenses once again
United have what it takes to persevere in Valencia's absence. Nani and Young are both proven quality wingers, but Sir Alex will surely be counting down the days until he can write "Antonio Valencia" on the team sheet once again.