Wisconsin Football: The Best Badger Position Bloodlines in the NFL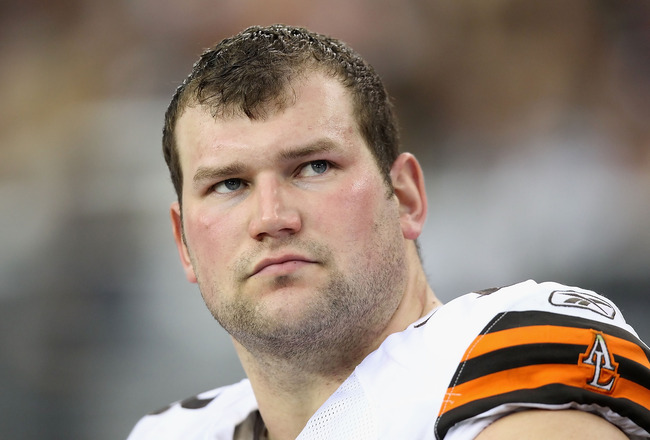 Christian Petersen/Getty Images
Some schools are known for certain positions.
Penn State claims "Linebacker U" while Miami's history of defensive players could fill a few libraries on campus. USC's legacy includes stars from every side of the field and Ohio State alumni can be spotted on rosters in each conference.
Wisconsin's contributions to the NFL have been no less important, as the Badgers introduce class after class of NFL-ready prospects.
How do today's rising stars stack up to their predecessors? Are future Badger-bred legends in the making on the professional gridirons across the country?
Still Playing: Joe Thomas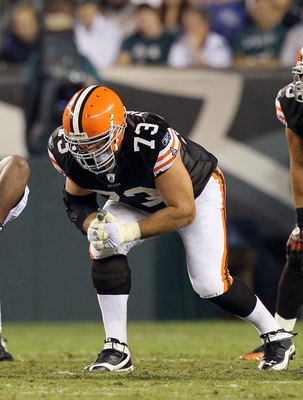 Jim McIsaac/Getty Images
Look up "lock" in the dictionary and offensive lineman Joe Thomas will be smiling back at the reader.
The former first-round draft pick by the Cleveland Browns has been one of the surest bets in the NFL. His 2012 Pro Bowl selection made it the fifth straight time the Dairy State native has made the trip to Hawaii.
His size at 6'6" and 312 pounds does not force the former Badger to sacrifice any of his athleticism. What's more, his speed and power are only matched by his durability; he has started 80 straight games for the Browns.
Whether the Browns win or lose, the Hall of Fame should come calling when his career is done.
Retired Legend: Mike Webster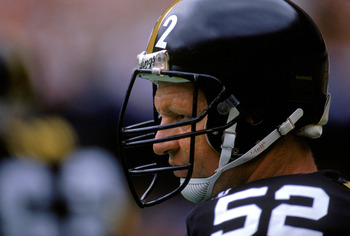 Mike Powell/Getty Images
The nickname "Iron Mike" says it all when talking about the revered Pittsburgh Steelers center, Mike Webster.
The facts speak much louder than any flowery praise a man like Webster would need.
He anchored the line for one of the greatest athletic dynasties of all time with the "Steel Curtain" Steelers.
He won four Super Bowls.
He is a Hall of Famer.
As always, the Wisconsin line's legacy is far-reaching, even into today.
Still Playing: Lee Evans
Baltimore Raven Lee Evans is a divisive figure right now because of his "is it a catch or drop" situation that happened against the New England Patriots in the 2011 playoffs.
While he may not be the most loved figure in Baltimore at the moment, he can always find a warm reception back in Madison. Evans is an eight-year NFL veteran and has plenty to show for his time as a pro.
The Ohio native has racked up more than 6,000 receiving yards on 381 catches and 43 touchdowns in the league during his career so far.
Retired Legend: Al Toon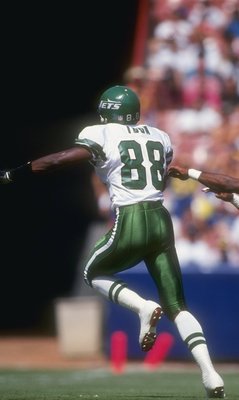 Mike Powell/Getty Images
The name "Toon" still reverberates around Camp Randall, partly because Toon's legacy as a Badger in the 1980s is still felt and partly because his talented son, Nick, donned the cardinal and white as well.
Toon finished his career with 517 catches and more than 6,600 receiving yards.
The elder Toon found the end zone 31 times while flying like a New York Jet the entire time.
Still Playing: Jim Leonhard
Rick Stewart/Getty Images
If you passed Jim Leonhard on the street you would never think the 5'8" Tony, Wisconsin native was a hard-hitting NFL safety. Neither did a lot of NFL receivers, and they are paying the price for their ignorance.
The former Wisconsin walk-on has made a name for himself around the league as being an athletic outlier, even though injuries have prematurely ended his last two seasons. His career has brought him from the Buffalo Bills to the Baltimore Ravens and, finally, the New York Jets where he plays today.
Leonhard counts six interceptions on his stat sheet to complement his 259 tackles through seven seasons as professional.
Living Legend: Troy Vincent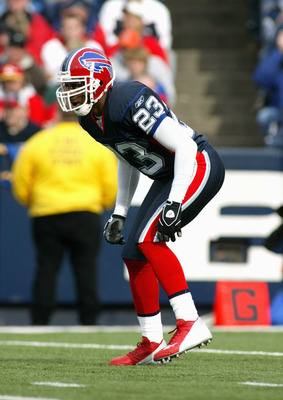 Rick Stewart/Getty Images
Troy Vincent can claim his career was unlike many other players in the league, because it was long.
Vincent played for 15 season in the NFL as a defensive back, a career that spanned from the early 90s to the mid-2000s.
The Miami Dolphins, Philadelphia Eagles, Buffalo Bills and Washington Redskins can all claim pieces of his resume. While Vincent's longevity may partly define his career, the Wisconsin alum was not gunning simply for "Best Attendance."
He claimed 47 interceptions throughout his professional playing days.
Keep Reading

Wisconsin Badgers Football: Like this team?