North Carolina State vs. Duke: TV Schedule, Live Stream, Spread Info and More
February 16, 2012

Streeter Lecka/Getty Images
The Duke Blue Devils have absolutely owned the North Carolina State Wolfpack in recent history. Tonight, underdog N.C. State will get another chance to finally knock off the Blue Devils, but they'll need to do it on the road.
Duke has already lost two games at Cameron Indoor this year, so the Wolfpack might just have a chance. However, N.C. State hasn't won in Durham in their last 13 tries.
This matchup comes at a good time for the Wolfpack if they truly want to make a run at the ACC title, as they trail the first-place Tar Heels by only a game-and-a-half.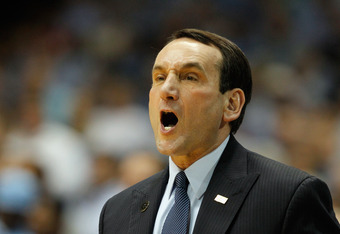 Streeter Lecka/Getty Images
Where: Cameron Indoor Stadium, Durham, NC
When: 9:00 PM ET, February 16, 2012
Watch: ACC Network, ESPN Full Court
Live Stream: ESPN 3
Betting Line: Duke -10 (according to Scores and Odds)
Key Injuries (via StatFox)
No significant injuries to report.
What They're Saying
The Raleigh New Observer talks about N.C. State coach Mark Gottfried and how he'll never be taken seriously until he beats Duke:
In his first year at N.C. State, Mark Gottfried hasn't been all things to all people, but he has done a fine job so far. N.C. State (18-7, overall, 7-3 ACC) enters tonight's game at Duke with more ACC wins already than Lowe had in any of his five seasons and ranks as a real contender for its first NCAA tournament appearance since 2006.

Tonight will be difficult. N.C. State has lost 13 in a row in Cameron Indoor Stadium against Duke. Last year Duke led by 29 - at halftime. And Gottfried won't be totally accepted at N.C. State until he acquires a foothold against Duke and UNC.
Most Important Player: Austin Rivers, Duke
The Duke freshman continues to make plays for this team and they'll need him to consistently produce if they want to make a run in the tournament.
The Blue Devils dominated the Terps after their stunning comeback against the Tar Heels and it's important for Rivers to keep playing well.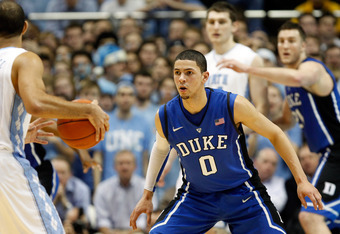 Streeter Lecka/Getty Images
Key Matchup: Rivers vs. Lorenzo Brown
Rivers will likely see a lot of the rangy, 6'5", Brown. The two players are similar in size and also very important to their teams.
While Rivers is Duke's top scorer, Brown is the Wolfpack's leading assist man.
These two teams are going to bang plenty under the basket and that is why these two on the outside could make the difference.
Prediction: Duke 87, N.C. State 79