NHL Trade Scenarios: 6 Red Wings Who Will Be Used as Trade Bait at the Deadline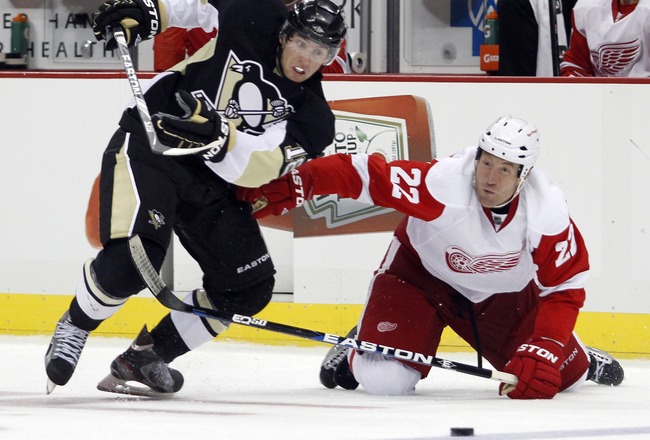 Justin K. Aller/Getty Images
After setting the NHL record for most wins at home, the Red Wings have taken the ideals of locker room and on-ice chemistry, hard work and team effort to the extreme.
Despite this, Ken Holland may still find himself wanting to polish his lineup at or before the trade deadline.
In order to make trades happen, he will have to make swaps, and these six players look like they could be involved in possible trade scenarios come February 27th.
Fabian Brunnstrom
Fabian Brunnstrom is currently signed for one year with Detroit, and he's spent almost all of his time with the Grand Rapids Griffins of the AHL.
Brunnstrom performed admirably in the preseason and camp, but he's not developed the way that the Red Wings would have liked. He earned only one point in five regular-season games, and he was a minus-two in those games.
Fabian Brunnstrom has played in the NHL before and is capable of doing so again.
His NHL future may very well lie with another franchise who is willing to develop him further.
Mike Commodore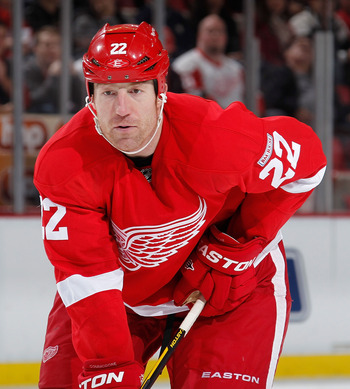 Gregory Shamus/Getty Images
At an imposing 6'4" and weighing in at 227 pounds, Mike Commodore is a big defenseman.
The problem that the Red Wings have with him is that while he may hit and provide a big body on the ice, his lack of scoring or even assisting is somewhat disturbing.
If the Red Wings are to make a deep run for the Stanley Cup, each player of each line or pairing should be scoring or assisting.
Mike Commodore would make a perfect "trade bait" player for two reasons: his size and his physical play.
If a club is looking to add some size (but not necessarily scoring prowess) to the lineup, Red Wings management is likely to mention Mike Commodore.
Jakub Kindl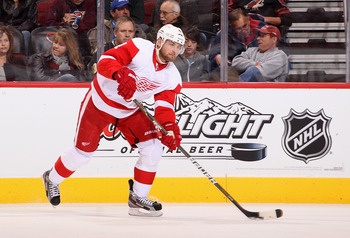 Christian Petersen/Getty Images
Jakub Kindl has been in the Detroit system since 2005, and since then he has actually developed quite nicely, even though the stats may not indicate as much.
Kindl may not be posting huge numbers, but he does the little things correctly. He does not take costly penalties and often looks very good when playing across from fellow defenseman Jonathan Ericsson by not turning the puck over often.
At the trade deadline, Kindl could be moved in favor of someone who shoots more, and it could give the Ericsson defensive pairing a little more scoring and assisting capability.
Ty Conklin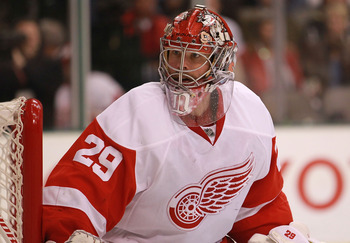 Ronald Martinez/Getty Images
With respect to Ty Conklin as an NHL goaltender, he will not be on the ice in a Red Wings jersey much anymore, if at all. Reason being, he has been bested by journeyman Joey MacDonald, who is the talk of Hockeytown.
With Jimmy Howard making his return within the next week, it looks like the Red Wings' goaltending duo is set.
While the Red Wings would almost certainly like to move him, it will be somewhat tricky doing so. Due to the current state of his play, Conklin would have to be moved at a low price to a team who is almost desperate for a goalie, even a struggling one.
At this point, Ty Conklin could be used as a "sweetener" to a trade deal, with his recipient either sending him the minors or putting him on the bench and hoping that he can get his confidence back.
Brendan Smith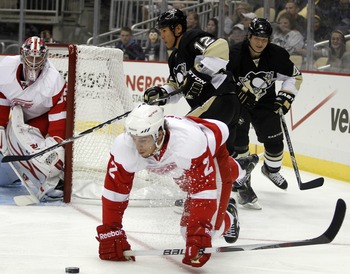 Justin K. Aller/Getty Images
Jiri Hudler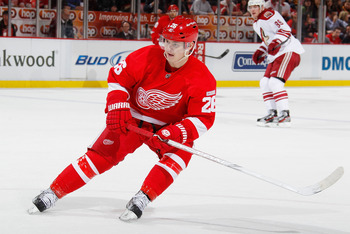 Gregory Shamus/Getty Images
This is an idea that many Red Wings fans have a hard time dealing with, but one that must be mentioned.
In just one season, Hudler has gone from being jeered by fans to being cheered for scoring in the 21st home victory. That was just one of his 18 lamp-lighting shots.
Jiri Hudler is having a banner year, no doubt about it. He has become the player that the Red Wings have always wanted him to be, but he did it about three years too late.
Due to him being a "late bloomer," so to speak, Jiri Hudler's trade value has never been higher.
In all reality, it is highly unlikely that we will see a season of this caliber again.
If the Red Wings' front office is considering a big trade, he may be an important piece of the puzzle due to his great numbers.
But What About...?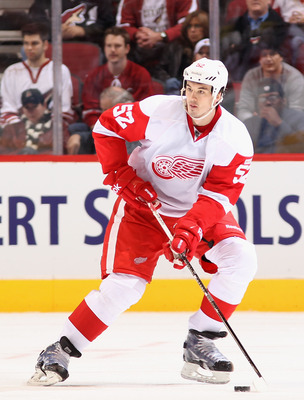 Christian Petersen/Getty Images
A few players for the Red Wings have not lived up to their preseason expectations, and therefore, they are sometimes looked at as trade bait.
Danny Cleary and Jonathan Ericsson are often mentioned as trade possibilities during blog posts or water cooler chatter, but the fact is that these players are not going anywhere.
The aforementioned two, in addition to Todd Bertuzzi, Pavel Datsyuk and Tomas Holmstrom, all have no trade clauses.
Whatever the deadline brings, the outlook for the final stages of the regular season looks very strong for the Detroit Red Wings.
Keep Reading

Detroit Red Wings: Like this team?