Illinois Basketball: Has Bruce Weber Accepted the Fact His Job Is Lost?
February 16, 2012

Joe Robbins/Getty Images
After his Illini suffered a defeat at home to the middle-of-the-road Purdue Boilermakers on Wednesday, head coach Bruce Weber showed his body language in the press conference. It wasn't good. 
After the loss, Weber blamed his coaching philosophy and just flat-out looked deflated. 
In a press conference that was hard to watch due to the lack of hope left in the guy, he had this to say:
Instead of developing people, I'm worried about winning. Maybe sit Meyers down three weeks ago or a month ago or two months ago. And Brandon. But that's my fault. You've got to develop a culture and I think the last three years all I did was worry about winning instead of developing a culture and a toughness. And that's my fault.
This sounds like a guy who has given up and written this season off. The fact of the matter is, though, Weber needs to either toughen up and finish this season strong, or just resign now. 
In a presser in which Weber talked about the body language of some of his players being bad in the first half, Weber sure isn't showing much fight. 
The leadership of Illinois is going to need to sit down and think about the Weber's future. 
The Illini have advanced past the second round of the NCAA tournament since 2005 when they were in the national title game. The lack of postseason success, factored in with the amount of talent that has been through Illinois, is alarming.  
The current squad features two players who have the potential to be All-Americans in Brandon Paul and Meyers Leonard. There is no explanation for this team to only be 16-10 this season, with losses in seven of their last eight games.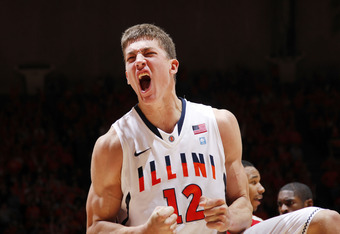 Joe Robbins/Getty Images
This team has talent, it's just the issue of chemistry and culture that is giving this squad fits. 
Ironically, Bruce Weber's job is really in jeopardy after losing to Matt Painter, who Bruce gave the opportunity to coach at Southern Illinois. Matt Painter could have been the final straw in the Bruce era at Illinois. 
Somewhere Gene Keady is shaking is head. The former Purdue head coach had Bruce Weber on his bench. Keady believed in toughness and effort. It's got to be hard for him to watch one of the members of his pedigree struggle to get the most out of his players.
Although Bruce Weber may think he is done, there is still a chance at salvaging this season. Winning out in Big Ten play and having a good run in the B1G tournament and NCAA tournament would save his job, but will he be able to get the guys to play hard enough to do it?