UFC on Fuel Results: Matches to Make After Jake Ellenberger vs. Diego Sanchez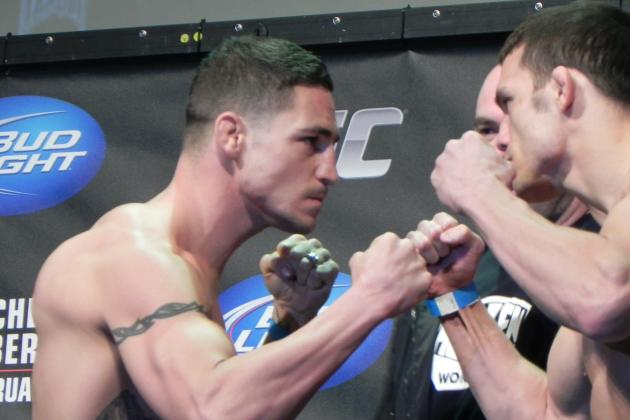 Vince Carey/Bleacher Report
With his sixth straight victory at UFC on Fuel TV, Jake Ellenberger may have separated himself as the top contender in the welterweight division.
Now, all eyes are on interim champion Carlos Condit and his decision on whether to wait for a fight with titleholder Georges St-Pierre or stay fresh and take a rematch with Ellenberger.
Meanwhile, Diego Sanchez will also be forced to do some thinking after losing to Ellenberger on Wednesday night. Though Sanchez has had some success at 170 pounds in his career, many believe his frame is better suited for the lightweight division.
Let's take a look at what could be next for Ellenberger, Sanchez and the rest of the UFC on Fuel TV competitors.
Begin Slideshow

»
Fresh faces in the UFC's lightweight division, Anton Kuivanen and Bernardo Magalhaes both suffered decision losses at UFC on Fuel TV.
With respective records of 16-5 and 11-2, Kuivanen and Magalhaes came into the UFC as promising additions to the 155-pound class.
While both fighters should get another shot at earning their first victory inside the Octagon, a second straight loss could mean the end of their run with the world's premier MMA organization, considering the depth of the lightweight division.
Matching Kuivanen and Magalhaes against each other would allow one fighter to get back on track and try to make a home in the UFC, while the other would probably be sent packing.
The fighters on the winning side of Anton Kuivanen and Bernardo Magalhaes' losing efforts, Justin Salas and Tim Means, would also be good opponents for each other.
After both fighters picked up wins in their UFC debuts, Salas and Means will be looking to begin their long climb up the deep lightweight ladder.
By matching Salas and Means against each other, the UFC will find out which fighter is ready to take on a more seasoned veteran.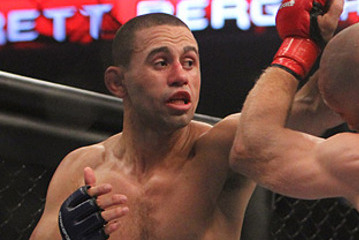 Scott Peterson/MMAWeekly
Vagner Rocha was rudely welcomed to the featherweight division at UFC on Fuel TV, where Jonathan Brookins knocked in Brazilian out in 92 seconds.
Though he suffered a loss to Brookins, Rocha remains a tough fight for most 145-pound fighters willing to go to the ground with him.
A bout between Rocha and fellow jiu-jitsu black belt Antonio Carvalho could make for an interesting ground battle between two new additions to the featherweight class.
Jonathan Brookins bounced back from the first loss of his UFC career with his first knockout inside the Octagon.
While Brookins remains outside of the featherweight title picture for the time being, he is not very far away from becoming a contender when considering how close he came to defeating rising star Erik Koch.
A bout with another up-and-coming 145-pound fighter, Yuri Alcantara, could make sense for Brookins' next fight. Alcantara is coming off a win against Michihiro Omigawa and also trying to become a serious title threat.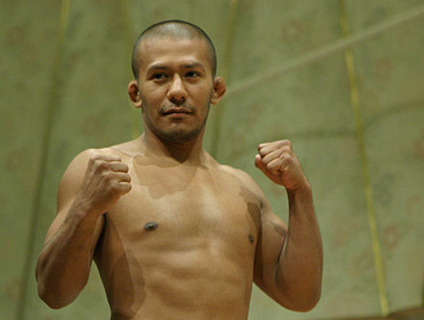 Scott Peterson/MMAWeekly
Ivan Menjivar's submission win on Wednesday night was full of excitement, but it wasn't expected to be so difficult for the Tristar Gym product to defeat John Albert.
Menjivar had to overcome being rocked by a head kick before taking Albert's back and locking up a rear-naked choke for his third straight victory.
While a more dominant win could have positioned Menjivar for a fight with a bantamweight contender, "The Pride of El Salvador" could now meet the winner of a UFC 144 fight between a fading Norifumi Yamamoto and the unproven Vaughan Lee.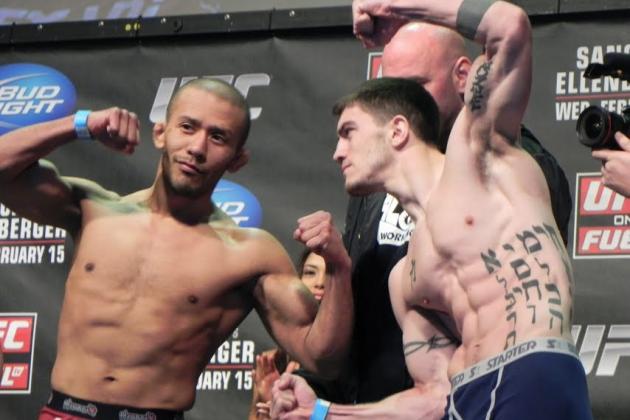 Vince Carey/Bleacher Report
While John Albert impressed many by rocking Ivan Menjivar with a head kick, the more highly ranked Walel Watson was thoroughly dominated by T.J. Dillashaw.
Though his only UFC win came against fellow TUF participant Dustin Pague, John Albert showed he is ready for a fighter of Watson's caliber by nearly finishing Menjivar.
Albert would be a step down in competition for Watson, but the fight would still be very important for "The Gazelle," as a third straight loss could mean his release from the UFC.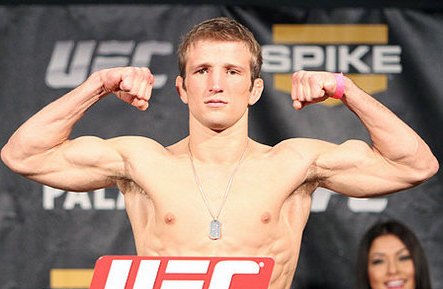 Scott Peterson/MMAWeekly
T.J. Dillashaw may only have one UFC win under his belt, but his dominant performance over Walel Watson showed that the Team Alpha Male fighter is ready to make a fast rise to the top.
Whether Takeya Mizugaki wins or loses his upcoming fight against Chris Cariaso, the Japanese fighter would be an excellent test for Dillashaw.
If Dillashaw can submit Mizugaki in the way training partner Urijah Faber, the TUF runner-up could be ready for the big time.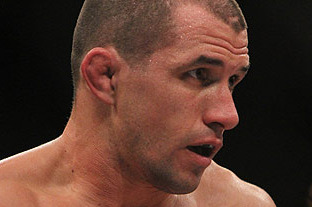 Scott Peterson/MMAWeekly
Unable to use his wrestling prowess against a much larger opponent, Aaron Simpson suffered the third loss of his UFC career against Ronny Markes at UFC on Fuel TV.
The loss prompted Simpson to consider a move to welterweight, which would make the most sense at this point in Simpson's career.
Simpson's debut at 170 pounds could come against Claude Patrick, another fighter looking to bounce back after a narrow loss to Brian Ebersole.
Though Ronny Markes wasn't as dominant against Aaron Simpson as some would have hoped to see, the Brazilian found a way to exit his UFC on Fuel TV fight with his undefeated UFC record still intact.
Markes isn't quite ready for an elite 185-pound fighter yet, but a bout with another middleweight looking to make the transition into a contender role would make sense for the 23-year-old prospect.
Ed Herman has made it no secret that he wants a top middleweight for his next fight. While that might be unrealistic coming off a win against Clifford Starks, a bout with a rising star like Markes wouldn't be out of the question.
Dave Herman and Philip De Fries each came out strong in their respective fights against Stefan Struve and Stipe Miocic on Wednesday's night.
However, after their early success, Herman and De Fries both suffered knockout losses at UFC on Fuel TV and tasted defeat for the first time inside the Octagon.
Matching Herman and De Fries against each other would give one of the young heavyweights a chance to bounce back and show they are able to learn from their mistakes.
Jon Kopaloff/Getty Images

Though they could tighten up their striking defense a bit, Stipe Miocic and Stefan Struve showed they are ready for bigger and better things after knockout win at UFC on Fuel TV.
While Stipe Miocic is a promising and undefeated up-and-comer, Struve began his UFC career very early and could finally be hitting his stride at only 23 years old.
The winner of a bout between these two rising big men would be more than ready for a matchup with a heavyweight contender.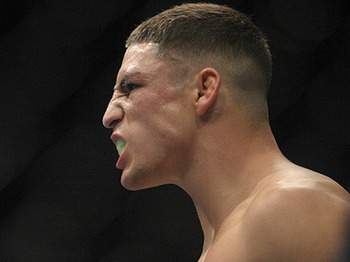 Jeff Cain/MMAWeekly
After going 2-2 in his return to the welterweight division, with two victories that were far from stellar, Diego Sanchez should seriously consider dropping back down to the lightweight division.
Should Sanchez decide to make the move, an interesting bout with former training partner Melvin Guillard awaits him. Since Sanchez was ready and willing to fight Carlos Condit at welterweight, the former TUF winner shouldn't hesitate to take a fight with Guillard.
Though both fighters are coming off losses, they are well-known fighters and Sanchez's return to 155 pounds would generate plenty of interest in the bout from fans.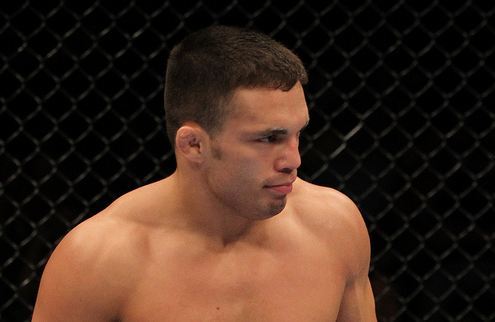 Josh Hedges/Zuffa LLC via Getty Images
This potential fight for the interim welterweight title depends completely on Carlos Condit. The UFC brass has given Condit the blessing if he wants to wait until titleholder Georges St-Pierre returns from injury, so there is a very good chance Ellenberger will have to win another fight before getting a title shot.
Should this bout fall through, Ellenberger could meet the winner of a UFC on FOX 3 fight between fellow welterweight contenders Johny Hendricks and Josh Koscheck.
The two newest and most deserving additions to the 170-pound title mix, Ellenberger and Hendricks could very well battle it out later this year in a fight to determine who meets the winner of Condit's potential fight with St-Pierre.
Sean Smith is a Featured Columnist for Bleacher Report MMA. For the latest insight and updates on everything MMA, Follow Sean Smith on Twitter