Georgia Bulldogs: 5 Reasons Why Georgia Will Cruise Through 2012
The great hope of reviving the 2011 season came with this Georgia win over Georgia Tech. Look for more games like this in 2012.
Scott Cunningham/Getty Images
Although the SEC West hovers over Athens like a big, black storm cloud, the Georgia Bulldogs are in a mental and physical state of preparation for dominance and revenge. Watch for this team to ignite a few sparks when spring practice starts soon. They'll carry the flame into the season opener Sept. 1, when the season starts at home, and cruise right into Atlanta, threatening to end the SEC West reign.
So enjoy these visions of victories while the bats of spring baseball are cracking. Here are some reasons why I think Georgia will come out on top in 2012.
Reason No. 1: The Georgia Bulldogs Spring off on a Cushy Schedule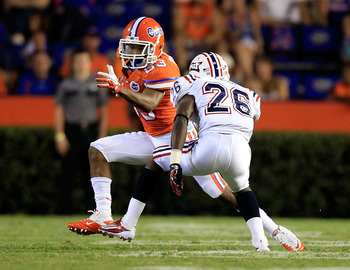 Although the Florida Atlantic Owls are consistent in taking on tough SEC opponents like Florida (shown here), the Bulldogs will exercise their dominance at home, the third game of the season.
Sam Greenwood/Getty Images
The SEC fanbase (minus Dawg fans) will no doubt be joking about the Georgia Bulldogs' 2012 season opponents, but the Dawgs will be the ones laughing all the way to Atlanta once regular season play ends.
Introducing the SECs cushiest schedule: Georgia versus: the Buffalo Bills (Sept. 1), at Missouri (Sept. 8), Florida Atlantic (Sept. 15), Vanderbilt (Sept. 22), Tennessee (Sept. 29), South Carolina (Oct. 6), at Kentucky (Oct. 20), in Jacksonville versus Florida (Oct. 27), at Auburn (Nov. 10), Georgia Southern (Nov. 17) and Georgia Tech at home on Nov. 24.
Tape that to the fridge, grab a Sharpie and circle the wins, Bulldog fans.
Within this schedule, take note: There are seven home games and only four challenges on the road. The Dawgs only play three of the Top 25 opponents: South Carolina (No. 7), Auburn (No. 23) and Georgia Tech (No. 25). If there are games the Dawgs must be on "upset alert" for, count the South Carolina Gamecocks and the Missouri Tigers in the loop.
Georgia will be without its starting cornerback, Sanders Commings, for the first two games of the season, but coaches will be well-prepared for his absence.
The cupcake season for the Dawgs will be iced with wins by the time in-state rival Georgia Tech comes to Athens, and the cruise control will send Georgia into the Dome for the second season in a row.
Reason No. 2: The Returning Bulldogs Will Be Seasoned with Vengeance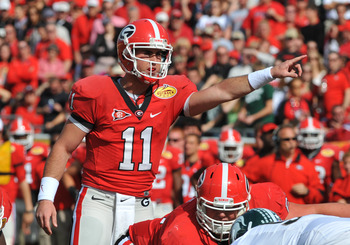 Aaron Murray will be flanked by several returning Dawgs.
Al Messerschmidt/Getty Images
When tight end Orson Charles announced that he would be leaving the Dawgs for the NFL, fans held their breath, waiting and wondering if other standouts would follow suit.
But on a brisk Friday in Athens, Coach Mark Richt proclaimed that linebacker Jarvis Jones and almost all the Bulldog seniors would be back for the 2012 season. That makes 13 seniors and two juniors (Aaron Murray and Hutson Mason will share the QB duties). Jones ended the 2011 season as the SEC leader in sacks with more than 13, earning him the fifth spot nationally.
With 2012 unofficially declared "The Year of the Bulldogs," the hurt to Georgia will come in 2013, when juniors Murray, Jarvis Jones (linebacker) and Kwame Geathers (defensive ends) will more than likely enter the draft. Those guys, plus a slew of others—including Ty Frix, Abry Jones, Bacarri Rambo, Branden Smith, Carlton Thomas, Cornelius Washington, Rantavious Wooten and Tavarres King—will most likely be leaving after 2012, leaving a few massive footsteps to fill in 2013.
Reason No. 3: Bulldogs Coach Mark Richt Has Something to Prove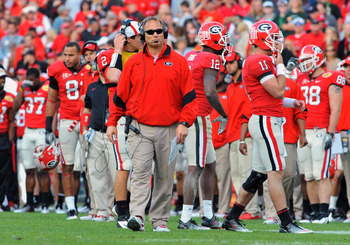 Although Richt is a few victories away from his predecessor Vince Dooley, he's on his way to becoming one of the Dawgs' most successful coaches
Al Messerschmidt/Getty Images
There are those who shudder when the conversation turns to a Dooley/Richt comparison, but here we go!
Coach Mark Richt, entering his 11th season as Georgia's head coach, is halfway to a Dooley record, achieving 100 wins this past season in Neyland Stadium, the same place where Coach Vince Dooley surpassed 200 in the '80s. Coincidental?
Richt faced the fire last year and came back with a vengeance; just not quite enough of it. Like him or not, he's taken the Bulldogs places, but never to a national championship game. This year could be the year that statistic works in his favor.
Reason No. 4: The Running Backs Will Be Hard to Catch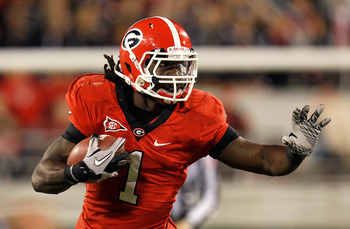 Isaiah Crowell will take it to the house, over and over
Kevin C. Cox/Getty Images
If Isaiah Crowell were bottled up, he'd be like a shaken can of tonic water spewing fizz all over the kitchen counter.
Too bad his fizz went flat in some games. The 215-lb. Columbus, Ga. native didn't have a perfect Bulldog debut season, but he did achieve some high points. He rushed for 850 yards for the season; not bad for a freshman who was a tad injury prone.
Look for Crowell to be back defending his position as the nation's No. 2 running back takes to the field in Athens.
The Raleigh, NC native standout, Keith Marshall, will be tested this spring. Said to be elusive and uncatchable, Marshall is up for the battle of the running backs. His presence might be enough to give Crowell the fire he needs to carry the Dawgs into stardom.
Reason No. 5: Whoa, Nellie! This Is a Defense Like No Other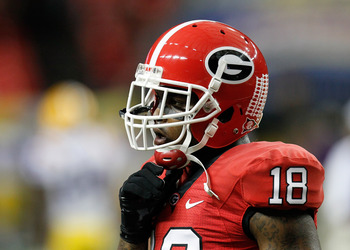 Bacarri Rambo is one of many reasons the Georgia defense will be thunderous in 2012
Kevin C. Cox/Getty Images
There is no proper word count to describe the Georgia defense for 2012. The adjectives flow like the crowds flooding Sanford Stadium on opening day.
For starters, Bacarri Rambo is back. The Donaldson, Ga. native led the SEC in 2011 with eight interceptions and 55 tackles. Look for him to strangle his opponents.
With Rambo are all but two from last year's defense. Entering the third year in the 3-4 front, the system has had time to become a masterful and impressive display of defensive coordinator Todd Grantham's coaching tenacity. All eyes will be on the Dawgs linebackers, Jarvis Jones (an All-American), Christian Robinson, Cornelius Washington and Alec Ogletree, a foursome that will put a serious bite into the bark of their opponents.
Keep Reading

Georgia Bulldogs Football: Like this team?