UFC on Fuel 1: Diego Sanchez and Jake Ellenberger Remind Us Why We Love MMA
February 16, 2012

Diego Sanchez came to the cage with a crucifix, holding it out from his body, keeping it at a safe distance. He looked upon the body of his fallen savior with an expression that could be read many ways. Was he angry? Inspired? Inspired by his own glorious anger?
He spoke to this cross the whole way too. Whether it was a curse or a prayer, no one can really say. We've seen religious iconography in mixed martial arts before.
Who could possibly forget Kimo Leopaldo making the long walk to the Octagon with a giant wooden cross on his back? But Diego Sanchez rose to the occasion with a record level of lunacy.
If Kimo Leopaldo was a believer, Diego Sanchez was a zealot. The difference, you see, is in the eyes. Diego's burned with the power of truth.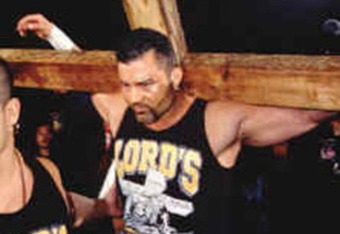 He paced back and forth before his fight with Jake Ellenberger was officially under way. Some fighters might picture themselves as the matador, full of art, science, and angles, looking to create a beautiful fight.
Anderson Silva comes to mind here, all mastery, elegant in his brutality. Diego Sanchez is different. When Diego paces back and forth, when his face contorts into an outrageous frown, when his mean mug goes past angry and into self parody, he clearly doesn't see himself as the matador. Diego Sanchez is the bull.
Against Jake Ellenberger, the bull was chopped to pieces. For two rounds, Sanchez would charge and Ellenberger would counter. It was an amazing display of fighting from Ellenberger. He was ready for the bull, and met him head on with counter punches, takedowns, and a veteran's savvy. And then the bull found his target.
When you are the matador, you need to be perfect. There is no room for error. Because the bull thrives on blood, whether it's his or yours is seemingly an insignificant detail. When Sanchez found his opening in the third round, he made the most of it. Punch after glorious punch rained down. On another day, the official might have stopped the fight. This was not that day.
"I went for the stoppage. I should have gone for the choke out," Sanchez said on Fuel TV's Post Fight special. "I had him flattened out and usually with that pace of punches, the ref will stop the fight, but he was showing enough life so the ref wouldn't stop it."
When the decision was rendered, the matador had his hand raised. But no one was fooled. The bull had found his target. In a less civilized world, there is no doubt who would have left a darkened alley, had the fight taken place there instead of the octagon.
But we live in that more urbane and sophisticated world. We fight for sport, not for life. And the matador was just brilliant enough to win. Who, though, doesn't feel a sense of pride in the bull. Poked and prodded, near to death, he continued to charge. With the deck stacked against him, he almost triumphed.
It's a compelling story, one that has been told many times in the cage, and one I will never tire of hearing. Diego Sanchez versus Jake Ellenberger. Heart versus mind. Science versus savagery. Man versus beast. Give me more. This is why we watch.