Scottish Premier League: What Finance Troubles Mean for Rangers, Rest of SPL
February 16, 2012

Jeff J Mitchell/Getty Images
Now that the dust has settled and future of Glasgow Rangers has descended into the hands of administrators, it is important to examine the situation from a broad context as the football world's collective eye remains fixed on Ibrox Stadium.
Having amassed a £9 million tax bill since Craig Whyte's takeover of the club last may, the immediate impact of Rangers' financial demise is that every component of the organization, players, coaches, and staff will be under the administrators' scrutiny. With outstanding debts still to be paid, the 140-year-old club is under intense pressure to make good on its financial obligations.
Officials for Dunfermline Athletic, currently in last place of the SPL, expressed concern that their club wil receive the £80,000 in gate receipts they are due. Similarly, it is rumored that Hearts are owed roughly £700,000. 
In a statement released yesterday, Dunfermline's representatives predicted far-reaching consequences would accompany the Rangers fallout. "The impact will be felt throughout Scotland, the UK, and Europe."
Perhaps the mood in Glasgow today is more like the eye of the hurricane than collecting dust.
As owner Craig Whyte conducts damage control with a permanent wide-eyed look and somewhat restrained optimism, all those connected with the organization seem to be taking a deep breath and waiting for what could befall them next.
Rangers have already been docked 10 points in the SPL, virtually eliminating them from title contention and seemingly handing a championship to rival, Celtic. Rangers and the administrators now have until March 31 to prove to Uefa that they are financially solvent and should be allowed to compete in the Champions League.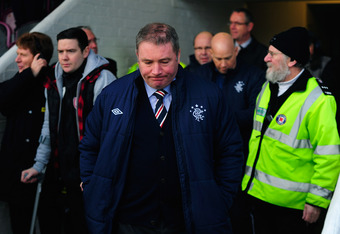 Stu Forster/Getty Images
Still, Whyte achieved a small victory in securing Duff & Phelps Group as Rangers' case administrators. The company was already advising Whyte and his board on their club's grim financial picture.
Today, Rangers also received word that their major sponsors will remain united in their support of the club. The administrators also have announced that there will be no cuts to the playing staff at the moment.
With so much resting in the hands of outside administrators, Rangers fans and players have called for positivity and a new start for the team. Fans gathered in large numbers outside Ibrox Stadium yesterday to buy their tickets for Saturday's league match against Kilmarnock. 
Beyond the specter of embarrassment and desperation in Glasgow, the Rangers fiasco has left the race for second place in the SPL wide open.
While just a week ago, Motherwell and Hearts appeared to be jockeying for a 3rd place finish, the ten-point penalty leveled on the Light Blues leaves Motherwell just nine points behind and Hearts still within reach down 15 points to Rangers.
In whatever order the teams end the season, the SPL term will be defined by financial tumult in Glasgow. An institution in world football, Rangers' plunge into financial trouble has touched all levels of the sport.
It was revealed that the SPL's entire television contract has been jeopardized by Rangers' problems, putting all of the league's teams under duress. Even Sir Alex Ferguson called it a "tragedy" yesterday. We should all hope that Rangers can survive this. And not just for their own sake.