2012 Fantasy Baseball Draft Guide Sneak Peek: Positional Sleepers
February 15, 2012

Stephen Dunn/Getty Images
Here's a sneak peek of The Fantasy Fix 2012 Fantasy Baseball Draft Guide.
Batter Sleepers
The definition of a sleeper has drastically changed over the years. Access to the internet and instant news feeds such as Twitter, have ultimately provided equal access to relevant cutting-edge information to all fantasy baseball enthusiasts.
The following list of names will sound familiar to you, so you may not consider them a sleeper. However, these guys are a sure bet to outperform their current ADPs and should be targeted on draft day. All round calculations are based on a 12-team league.
Adam Jones
While I was agonizing over the fact that I missed on Andrew McCutchen in our annual industry mock draft, I realized that I drafted almost the same player in Adam Jones in the seventh round.
Jones clearly doesn't fit the prototypical "sleeper" mold, but you will likely get a a similar value to McCutchen, with a five-round discount. In Jones, you're going to get a slightly higher average, at the cost of 10-15 stolen bases over the course of the year.
Recently agreeing to a one-year deal with the Orioles to avoid arbitration, Jones is likely to meet or exceed his 2011 numbers while he searches for that much desired long-term contract. A .280/25/75/90/15 season is on the horizon, don't miss out.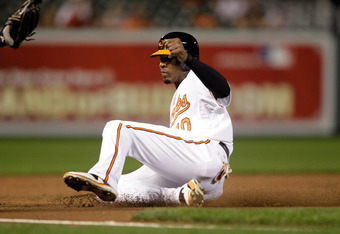 Rob Carr/Getty Images
Current ADP: 75
Target: fifth/sixth
Michael Cuddyer
Fantasy baseball's "Swiss Army Knife," Michael Cuddyer, will enjoy calling Coors Field his new home. According to ParkFactors.com, Cuddyer is leaving one of the four parks least friendly to hitters, for the Mile High City which is considered to be the most hitter friendly of any MLB fields.
Despite the fact he will likely be manning right field for the Rockies, the former Twin could potentially have position eligibility at 1B, 2B, 3B, OF and UTIL in your league. In terms of production, take the .284/20/70/70/11 season he had in just 139 games in 2011, project it over a full season in Colorado and you may have a .285/27/85/85/15 campaign in 2012.
Currrent ADP: 94
Target: late sixth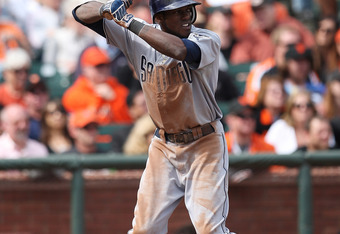 Tony Medina/Getty Images
It feels like baseball geeks have been talking up this Maybin character for ages, and he's only 24. In 2011, Maybin played in just 137contests for the Friars, yet managed to achieve career highs in just about every statistical category.
Additionally, Maybin maintained a BB% right around his career average (7.7%), while slightly reducing his atrocious K% (22%).
Don't expect a .300 BA from Maybin in 2012, however, you should see a .270 hitter, with about 16 homers, 90 runs and 40 stolen bases.
Current ADP: 103
Target: seventh round
Jemile Weeks
Those not willing to invest in a Robinson Cano, Dustin Pedroia or Ian Kinsler type second baseman, may be able to get some surprise production from Jemile Weeks in the middle-to-late rounds of their draft.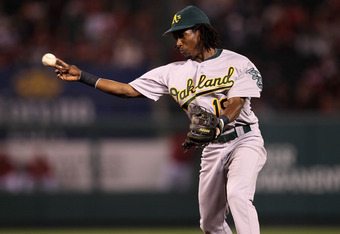 Stephen Dunn/Getty Images
Weeks joined the Athletics for 97 games last season due to the loss of Mark Ellis. In those contests, he posted a .303 average, with 50 runs scored and 22 stolen bases. Projected over the course of a full season, we could see about 80 runs and 35 stolen bases, with a dip in batting average considering his .350 BABIP.
Although Weeks will not offer your team any power, he should be a cheap solution for a solid three category contributor
Current ADP: 155
Target: 12th round
Yunel Escobar
Yunel Escobar is another example of steady, not stellar production. Currently, the 16th shortstop to be drafted on MockDraftCentral, Escobar was worth 4.3 WAR in 2011, which was seventh best among shortstops.
Additionally, Escobar finished third among all qualified shortstops with a .369 OBP. By no means will Yuni fluff your home run or stolen base categories, but he will hit for average, score runs and even knock in a few fellow Jays.
Like with the other players on this list, Escobar isn't necessarily a sleeper, but he will outperform his current ADP and be a safe selection for those of you not wanting to invest early on the top-tier guys.
Projection: .285/14/90/60/12
Current ADP: 215
Target: 18th round