NFL Power Rankings: The 10 Best Undrafted Free Agents in NFL History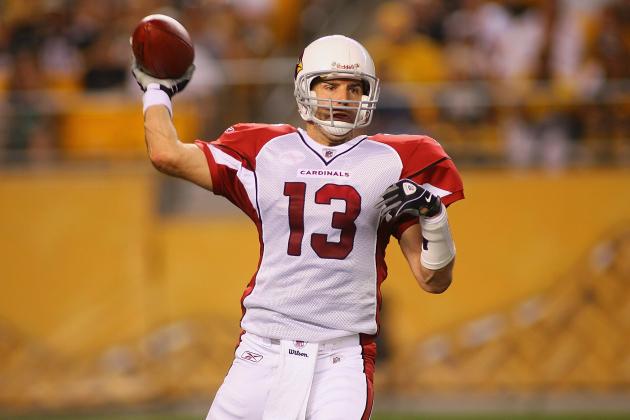 Rick Stewart/Getty Images

Even at its best and most accurate, the NFL draft is often called an "inexact science."
No kidding.
Every year, players slip through the cracks. Scouts have an extensive criteria for finding talent, but they can't find everyone. Draft day comes, hundreds of picks are spent and some players eager to make the NFL aren't chosen and are forced to start from square one.
Some of those players become stars. It happens. Not often, but it happens.
Tony Romo, Adam Vinatieri and Wes Welker are among today's players who know that story well, having fought their way onto NFL rosters before proving themselves to be great players at their positions. Plenty of others have traveled that path, with the following 10 players being the best to do it.
Begin Slideshow

»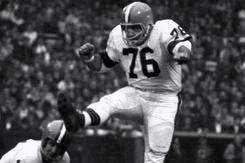 If you kick a football for a living, getting nicknamed "The Toe" is probably a sign that you're doing your job well.
Indeed, when Groza, a former Ohio State Buckeye, played for the Cleveland Browns between 1947 and 1961, he was as good as there was.
He led the league in field goals four times between 1950 and 1957 and was also a terrific tackle for the Browns, hence his unusual, for a kicker, jersey No. 76. He made nine Pro Bowls, was an All-NFL tackle six times and was named one of the 100 best players by the Sporting News in 1999.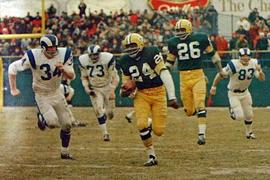 Vince Lombardi's Green Bay Packers won five NFL championships and two Super Bowls in the 1960s and were loaded at nearly every position. One of their strongest areas was the secondary, where Willie Wood dominated at safety from 1960-1971.
Wood's time at USC didn't warrant a draft selection (though the draft in 1960 went 20 rounds and 240 picks), but he landed a spot on Lombardi's super team and made an impact soon after. He made the Pro Bowl in 1962 and, after missing it in 1963, returned in '64 and didn't miss it again until his final season in '71.
Wood was also a skilled punt returner and had a 31-yard return in Super Bowl II that was a record for the game for 16 years. He finished with 48 interceptions for his career and was inducted into the Pro Football Hall of Fame in 1989.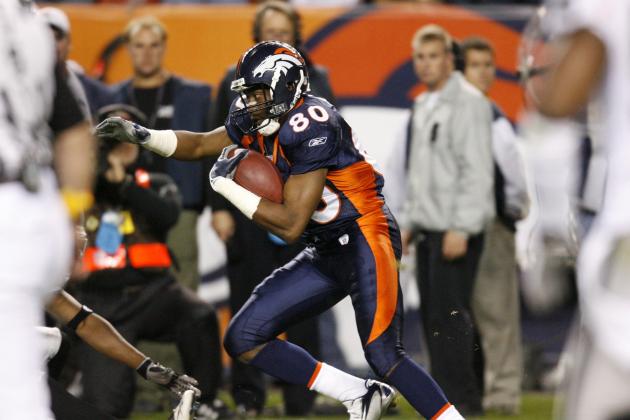 Rich Gabrielson/Getty Images

Rod Smith came to the Denver Broncos in 1994 as an unheralded nobody out of Division II Missouri Southern State. He retired in 2008 as the greatest undrafted receiver in NFL history.
Smith was in Denver all 14 seasons and was as consistent as any wideout in the league. John Elway's top target during Denver's Super Bowl years of 1997 and '98, Smith surpassed 1,000 receiving yards in a season eight times and caught over 100 passes twice, allowing him to be picked for three Pro Bowls and two All-Pro teams.
He's the all-time leader in receiving yards (11,389), receptions (849) and receiving touchdowns (68) among undrafted players.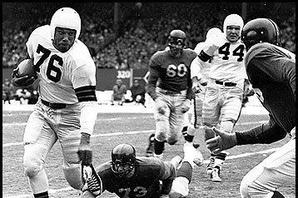 Just after the end of World War II, Paul Brown, who was tasked with building up an expansion football team in Cleveland, thought he saw something in a Navy veteran who hadn't played played college football since 1942 with the University of Nevada.
Brown signed Marion Motley to be the fullback for the All-America Football Conference's brand-new Cleveland Browns. It was a good move.
By the time Motley retired in 1955, he had established himself as one of the greatest all-around players the game had seen. He starred at both fullback and linebacker and led the AAFC in rushing in 1948 and, following Cleveland's move, the NFL in 1950.
Motley's impact was felt years after he retired. Sports Illustrated writer Paul Zimmerman called Motley the greatest player of all time in his book The New Thinking Man's Guide To Pro Football, and the Sporting News put the Browns legend 32nd on its 1999 list of the 100 best football players.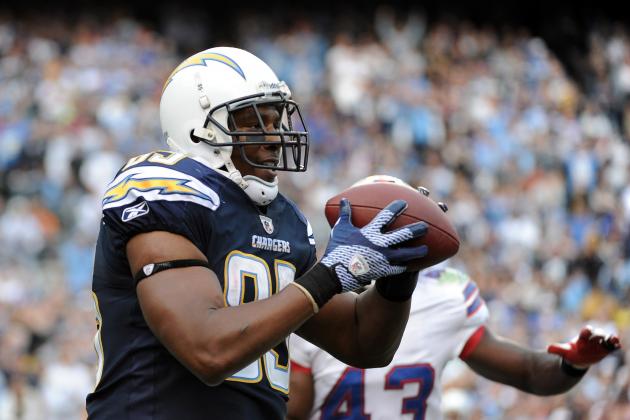 Harry How/Getty Images

Antonio Gates proved his skill as a football player early on in his career. More recently, however, we're seeing that the 31-year-old has proved to be a trend-setter as well.
When Gates began his career as an undrafted free agent with the San Diego Chargers in 2003, he was an anomaly as much as anything. He had a spot on an NFL roster due to skills shown in other athletic pursuits, as he had played college basketball at Kent State, even making the Elite Eight in the 2002 NCAA tournament, but not football.
Instead, Gates proved that his basketball skills translated perfectly to football. Catching passes first from Drew Brees and then Philip Rivers, Gates provided his quarterbacks with the luxury of a big body with speed and good hands that could out-leap any defender for the ball.
In other words, the perfect pass-catching tight end.
Tony Gonzalez had become the greatest receiving tight end of all time by following a similar formula, but Gates became the poster boy for the basketball player skill set. With those abilities and talents, Gates made his first Pro Bowl in 2004 and hasn't missed it since. He's also a five-time All-Pro and member of the All-Decade team for the 2000s.
Since Gates' emergence, plenty of teams have looked for players in his mold. Jimmy Graham is the most similar to Gates in terms of career path and ability, while Rob Gronkowski, Vernon Davis, Jermichael Finley and Aaron Hernandez have also followed the lead of the athletic specimen at the position.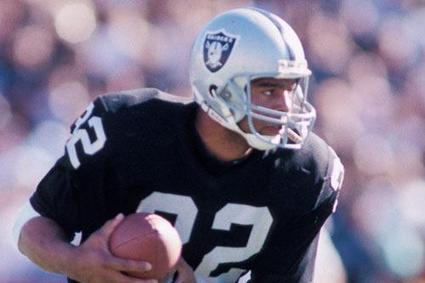 For a player generating little interest out of college, Willie Brown had quite the career, putting together 16 seasons that ended with his recognition as one of the game's greatest cornerbacks.
The Grambling State product joined the Denver Broncos in 1963 and, following AFL All-Star seasons in 1964 and '65, was traded to the Oakland Raiders, where he played in three more All-Star games and, following the 1970 AFL-NFL merger, four Pro Bowls.
Brown was one of the first great Raiders players and played at a high level until his retirement in 1978, recording 54 career interceptions, none bigger than a pick in Super Bowl XI against Minnesota that he returned 75 yards for a touchdown.
In 1999, the Sporting News put him 50th on the list of the 100 greatest players ever, making him the highest-ranked Raider.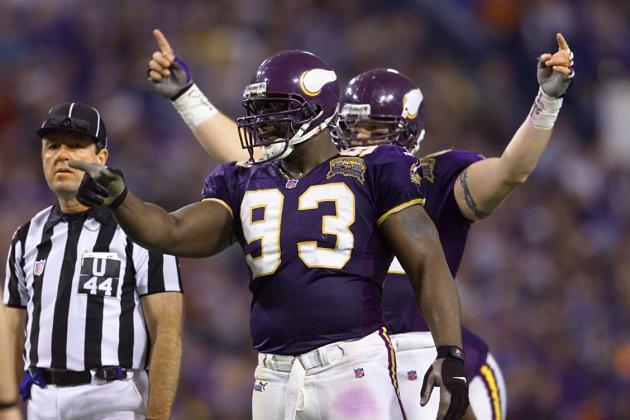 Brian Bahr/Getty Images

John Randle went undrafted out of Texas A&I in 1990, and it's easy to see why. As a 6'1" defensive tackle, it was thought that Randle would have little chance against massive NFL offensive linemen.
The Vikings gave Randle a chance, and it turned out that the offensive linemen had little chance against him. Randle was short but quick, fast and strong, and he parlayed those skills into a dominant career as one of the league's best pass-rushing interior linemen.
Randle made seven Pro Bowls and was named All-Pro each year from 1993-98. He was named to the 1990s All-Decade team and finished with 137.5 sacks, which has him tied for seventh on the all-time list and first among defensive tackles.
Randle was loud and bodacious on the field, but he backed up his talk. By the time he called it quits in 2003, he had proven his doubters wrong and become one of the best defensive linemen, drafted or not, to play the game.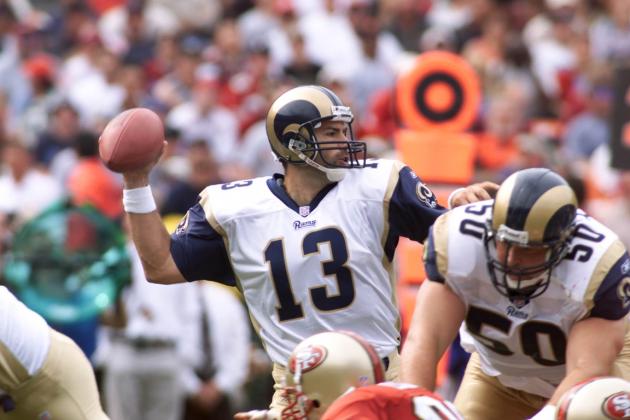 Jed Jacobsohn/Getty Images

Kurt Warner didn't have the long, consistent career of the other names on this list. But at his peak, he was the best player in the game.
Warner's rags-to-riches story was told several times over during the St. Louis Rams' Cinderella 1999 season. He went undrafted in 1994 out of Northern Iowa and didn't make it onto an NFL roster until 1998, having spent years playing arena football and working at a grocery store in the interim.
Warner got his shot when Trent Green was hurt in the '99 preseason and the Rams starting job fell to him. He made the most of the opportunity by becoming the best quarterback in the league over the next three years, winning two MVP awards and leading St. Louis to a Super Bowl championship in that '99 season and another title game appearance in 2001.
Warner was the maestro of the "Greatest Show on Turf," throwing for a total of 4,830 yards in 2001 that was good for second all-time. As quickly as Warner came on the scene, he was gone, but he returned to the limelight with the Arizona Cardinals by leading the longtime inept franchise to the Super Bowl and the brink of a championship in 2008.
Warner will draw Hall of Fame consideration for his leadership of two explosive offenses and legacy of clutch postseason performances, and he may even get in. As great as his story was, his performance, at his peak, matched it.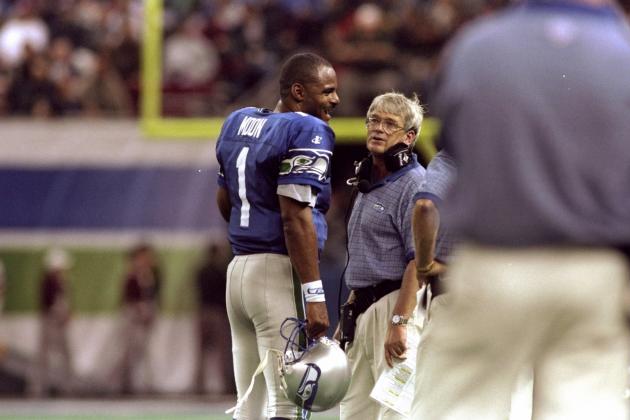 Otto Greule Jr/Getty Images

Warren Moon threw one of the prettiest balls in the league. He just had to endure five years in the CFL to prove it.
Moon went undrafted out of Washington in 1978 and landed in Canada with the Edmonton Eskimos, where he stayed until 1983, winning five straight Grey Cups. In 1984 he became a Houston Oiler, and it wasn't long until he made the transition into being one of the NFL's most productive passers.
He made the Pro Bowl every year from 1988 to 1997, with the exception of '96, and was an All-Pro three times. He made seven playoff appearances and retired third all-time in passing yards (49,325) and touchdowns (291).
Moon destroyed racial stereotypes at the quarterback position and was elected to the Pro Football Hall of Fame in 2006.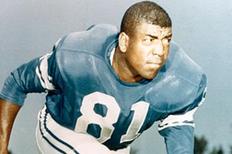 Dick "Night Train" Lane would be run out of the league today if he were coming up as a rookie, unable to pay the massive amounts of fines that his savage hits would undoubtedly lead to.
In 1952, however, hits like helmet slaps, clotheslines and forearms to the facemask were legal. And "Night Train" used them to become as feared a tackler as Dick Butkus, Lawrence Taylor and Ray Lewis—maybe more so.
Lane came out of nowhere, in the fullest sense of the saying. He played at Scottsbluff Junior College but attracted no interest and showed up at Los Angeles Rams training camp as a walk-on.
He made an immediate impact and was on his way to becoming the greatest cornerback ever to play. He picked off 14 passes in his rookie season in Los Angeles, still a single-season record, and didn't slow down, making seven Pro Bowls between 1954 and 1962.
He was an elite ball hawk, recording 68 interceptions, which is good for fourth all-time, and his legacy as a hitter is unrivaled. He became a Hall of Famer in 1974 and was selected the 19th greatest player of all time by the Sporting News in 1999.
And among undrafted players, he comes in at No. 1.