Jeremy Lin: New York Knicks' Overnight Star Not Hot Enough for the Miami Heat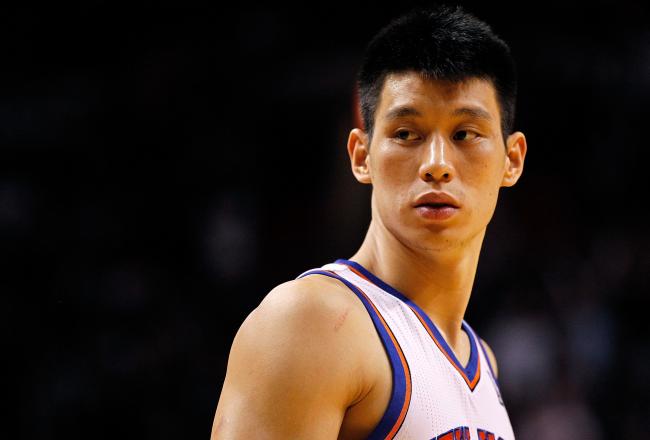 Is this the end of the Linsanity?
Mike Ehrmann/Getty Images
The clock has struck midnight on Linderella.
Hopefully for New York Knicks fans, somewhere in Orlando during All-Star Weekend Jeremy Lin will find the proverbial glass slipper. In this situation, Prince Charming is his elevated game that brought him from obscurity to global star in less time than it takes get a Netflix DVD in the mail.
Prior to facing LeBron James and the Miami Heat, Lin was averaging 23.9 points and 9.2 assists in his 11 starts with the Knicks. The Heat held him to a dismal 1-for-11 from the field, eight points and three assists as they defeated the Knicks, 102-88.
It was clear that the Heat intended to make an example of Lin and the Knicks Thursday night. He had six of his eight turnovers in the first half. It seemed as if the Heat wanted to rub it in on every opportunity. Mario Chalmers, Norris Cole and James all scored on Lin turnovers with aggressive dunks.
Where does the fairy tale go from here?
Now is when the witch hunt will begin in an attempt to diagnose where Lin's flame got extinguished. Some will blame it on the return of Carmelo Anthony to the lineup, dominating possessions and limiting Lin's impact, or the addition of J.R. Smith.
Others will simply say every player goes through slumps and nights when they are not at their best.The bottom line is we will never really be able to answer all of the "What if?" scenarios that will be created in the coming days.
Perhaps the truth is he is an average NBA player that had a great moment.
The most frustrating part of watching the "Linsanity" unfold was the amount of unnecessary comparisons to Tim Tebow and NBA legends, taking away from the young Harvard grad's moment in the spotlight.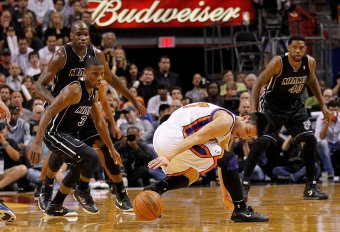 Mike Ehrmann/Getty Images
We witnessed, and perhaps will continue to witness, a streak of performance that had never been seen before in the NBA. If this is the end, at least ESPN won't have to look far for its next 30 for 30 documentary subject.
Jamal Wilburg is a Featured Columnist for Bleacher Report.
Follow his thoughts, rants, and adventures on twitter @JWilburg or visit his website www.jamalwilburg.com
This article is
What is the duplicate article?
Why is this article offensive?
Where is this article plagiarized from?
Why is this article poorly edited?

New York Knicks: Like this team?