Kentucky Basketball: 7 Reasons the Wildcats Are so Dominant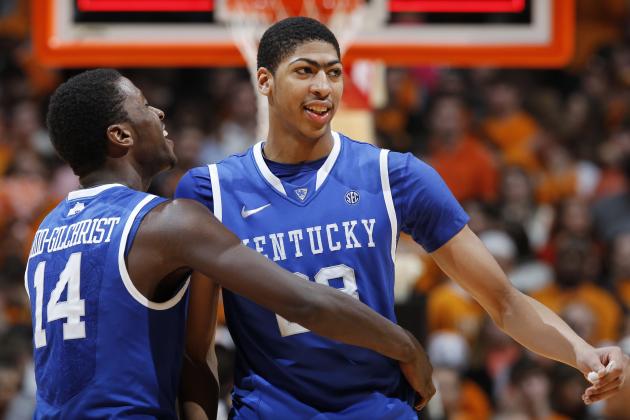 Joe Robbins/Getty Images

The 2011-12 Kentucky Wildcats are a dominant team.
"Dominant" does not mean invincible or unbeatable.
The Cats (25-1, 11-0 SEC) did lose their December showdown with Indiana in Bloomington on a buzzer-beater by Christian Watford.
Other than that, the Cats have knocked off every opponent, mostly in convincing fashion.
Yes, Syracuse actually has a better overall record (26-1), but they have not been nearly as impressive in the manner in which they have disposed of their opponents.
Here are seven reasons why the Big Blue is so dominant:
Begin Slideshow

»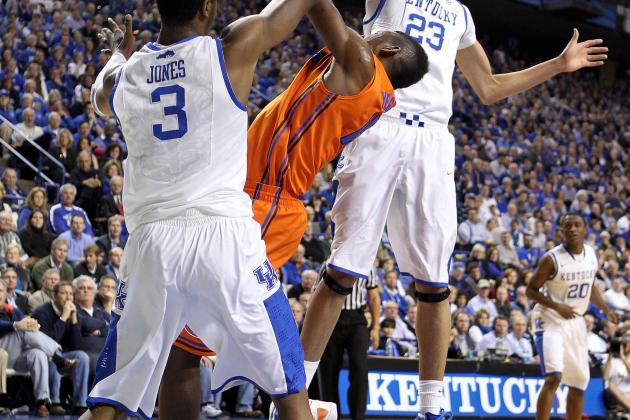 Andy Lyons/Getty Images

Anthony Davis broke the Kentucky season record for blocked shots in the 19th game of the season.
Now, after 26 games, Davis has 127 blocks and counting, which puts him No. 12 on Kentucky's all-time career list. Wow!
He is the nation's leading shot blocker, averaging 4.9 bpg.
As a team, the Cats have 244 blocks (9.4 bpg), almost 50 blocks more than the second-place St. Joseph's Hawks.
The NCAA all-time record for blocks in a season is 315 by UConn's 2003-04 season.
If the Cats keep up their current rate and play 39 games (as the Huskies did in 03-04), they will block 366 shots, obliterating the old record by 51.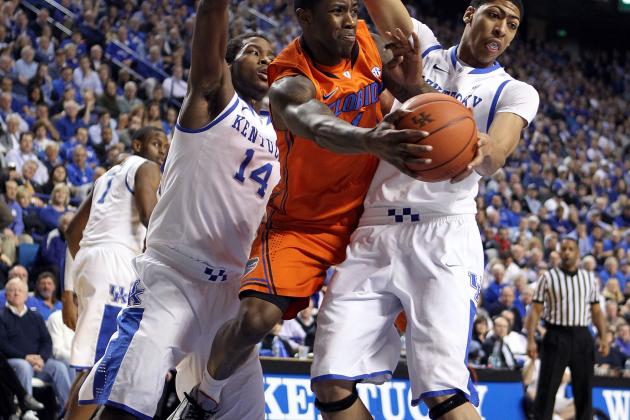 Andy Lyons/Getty Images

Kentucky puts as much if not more pressure on opposing shooters than any other team in the country.
They are currently the No. 1 field-goal percentage defense team in the nation (35.8 percent).
They get out and challenge practically every shot.
Even when they don't get a block, they are making it a challenge for their opponents to get good looks.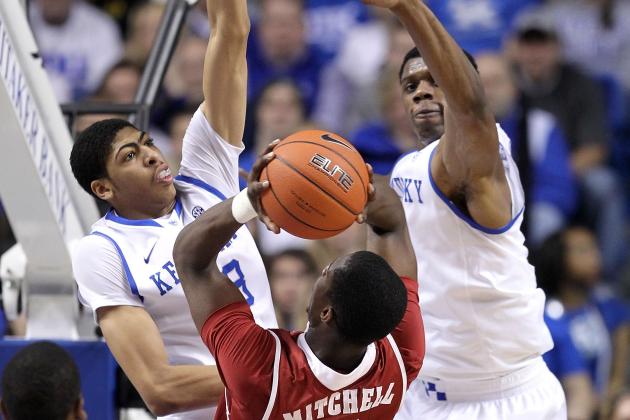 Andy Lyons/Getty Images

Kentucky is only letting up 57.9 points per game.
That puts them at No. 11 in the country. Outstanding.
This is even more impressive when you consider the pace in which the Cats play.
A lot of the teams that are ahead of UK are "slow-it-down, work-the-ball" types.
If you can't get to 60 on this team, you're not going to beat them very often.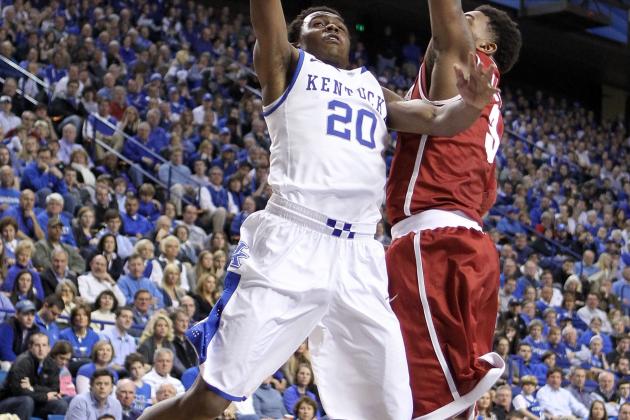 Andy Lyons/Getty Images

Kentucky doesn't have much trouble scoring points (77.8 ppg, No. 21 in the nation).
The Cats have scored 80 points or more in 11 games.
They have only been held under 60 points once this season (a 57-44 road victory at Georgia).
It's hard to shut the Wildcats down offensively because they have so many scoring threats on the court at the same time.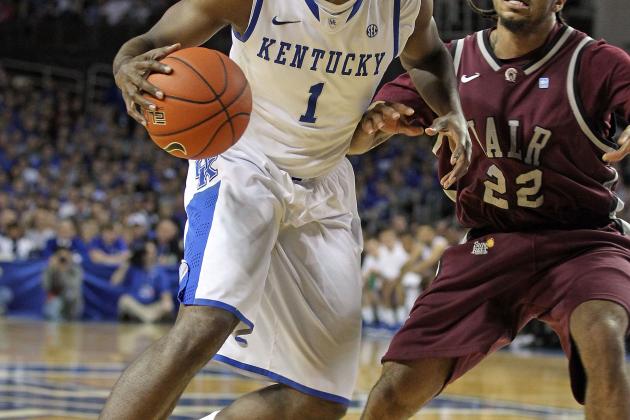 Andy Lyons/Getty Images

Beating a team by 20 points is pretty much a blowout.
Beating everyone on your schedule by an average of 20 points is amazing.
Only 36 teams have a 10-point or more scoring margin.
The Cats have the best Scoring Margin in the nation—19.9 ppg.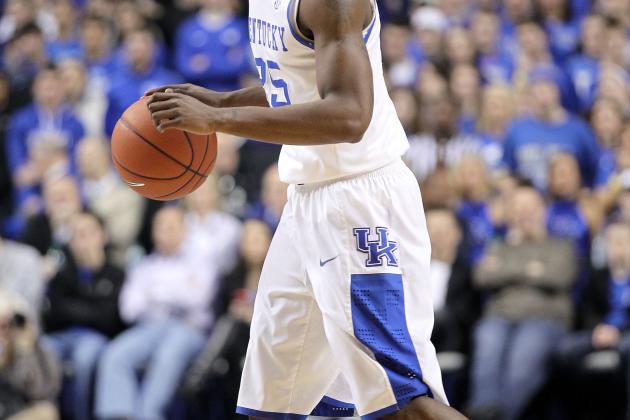 Andy Lyons/Getty Images

Kentucky takes care of the ball well. They aren't sloppy and don't normally throw the ball away a lot.
So far this year, as a team, the Wildcats are averaging 11.9 turnovers per game (No. 306 in the nation).
Some of the Big Blue Nation have been critical of Marquis Teague (pictured) at times.
However, I find it interesting that this year's freshman PG (Teague) averages fewer turnovers per game (2.8) than either of his most recent predecessors.
John Wall averaged four turnovers per game. Brandon Knight averaged 3.2.
Teague (1.68) even has a razor-thin edge over Wall (1.62) and Knight (1.31) when it comes to assists-to-turnover ratio.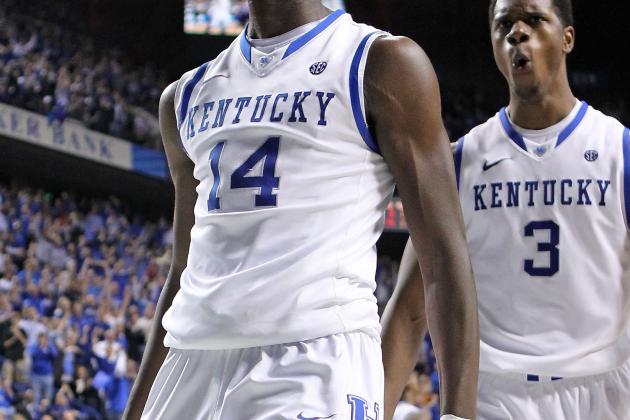 Andy Lyons/Getty Images

Anthony Davis, Terrence Jones and Michael Kidd-Gilchrist combine to make up one of the most potent frontcourts in college basketball.
Sure, folks in Chapel Hill will say that Harrison Barnes, Tyler Zeller and John Henson are a better collection of Bigs (and they can make a pretty good case).
When Kentucky beat UNC by one in early December, the two trios stats were surprisingly similar.
Both groups scored 38 points.
Kentucky's three grabbed 27 boards, while Tres Tar Heels only pulled down 18 rebounds.
Davis, Jones and Kidd-Gilchrist had a one-block advantage over Barnes, Zeller and Henson (6 to 5).
The final play of the game involved Davis blocking Henson's shot in the closing seconds.
Not sure that this closely fought game would give the Kentucky frontcourt a decisive advantage in the comparison, but when a head-to-head comparison is available, you have to look at that, don't you?
Bottom line: Not too many teams can confidently say, as the Wildcats can, that their front line will all be NBA Lottery picks.