The Biggest Games of the 2012 Big 12 Football Season
February 15, 2012

Wesley Hitt/Getty Images
The Big 12 schedule has arrived (at last!) after West Virginia agreed to pay the Big East $20 million not to be part of the conference any more.
These are the biggest games week by week. Reasons in brackets:
Week 1 (Sept. 15): Kansas vs TCU (First game in charge for KU's Charlie Weis—and there aren't any other games that week.)
Week 2 (Sept. 22): Kansas State at Oklahoma (Can Kansas State have the same amazing season as they did in 2011? Can Oklahoma not disappoint and get back to the National Championship Game?)
Week 3 (Sept. 29): Texas at Oklahoma State (Brandon Weeden and Justin Blackmon have left and Texas is a year older. The D and the running backs a year better, so could the Longhorns finally stop disappointing us?)  
ALSO: Baylor at West Virginia (WVU's first game in the Big 12 against an RG3-less Bears team. Still, expect points.)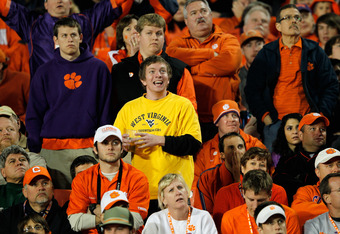 Mike Ehrmann/Getty Images
Week 4  (Oct. 6): WVU at Texas (The first big test of West Virginia's virgin Big 12 season comes in the unforgiving heat of Austin.) 
ALSO: Kansas at Kansas State (a chance for Charlie Weis to prove his worth)
Week 5  (Oct. 13): Texas at Oklahoma (OK, so we're always excited about the Red River.)
ALSO: TCU at Baylor (It was hellish fun last year, wasn't it? Can we have two in a row? Please?)
Week 6 (Oct. 20): Iowa State at Oklahoma State (We love the fact that ISU coach Paul Rhoads is always proud of his guys. But will he pull of back-to-back upsets against the Cowboys?)  
ALSO: Texas Tech at TCU (should be a shootout in Lubbock)
Week 7 (Oct. 27): TCU at Oklahoma State (Patterson vs Leach: The two best coaches in College Football butt heads in what will be a showdown in Silverwater.)
Week 8 (Nov. 3): Texas at Texas Tech (The Raiders are a perennial banana skin for any team thinking about National Championships—just ask Oklahoma last year!)
ALSO: Oklahoma at Iowa State (Could lightning strike for two straight seasons in the state of Oklahoma?)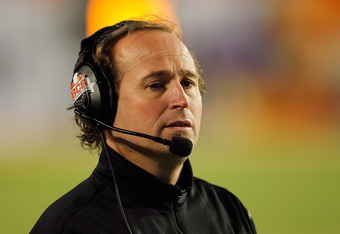 Streeter Lecka/Getty Images
Week 9 (Nov. 10): West Virginia at Oklahoma State (The return of Dana Holgerson to Oklahoma State, where he was an OC and set records in 2010. WVU's offence like to score, too.) 
ALSO: Baylor at Oklahoma (The Sooners will want revenge after last season's fiasco.)
Week 10 (Nov. 17): Oklahoma at West Virginia (Back-to-back games for the Mountaineers against Oklahoma monsters. This one's going to be more difficult that the game vs OSU, simply because there's more talent left at Oklahoma this year. For Oklahoma, this could be a National Championship Game banana skin.) 
ALSO: Kansas State at Baylor (How is the AARP rolling by Week 10, we wonder?)
Week 11 (Nov. 24): Oklahoma State at Oklahoma State (This is the game that Sooners fans have been looking forward to since their hiding at Bedlam last year.)
ALSO: Baylor vs Texas Tech (The game was a doozy last year in Cowboys Stadium, and could this be the same in a burgeoning rivalry?)
Week 12 (Dec. 1): Oklahoma at TCU (If the Sooners are still going for the National Championship by now, then this game's got "upset" written all over it. And you KNOW Gary Patterson will be willing to oblige in Fort Worth.)
ALSO: Texas at Kansas State (So....Kansas State are the new A&M, are they?)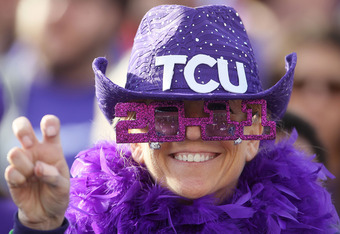 Jeff Gross/Getty Images
And this is the last time Big 12 teams got on a field of any sorts (excuse the Missouri and A&M highlights).