Who Needs Gilbert Arenas? the Lakers Already Have an Agent Zero
February 15, 2012

Stephen Dunn/Getty Images
Check Andrew Goudelock's jersey number people. I have a feeling that I will not be the only person in Los Angeles pointing this out: Goudelock can ball.
Kobe Bryant doesn't nickname you "Mini Mamba" unless you have skills. 
The way things are currently, this Laker squad cannot win a championship, let alone advance in the playoffs. The recent six game road-trip only highlighted the problems with the team.
When I watch the Lakers right now, they are basically playing three-on-five basketball.
Kobe Bryant, Pau Gasol and Andrew Bynum are scoring and keeping them in games. And they are getting nothing from any of the other players, let alone the bench in the way of offensive production. It's shockingly bad. 
If I was an opponent scouting the Lakers, my instructions to my team would be to throw everything you have at the Bryant/Gasol/Bynum triumvirate. Ignore whichever two other players are on the floor. You may give up a bucket or two a half, but chances are you might not.
That's how awful the Lakers shooting is outside of the big three. Those are pretty good odds to play. 
There is one exception to that: Andrew Goudelock.
For diplomacy reasons, he's not starting. But after that, he should be getting starters' minutes every single night. He can actually hit a shot.
It kills me that Mike Brown puts in Steve Blake over Goudelock.
That's old think. Is Brown not watching the tape?
Doesn't he see Blake hesitate and not shoot?
It happens way too much. It doesn't show up in the box score, but there was a play in one of the last road trip games where someone passed him the ball late in the shot clock. Blake was wide open, didn't take the shot and passed the ball.
What?! Bryant (rightfully) gave Blake an earful. You're wide open. Shot clock's running down. Shoot. The. Ball. You don't even need a killer instinct to do that. Just a bare minimum basketball IQ.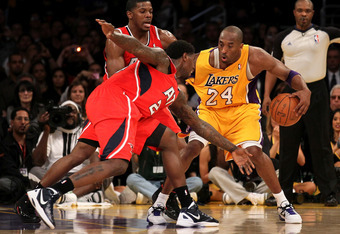 Stephen Dunn/Getty Images
Play Goudelock for 40 minutes a night if you have to. Tell him he has a green light to shoot at all times.
I can hear the protests now:  "Oh, but what if we wear him out?"  So what? He's 24. He'll be fine. He needs the playing time and the Lakers need his production. 
Just consider it an immersion course in NBA Hoops. You can have a social life and sleep in the off season, Andrew. For now, your whole life should be: breakfast/practice/lunch/trainers/tape study/light snack/game time/quart of Gatorade/dinner/sleep. Rinse. Repeat. 
Oh, and listen to whatever the coaches and Kobe tell you to do. 
The coaches. I'm starting to worry about Mike Brown. Let me start by saying, he seems to be a tremendous person, full of positive energy and enthusiasm. And he clearly knows defense. It's the offense I'm worried about. At first I liked all the substitutions from the bench. I think everybody was trying to feel their way to the best groupings to put on the floor. 
Now—I think it's time to settle into a couple more constant rotations (dictates of foul troubles aside). I still see way too many times where plays get slowed down because guys don't have enough familiarity with who they are out on the floor with. 
I get what Brown is trying to do with his new offense. I am just not sure he has the pieces to run it.
At the beginning of the season when things weren't flowing you could chalk it up to new players and lack of practice time.
We're almost at the half way mark. It still doesn't look good. 
Brown needs to get creative, get better at in-game adjustments and deploy his personnel more smartly. Expecting Kobe to play hero ball, and bail you out every night is not a smart strategy.
The constant double teams are going to turn into three and four guys draped all over him in crunch time. 
I learned long ago never to doubt Mamba's will to win, but his usage level is off the charts. He needs more help.
Goudelock can do that.
He can create his own shot off the dribble, he's speedy and he is not bad defensively – all of which will only improve with more minutes.
Plus, who doesn't want to see more of that gorgeous floater?
The time is now Lakers. There is a tough stretch coming up just before the All Star break with Portland, Dallas and OKC. All three of those teams can score. They're also all conference opponents. 
The Lakers cannot afford to drop those games. It's still wide open in the west. But you will not go anywhere if you cannot put up some points. 
The trade deadline is not for another month. I am confident that the front office is working on trying to make a deal.
Until then, Brown needs to play Goudelock every night for serious minutes. He should be rewarded for his production, not penalized for it because of outdated thinking that he shouldn't get the minutes because he is a rookie. 
Like they say in Moneyball, "Adapt or die."