WrestleMania 28: A Lost Opportunity to Revive the Legacy of Hulk Hogan
February 16, 2012

The build toward WrestleMania 28 is in full effect, with a main event that will apparently take place over Twitter between John Cena and the Rock. In an era where the WWE is relying heavily on older/ past-their-prime stars to carry the product, both Vince McMahon and Hulk Hogan allowed their egos to ruin a golden opportunity at WrestleMania 28 to officially (and tastefully) end Hulk Hogan's in-ring wrestling career while simultaneously preserving the damaged legacy of "Hulkamania."
WrestleMania 28 marks the 25th anniversary of what many consider the defining moment of professional wrestling: Hulk Hogan defeating Andre the Giant at WrestleMania 3, which was capped off with the "slam heard 'round the world" in front of a North American indoor attendance record-breaking crowd of 93,173.
This one match turned Hogan from an extremely popular professional wrestler into a world-wide icon, and in the process transformed professional wrestling into what Vince McMahon's vision of "sports-entertainment" was. Hogan was starring in movies, cartoons, video games. His name and likeness was everywhere, and brought attention to professional wrestling in the process. He became the true definition of a household name.
I was a major Hulkamaniac when I was a kid. As far as I was concerned, he was a real life superhero. I lost friends during heated debates regarding Hogan's popularity when it was challenged by the up-and coming Ultimate Warrior, and subsequently didn't sleep well after Hogan's loss to Warrior WrestleMania 6.  Heck, although the Persian Gulf War ended on February 28, 1991, the war wasn't really over as far as I was concerned until March 24, 1991 at WrestleMania 7, when Hulk Hogan beat Sergeant Slaughter (who at that time was an Iraqi Sympathizer) and recaptured the WWE title not only for himself, but for America!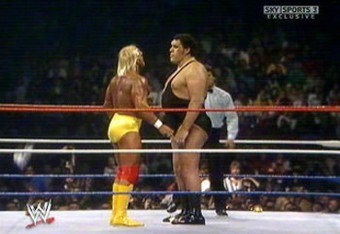 However, as I grew older, a significant shift began to form in regards my interest in the Hulkster and in professional wrestling as a whole. I consider myself a pretty loyal guy, almost to a fault. I grew up WWE fan.
Strike 1 against Hogan came when I saw him inside a WCW ring. Although he did a fantastic job reinventing himself as the heel "Hollywood" Hogan (which of course made sense with his Hollywood smash hits such as No Holds Barred and Suburban Commando); Hogan's star-power, along with Ted Turner's money raided the WWE of almost all their top talent and almost forced the WWE into bankruptcy.
Strike 2 against Hogan came when I discovered the Internet wrestling community, shoot-interviews, dirt sheets, etc. As I learned more and more of what was going on behind the scenes, I was shocked to learn that my childhood hero was in actuality a back-stabbing, egomaniacal, steroid-enhanced, backstage politician. It is weird to consider that Hogan may have been a locker room cancer of Terrell Owens proportions of his time.
The final strike against Hogan came when I got a glimpse at his reality show. It was bad enough to learn about what type of guy he was in a professional environment, but to see what he is like in his personal life is another story. The extravagance and sense of entitlement that seeped from that show was bad enough, but what really got to me was his son Nick. I'll give Hulk credit because it really does seem like he loves his kids. However, for anybody to spawn what seems to be douche of all douches and then promote and nurture this king douche was just too much for me to stomach. I was officially done with my childhood hero.
But then the personal issues hit. First his douche-bag son's car wreck which left his son's best friend paralyzed. Then his money sucking divorce which left Hogan on the verge of suicide. Old, physically beaten up from years of wrestling, and broke, Hogan had to get back into the ring with TNA wrestling. No matter how much you may dislike a person, you never wish for them to get to the point of considering suicide, let alone wrestle inside a TNA ring. I felt really bad for the guy. I wished he rode off into the sunset as this larger than life superhero I once saw him to be, and I was sure there were other wrestling fans that felt the same way.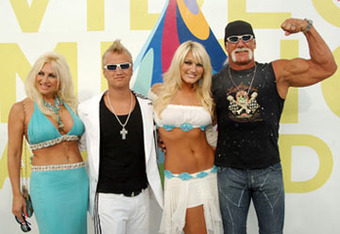 That wish could have been a reality at WrestleMania 28.  Now before I go any further, I fully understand how far-fetched this idea seems. But I never thought I would ever see Eric Bischoff on Monday Night Raw, or Bret Hart and Shawn Michaels reconcile in the middle of a WWE ring after the Montreal Screwjob. Crazier things have happened.
So what if Hogan didn't sign that contract extension with TNA that he was rumored to sign back in October? What if he, along with the help of WWE, took that time to rehab and do everything in his power to gear up for one last match at WrestleMania 28? Flash forward to early February, after the Royal Rumble, when the build towards WrestleMania starts to take shape.
As Hogan's original entrance theme "I am a real American" blares over the loud speakers, to the shock of millions of wrestling fans, Hogan makes his way to the ring during an episode of Monday Night Raw. He gets on the mic and discusses his history in pro wrestling, and how he has done almost everything someone can do in this business. But the reason he has come back to the WWE is for one last match to do something no one, including himself, has ever done: end Undertaker's unbeaten streak at WrestleMania, and he will be willing to put his career on the line for the opportunity.
From there, let the WWE marketing machine take control. Start the video packages, media tours, merchandising, and anything else to rebuild the Hogan brand. This also gives a fresh opponent for the Undertaker, who this year will be fighting Triple-H yet again in a match few really have interest in.
The match itself would be tricky, considering both men are not exactly the most mobile at this point in their careers, so the match will need some dressing up. Throw in a no disqualification stipulation, have run-ins, close finishes, and anything else imaginable to get through the match ultimately culminating with a bloodied Hogan tombstoned square in the middle of the ring.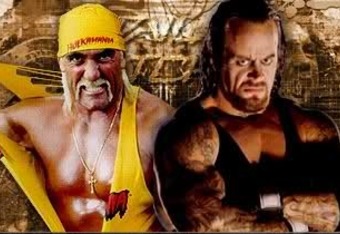 If done right, the same effect of Shawn Michaels' last match would be the desired end result. Just like Shawn, Hogan's backstage antics and politics would be erased away as he lay there, a beaten man who at one point was king of the wrestling world, and now sacrificing himself symbolically to not only WWE, but pro wrestling history.  
The rush of emotion and nostalgia would repair the much damaged image of Hulk Hogan, and revive what Hulkamania was all about. Also, the money involved cannot be overlooked as well. A cash- strapped Hogan would benefit greatly from this match, as well as the WWE. Merchandising alone could break records. After the match, Hogan could become an ambassador for the WWE where he could use his name recognition along with the WWE marketing power to break new ground, especially in the international markets.
Now I fully understand the reason none of this has happened or will probably never happen is because both Vince McMahon and Hogan have a long, colorful, history and both cannot set aside their egos and agree to defer to the other. But as I mentioned earlier, crazier things have happened. Maybe one day both Hogan and Vince can come to an agreement, and wrestling fans will be able to witness a proper send-off to a real-life superhero. Even Superman had to die in order to be reborn.