Stu Forster/Getty Images
June 26, 2016
I'm a diehard. I know it, my friends know it, and my parents know it. I am hopelessly devoted to the New York Jets until the day I die. I have suffered through the pain, the Mike Nugent missed playoff field goals, the 4-12 seasons, the plethora of draft errors and the heartache of being one game away from the Super Bowl two seasons in a row.
Jumping up and down, screaming at your television, pacing in the living room, and screaming at Wayne Hunter to make a block is all normal to old-school sports fans, right? I consider myself to be "old-school." I don't buy in to " Linsanity", " Tebow Time" and the constant tweeting during games. It's not how sports were meant to be enjoyed.
From my side, my phone is off during the game, and I'm sitting on the living room couch with my Iced tea and chip bag.
My emotional stability rides on each and every play, every first down, every pass, every block, every throw, every challenge flag and every Rex Ryan curse. The fact that "fans" nowadays have the audacity to show up at the arena, dome, field, or ballpark and be "tweeting, posting a Facebook status, or blogging" is a disgrace to the sports world.
Look, if I'm non-partisan like I was during this seasons Super Bowl, than by all means, tweet about Rob Gronkowski's ankle, Justin Tuck's face-mask, or the fact that Eli Manning is "elite." It's all apart of the new generation, social media and all.
However, Giant's fans should be ashamed. I'm currently a freshman at SUNY Oswego, and the fact that I saw some of my classmates walking around with their Giants gear on during the third quarter of the game is ridiculous! Get your butt in front of the television!
The fact that many of these "fans" don't show up until the biggest games is what really gets me. Where was the pretty blonde girl when the Giants lost to the Washington Redskins? But the fact that the Giants are in the Super Bowl gives her and whoever else the right to purchase there Giants T-shirt during the week leading up to the big game?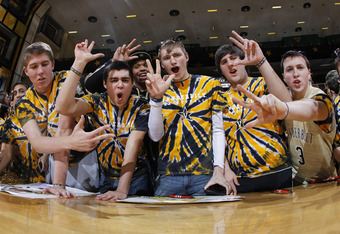 Joe Robbins/Getty Images
A disgrace.
Maybe it's just that I am just so attached, but isn't that the thing that makes watching sports so great? It's a soap opera at every corner.
One interception, one touchdown pass, or one Hail Mary can alter our emotions from the down under to the top of the world; and that's what makes me care so much.
I hope that old school fans stand by their teams and continue to do what they have been doing.
And to the new generation of "fans"- how about you sit down and watch the game-instead of watching it on Twitter.
Like the new article format? Send us feedback!