NHL Playoffs 2012: Why the Anaheim Ducks Still Have a Playoff Prayer
February 15, 2012
Harry How/Getty Images
The Anaheim Ducks were not a team pegged to be at the bottom of the league on January 1st. Quite the opposite, they were expected to compete with the Kings and Sharks for the Pacific Division title.
Through the first half of the season, their lackluster play and skyrocketing loss totals went on without explanation and seemed to have no end in sight, regardless of who was coaching the team.
Yet, as Bruce Boudreau began to implement his game plan in Orange County, the Ducks have quietly become one of the best teams in the league during 2012. Now in the middle of an eight- game road trip (tied for the longest in team history), they've put themselves now only eight points out of the eighth seed in the Western Conference.
It is not hard to argue that Anaheim is now a brand new team under Boudreau, as he has the team playing a much more aggressive brand of defense and a speedier high-powered offense.
Since January 1st the Ducks have lost only two games in regulation (both to the Dallas Stars) and have picked up 13 wins in the process going 13-2-3 and picking up 29 of a possible 36 points. It has put them in a position to actually make a push for the playoffs after a terrible start to the season.
So does Anaheim actually have a shot?
Road Trip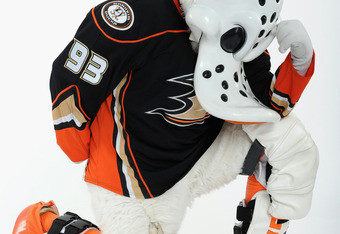 Matt Zambonin/Freestyle Photo/Getty Images
Anaheim is three games into a season-long eight-game road trip. Thus far, they've grabbed five of a possible six points winning both games in regulation against Western Conference teams.
Now, it is certainly true that Anaheim has to maintain a high level of play and continue to climb. Though in addition, they can't simply break even, as most teams do when they go on long road trips. Rather, they need to increase their position in standings over the next five games.
Yet, the Ducks do have one thing working in their favor as they set out to accomplish this.
On the road trip, all the Western Conference games are behind them.
The five games left are all against Eastern Conference opponents. Therefore, winning a game in overtime is of no consequence and won't afford advancement to any Western Conference team who they may be chasing for a playoff spot.
The Ducks showed a huge amount of resilience Tuesday night playing an excellent third period against Minnesota and battling back to not only tie the game, but win it in regulation. The Wild are the next team ahead of Anaheim in the standings, so an overtime win against that team wouldn't have been as helpful.
As far as the road trip goes, the worst is over.
If the Ducks continue to win and fair well against Eastern Conference opponents (5-3-3 so far this season), they'll be in great shape for March where nine of their 14 games are either at home or in Los Angeles.
Coaching and a New Game Plan
Boudreau has done an excellent job of getting his new club to adapt to his game plan while still complementing the skill established on the roster before he was there.
It's my personal opinion that the Ducks players never had a problem responding to Randy Carlyle. Rather they were responding to him while he was pushing a game plan that didn't work with Anaheim's 2011 roster.
Carlyle's brightest moments were when he coached the Neidermayer and Pronger led Ducks of the 2006-2009 era. During these years he had the personnel to play a grinding, hard-hitting, dump-and-chase style, and to his credit he coached that game plan very well.
Though fast forward to 2011, and you have a team now built around youth and speed with that same coach. At this point, Carlyle should have adjusted his game plan.
He didn't.
We shouldn't blame the players or say that Carlyle just got "stale." Not at all. His voice was being heard loud and clear, the exact same way it was being heard in 2007; his 2011 team just wasn't designed to carry out those orders.
Boudreau works because he is working with what he has. Speed, youth and athleticism are all strengths of his roster. He's utilizing them in every way possible, and it shows on the ice as well as the enthusiasm on the players' bench.
Keep It Up
Since January 1st, Anaheim has done everything they could possibly do to win and keep their loss column's activity to a minimum. This continued momentum will push them into the playoffs if they stick to their game plan and continue to play fast, aggressive 2012 Anaheim Ducks hockey.
If they get a few bounces, they have every chance needed to be in the Top Eight come April.