MLB Trade Rumors: Yankees Have No Need to Rush AJ Burnett Trade
February 15, 2012

Leon Halip/Getty Images
With Michael Pineda and Hiroki Kuroda joining the New York Yankees' rotation this offseason, the Bombers really don't need to keep A.J. Burnett around.
It's been widely reported in the last week or so that the Pittsburgh Pirates would like very much to take Burnett off the Yankees' hands, but Ken Rosenthal of Fox Sports says that talks between the two clubs have reached an "impasse."
Rosenthal says the Yanks have set a "soft deadline" for completing a Burnett trade. That deadline is on Saturday, the day before Yankees pitchers and catchers are due to report for spring training in Tampa. Rosenthal also notes that the Pirates are the Yankees' only "realistic" trading partner.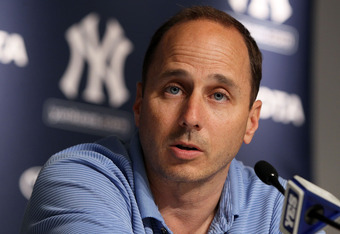 Jim McIsaac/Getty Images
According to Wallace Matthews of ESPNNewYork.com, the framework of the deal that's in place involves the Yankees getting a package of prospects, with the Pirates taking Burnett and paying a portion of his salary. Burnett is owed $33 million over the next two years.
Rosenthal does not note exactly what is holding the deal up at this point, but a Yankees source told Matthews that the deal boils down to this: "The better the players they give us, the less money they have to pay, and vice versa."
I'm assuming that the Yankees would prefer to take on a top-shelf prospect or two, but this is a win-win for them. If they deal Burnett, they're either getting great prospects or they're offloading a sizable chunk of money from their payroll. By ditching Burnett, they would also be ridding themselves of a pitcher whose role on the team is up in the air.
If the Yankees choose not to do business with the Pirates, keeping Burnett would be a win-win too. He'll either pitch well enough to maintain a spot in the rotation, or he will be banished to the bullpen, a place where he can do less damage.
In so many words, the Yankees are holding all the cards here. The Yanks know that the Pirates want Burnett more than the Yanks need to give him up, so there's really no need for them to give in just for the sake of getting Burnett out of the Bronx.
My guess is that this deal will go all the way down to Saturday's soft deadline and probably beyond. If it means wearing the Pirates down and ultimately getting a better deal, the Yanks can afford to wait.