Chicago White Sox: Why Fans Can Still Be Excited About Season Despite Outlook
February 16, 2012

Jonathan Daniel/Getty Images
Almost every major league baseball publication has created a dismal outlook for the Chicago White Sox in 2012.
Almost every so-called expert has the White Sox finishing at or near the bottom of the division.
Everything you read and everything you hear about them is negative.
So really, what is there to get excited about if you are a White Sox fan this season?
Well for me it's simple—it's another baseball season and that's reason enough to get excited.
However, for some that's not enough I guess. 
So here's how I see it.
When opening day comes around, every team has a clean slate and the predictions go out the window.
So the White Sox aren't predicted to be very good this year, does that mean they won't be?  Absolutely not.  Time will certainly tell if that's the case, but if there's one thing that I've learned over the years it's that the game is played on the field—not on paper—so there's no reason to worry about predictions.
For White Sox fans there's no doubt that this year is going to have a different feel because it is the end of an era and the beginning of a new one.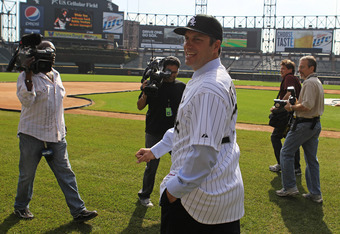 Jonathan Daniel/Getty Images
Gone is the manager who brought them their first title in 88 years and here is a manager with no major league experience.
Gone is one of the best pitchers to ever put on a White Sox uniform and here is the uncertainty of who will take his place. 
In addition, there now remain only two players from the championship team of 2005 and both of them are at the end of their careers. 
Times are definitely changing on the south side, but that doesn't mean this season has to be a lost cause—it may end up that way, but it's no certainty.
What the White Sox do have this season is a team with several young guys trying to prove to themselves and to fans that they belong in the big leagues—and that in itself can lead to exciting baseball.
They also have a new manager who is trying to prove that he belongs, which also brings with it a certain level of excitement.
Many people will point to the struggles of the high priced Adam Dunn, Alex Rios and Jake Peavy and wonder how this team can compete—and I completely understand that because I have felt the same way.  However, their struggles last year don't automatically transfer to this season and we will soon find out if one or all of these guys can turn it around this year.
It just seems that over the years the White Sox have played their best baseball when they weren't expected to.  Before the championship season of 2005 nobody really thought much of the Sox and obviously it didn't matter what people thought—they lead the division start to finish and rolled through the playoffs on their way to the title.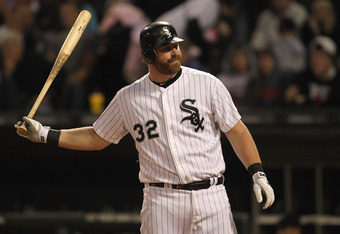 Jonathan Daniel/Getty Images
Now, in no way am I expecting this year's team to do what that team did in 2005, but what I'm saying is that a team can be good when no one expects it to be—and that should be reason enough to get excited for a new season.
I mean did anyone think that when Kenny Williams picked up Scott Podsednik prior to the 2005 season, that he would be a key piece to them winning a World Series? How about when he re-acquired Carl Everett to DH?  I don't remember those moves creating a lot buzz about making the postseason.
If you look up and down that 2005 lineup, that team did not have a group of All-Stars, but they found ways to win.
Yes, they ended up having great pitching, but other than Buehrle, no one in that rotation really jumped out at you to start the season—and that team, much like this year's team, did not even have a legitimate closer to start the season.
And when the White Sox have actually had high expectations going into a season in the past, where has that gotten them?  Not far.
This is a team that has a lot to prove and sometimes those teams can be dangerous—not always, but it does happen.
They have young guys who want to prove their worth and veterans who want to prove they are still worthy.
My point is that there is plenty of time to be pessimistic about this season—like if they are 15 games out at the All-Star break—but right now there is no reason for it.  They haven't even stepped onto the field yet. 
At this point it's okay to be optimistic about the team because they haven't given anyone reason not to be—not yet anyway.
If you have trouble with optimism, go ask a Cubs fan for help, they have plenty of experience in that department.