NHL Trade Rumors: 9 Capitals That Could Become Available at the Deadline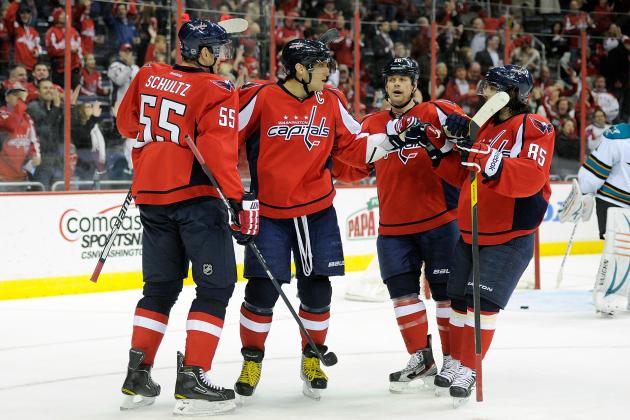 Greg Fiume/Getty Images

The trade deadline is officially less than two weeks away. The Capitals are officially out of a playoff spot.
Technically only one point away from making it in as the eighth seed, the Capitals are slumping at the worst time of the season. Not only this, but they are dealing with some major injuries to star players, Nicklas Backstrom and Mike Green, who are fixtures on offense and special teams.
Since the Ovechkin-era Capitals first made the playoffs against the Philadelphia Flyers, the Capitals have been annual buyers at the deadline by bringing in big names such as Sergei Fedorov, Cristobal Huet and Dennis Wideman. They are constantly trying to improve the team and make a run at the elusive Stanley Cup.
For the first time in a long time, Capitals fans might have to get ready to sit a postseason out, pick another team or two and hope for some entertaining hockey all around to watch. It looks like the Caps are in real trouble of going golfing even earlier than they are used to.
Begin Slideshow

»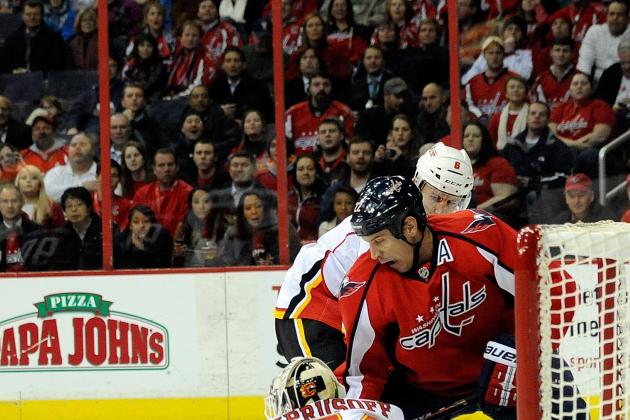 Patrick McDermott/Getty Images

Veteran winger and Capitals' elder statesman Mike Knuble is reported to want a chance to play somewhere else if the Capitals don't give him a sweater on a nightly basis.
Knuble has massively underachieved this yea, posting just 11 points.
Prior to this season Knuble was a regular on Caps' first line where he carved himself out a niche as a man who could bang in garbage goals off other players' rebounds. Knuble was playing with Ovechkin and Backstrom on a nightly basis and was a lock for 20-plus goals.
Knuble's value is at an all-time low, which is unfortunate for the Capitals should they decide to trade the 39-year-old impending unrestricted free agent.
If Knuble is sent off for one last shot at the Cup, expect an Alexi Kovalev-type deal that the Penguins pulled off last year, a conditional seventh-round draft pick.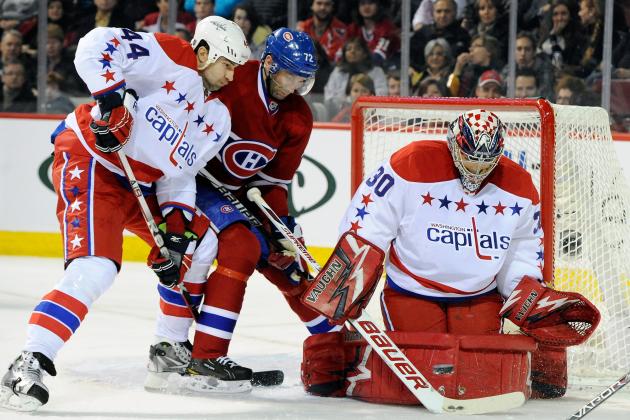 Richard Wolowicz/Getty Images

Hamrlik was brought to Washington for two purposes: An alternative to the human pylon known as Jeff Schultz and to pair with Mike Green as a stay-at-home defenseman that could cover up for Green's defensive mistakes.
Unfortunately for the Capitals, Hamrlik hasn't fufilled his first purpose very well. Schultz has been a healthy scratch for the majority of games after head coach Dale Hunter took control and was easily replaced by rookie defenseman Dmitri Orlov, who in just a few games has shown that he is head over heels a much better player than the veteran Schultz.
Mike Green is injured, again, and will be out for a few more games after injuring his groin early in the season. Hunter sometimes splits up the ultra-reliable Alzner-Carlson defensive pairing and puts Hamrlik with John Carlson as kind of a balance to Carlson's offensive prowess. That plan rarely if ever works out well.
The worst thing about Hamrlik's contract is that he holds the infamous 35-year-old clause where even if he retires or is placed in the AHL next year, his salary cap still hurts the Capitals' professional organization.
Hamrlik is in the twilight of his career and trading him during a very subpar season will be difficult for GM George McPhee.
Joel Auerbach/Getty Images

What else can be said that hasn't already been reported about a 6' 6", 230-pound defenseman who doesn't hit, can't play defense very well and brings absolutely zero offense to the table?
Your dear author has personally not been to a game this year where Schultz hasn't been heckled or booed, even on nights where he's a healthy scratch. Ouch!
Schultz is signed at $2.75 million dollars a year for this year and two more. Anybody who wants to take on the veteran blueliner is going to have to devote a lot of personal coaching and resources to his cause.
If Schultz is traded for anything that doesn't require the Caps to take salary back it will be a win for George McPhee, the Capitals organization, and for every man, woman and child in Verizon Center that rocks the red.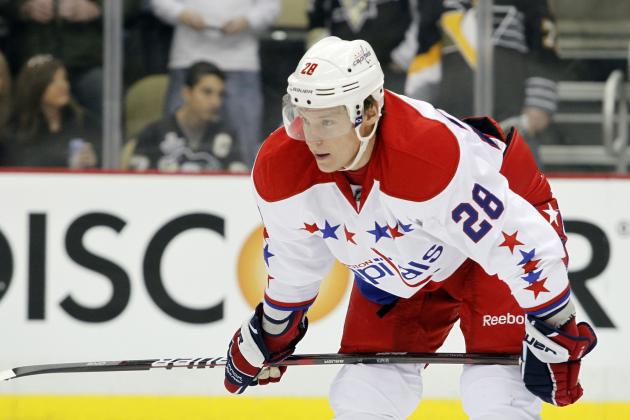 Justin K. Aller/Getty Images

There is no such thing as a trade rumor article without the mention of Alexander Semin.
In a recent Sports Illustrated poll, Semin was voted the second-easiest player in the NHL to intimidate, second only to Toronto's Phil Kessel.
Semin is a curious case because he is often cited as having one of, if not the best, shots in the entire league, but has the work ethic that makes Alexei Kovalev look like Doug Gilmour.
Semin is a lazy player who puts forth effort when he feels it is worth his time. Often described as a paycheck player, Semin has been insistent on signing one-year contracts for big money the past two seasons.
One has to imagine that the Alexander Semin experiment is finally going to come to an end in Washington whether the Capitals make or miss the postseason. The good news is that Semin has great value to a team like Detroit or Nashville where he will be held accountable by his coaches to play a responsible two-way game that also maximizes his scoring ability.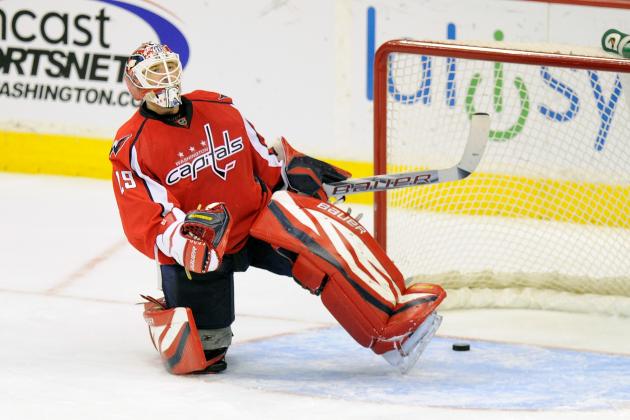 Greg Fiume/Getty Images

Probably the most attractive goalie for teams to acquire at the deadline will be Washington's Tomas Vokoun.
Currently playing on an extremely affordable $1.5 million dollar contract, Vokoun has high trade value and will be very easy to send off to teams who may not have very much cap space.
Vokoun is a starter who at this point in his career would probably not mind being a backup, so long as he has a chance to be on a team that has a legitimate shot at winning the Cup.
Posting slightly above his career save percentage and having an overall good year on a team that is a little lost defensively, Vokoun can net the Capitals a nice draft pick or prospect due to how tradable he is.
Teams interested in Vokoun as a starter would include the Toronto Maple Leafs, Tampa Bay Lightning, Chicago Blackhawks and possibly the Philadelphia Flyers. Vokoun would also be likely to accept a backup position for the Detroit Red Wings or Vancouver Canucks, giving way to more Cory Schneider trade rumors which we all can't get enough of.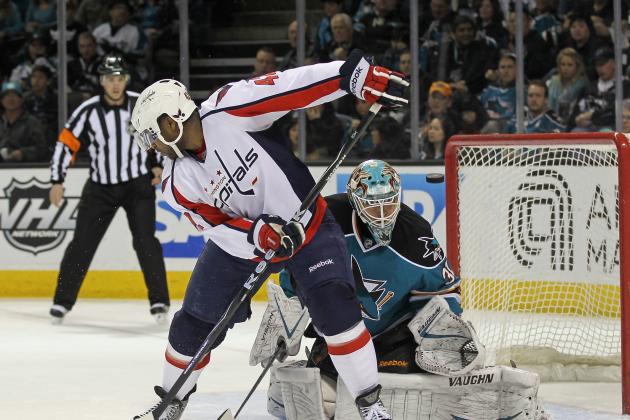 Bruce Bennett/Getty Images

In retrospect, signing Joel Ward was a very bad mistake for the Capitals.
After an impressive postseason last year with the Nashville Predators, Ward signed with the Capitals for four years on a $12 million dollar contract.
The Capitals would be wise to try to get rid of Ward who excels at board play, but not much else. Ward doesn't really contribute much offensively and he's not your first choice for a penalty killer.
Like Schultz, if the Caps found a way to free themselves of this contract it would be a win no matter what they got in return.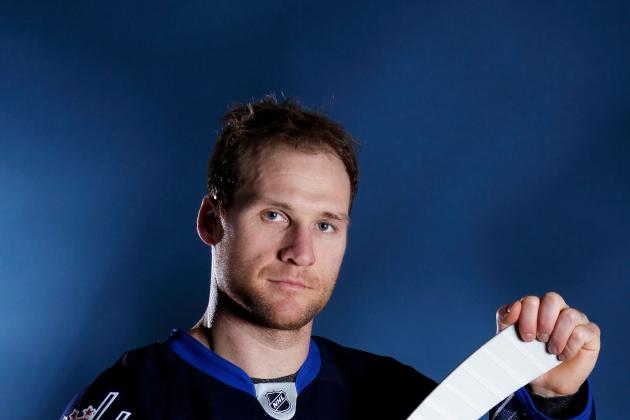 Gregory Shamus/Getty Images

Making the All-Star team for the first time in his career, Wideman has established himself as an elite offensive defenseman.
Filling in for oft-injured Mike Green as the team's primary puck moving defenseman, Wideman has been a great goal scorer and setup man who is also eating minutes for the Caps by playing over 24 minutes a night.
The Capitals would be wise to try to resign Wideman with Green's future in doubt, but if the Caps do decide to trade Wideman they could get top dollar for him. There isn't one playoff team in the NHL that wouldn't like to add Wideman for a postseason run.
In terms of value, think Tomas Kaberle from last year. The Boston Bruins traded a ransom for Kaberle at the deadline and went on to win the Stanley Cup. Wideman is younger than Kaberle and has a much better shot.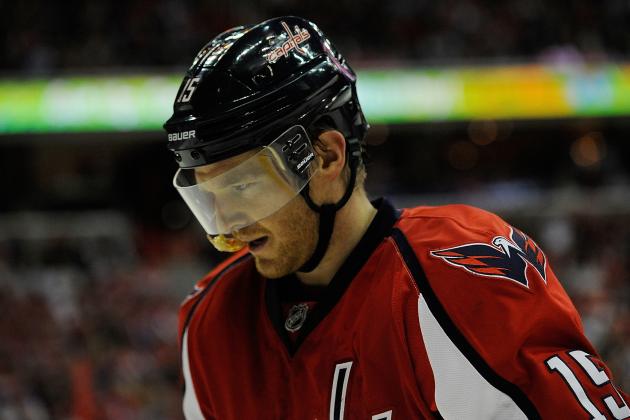 Patrick McDermott/Getty Images

Halpy is a fourth-line center who can occasionally play on the third line if need be. The former Caps Captain is an excellent penalty killer and is currently the second best faceoff man in the league.
The return on Halpern would be very low as he is quite old and is an upcoming unrestricted free agent. But there is always a handful of playoff-bound teams that are looking to solidify their bottom six and Halpern is one of the better centers that will be available.
The interest in Halpern will be much higher than one would expect, and if he is made available he will almost certainly be picked up rather quickly.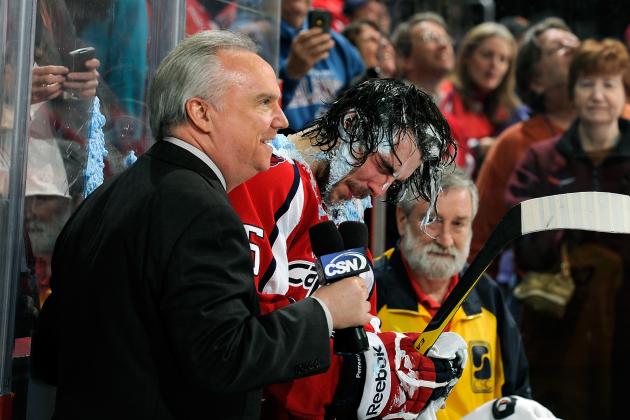 Greg Fiume/Getty Images

Perreault is a small feisty Quebecois who showcased his value earlier in the month when he recorded his first career hat trick against the Boston Bruins.
Trading away Mathieu is a hard case to sell but apparently there has been some inquires as to his availability. The young center has been given the heaviest work load of his short career, Perreault is projected to start more games in 2011-12 than in his last two seasons combined.
The only way Perreault moves is if a roster player or overpayment from the other team is offered. While he doesn't necessarily fit the mold of a checking line center, and that he has more skill than that of your average 4th liner, teams on the short side of forward depth or in need of bottom six scoring should and probably will aggressively pursue him.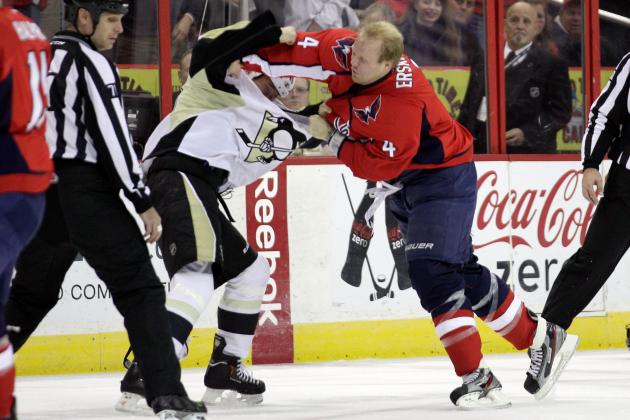 Rob Carr/Getty Images

Erskine is without a doubt the Caps' most physical D-Man. The rough and tumble defender takes guff from no one and can fight vigorously with the best of them.
Erskine has slowly gained favor over the years with Capitals fans. Aside from the gritty play and never being afraid to hit an opposing forward as hard as he can, Erskine's defensive play has slowly improved.
A very serviceable 6th/7th D Man there could be many teams interested in Erskine's services. Teams that may doubt the abilities of their bottom pairing defensemen should call George McPhee and inquire about John's availability.
Erskine makes a modest 1.5 million per season for this season and next, and is relatively young at 31 years old. He should be very affordable as far as sturdy defensemen are concerned.