UFC on Fuel TV: Jake Ellenberger vs. Diego Sanchez Breakdown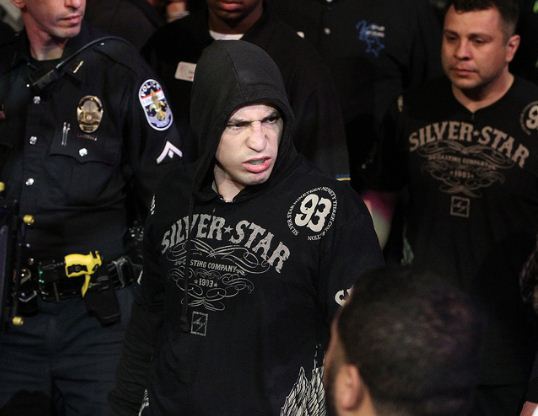 Josh Hedges/Zuffa LLC via Getty Images
In the main event of UFC on Fuel TV, Jake Ellenberger and Diego Sanchez will look to take a big step toward contending for the UFC welterweight title.
Whether their shot would come against interim-champion Carlos Condit or long-reigning titleholder Georges St-Pierre, a win on Wednesday night would give Ellenberger or Sanchez bargaining power for a title shot.
Coming off of an extremely impressive knockout win over Jake Shields, some would argue that Ellenberger has already done enough to place himself as the next in line for a championship fight. Nevertheless, he will now have to beat Sanchez to hold his place in that line.
Before Ellenberger and Sanchez square off for what will undoubtedly be an entertaining main event, let's take a look at how the 170-pound fighter match up against one another.
Begin Slideshow

»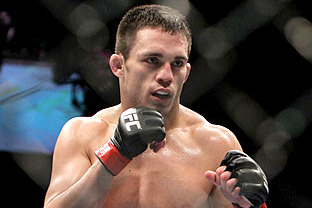 Scott Peterson/MMA Weekly
Striking
After becoming the first fighter to knock Jake Shields out in nearly 12 years, it would be hard to deny Jake Ellenberger an edge over Diego Sanchez in the striking department.
Coming from a wrestling background, Ellenberger might still not be the most technical striker in the welterweight division, but he packs more power than just about anyone at 170 pounds.
Sanchez puts a lot of pressure on his opponents with a fast pace, but his striking isn't nearly as accurate or effective as Ellenberger's.
Edge: Ellenberger
Chin
While Ellenberger has never been knocked out during his MMA career, Sanchez's only knockout loss came via doctor's stoppage for a cut suffered in the fifth round of a title fight against B.J. Penn.
Ellenberger's chin is less proven than Sanchez's, as the former top lightweight contender has been involved in some all-out wars, but the Nebraska native has to be given the benefit of the doubt since he has never been finished.
Edge: Push
Takedowns/Takedown Defense
Both Ellenberger and Sanchez possess solid wrestling skills, but they use it in very different ways.
Whereas Sanchez will work tirelessly to take his opponents to the ground no matter how many times his takedowns are stuffed, Ellenberger prefers to use his wrestling defensively to keep the fight standing.
The outcome of this fight could come down to takedowns, as Ellenberger holds a much more noticeable advantage over Sanchez while standing than any superiority he might have over his opponent on the ground.
Edge: Push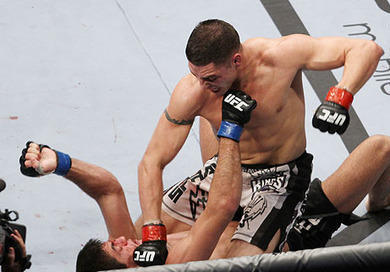 Scott Peterson/MMA Weekly
Grappling/Positioning/Control
Having three more years of experience than Jake Ellenberger in MMA, Diego Sanchez has had more time to fine-tune his ground game for the sport.
A brown belt in jiu-jitsu in addition to his wrestling experience, Sanchez is more familiar with all the ins and outs of the MMA ground game than Ellenberger.
While Sanchez may have an edge over Ellenberger on the ground, it isn't nearly as sizeable as Ellenberger's advantage in the striking department if he can remain standing.
Edge: Sanchez
Submissions/Submission Defense
With nine submission victories under his belt, Sanchez is a much greater threat to end this fight with a submission than Ellenberger. Ellenberger has a handful of submission wins under his belt, but all of them came against lower-level competition at the beginning of his career.
That being said, Sanchez's submission game might not come into play, as Ellenberger has only been submitted once in 31 career fights.
Edge: Sanchez
Ground Striking
Given the power of his strikes when standing, Ellenberger's ground and pound probably isn't much fun to deal with either.
However, Ellenberger hasn't displayed much of his ground striking because he has had so much success in keeping fights standing and landing big shots.
Sanchez, meanwhile, depends on his ground and pound to open up submission attempts and break down his opponents.
Edge: Sanchez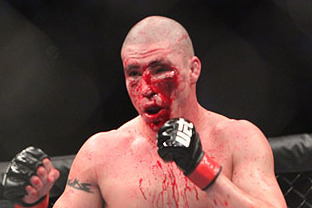 Ken Pishna/MMA Weekly
Experience/Game Plan
Though he has four fewer fights than Jake Ellenberger, Diego Sanchez has much more experience competing in big fights.
Ellenberger is one fight removed from a main event fight with a former Strikeforce champion, but Sanchez has headlined multiple events and competed for a world title against one of the best pound-for-pound fighters of all time.
Sanchez also has renowned trainer Greg Jackson in his corner, so he will be as ready for this fight as possible on Wednesday night. Whether that is enough to overcome any disadvantages, we will soon find out.
Edge: Sanchez
Strength/Quickness/Reach
Sanchez carries with him a ton of heart and intensity, but he doesn't appear to be at the same level of athleticism as Ellenberger.
While Sanchez has earned many wins by persevering through adversity, Ellenberger is a physically stronger and quicker fighter than Sanchez, especially at welterweight, where Sanchez appeared soft in his most recent fight against Kampmann.
Edge: Ellenberger
Conditioning
Ellenberger hasn't shown a tendency to gas late in fights, but very few can match the gas tank of Sanchez.
There are some athletes who were born with the ability to go 100 percent all day long and Sanchez is one of those kind of fighters.
Part of Sanchez's strategy in almost any fight is to push his opponents to the point of exhaustion. That may or may not work against Ellenberger, but, either way, Sanchez will likely be the fresher fighter at the end of this bout.
Edge: Sanchez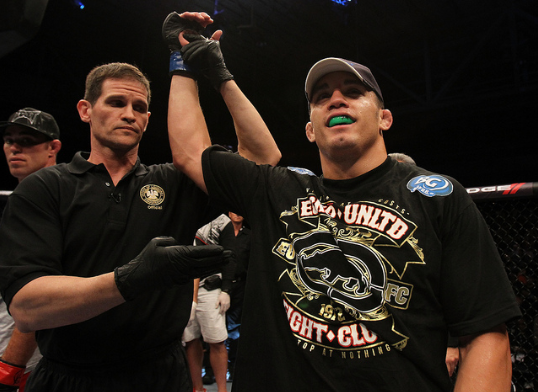 Josh Hedges/Zuffa LLC via Getty Images
The key to this fight will be Diego Sanchez's ability or inability to take Jake Ellenberger to the ground. If Sanchez is able to work from the top position, his chances of upsetting Ellenberger would drastically increase.
However, Ellenberger's is better than that of fighters Sanchez has had difficulty taking down in the past. If Martin Kampmann could stifle Sanchez's takedown attempts with ease, then Ellenberger should be able to do the same and keep this fight standing.
Sanchez will look to push forward and press Ellenberger against the fence, but Ellenberger will be ready for Sanchez's aggressive style and should remain on the offensive enough to land some heavy shots and win rounds.
Becoming the first fighter to stop Jake Shields in over a decade was an impressive feat, but Sanchez has never been stopped in a three-round fight. Sanchez might be thoroughly dominated by Ellenberger on his feet, but the Greg Jackson-trained fighter is going to keep coming until the final bell.
Ellenberger defeats Sanchez by unanimous decision.