Arizona Diamondbacks: Will Trevor Cahill Be an NL All-Star in 2012?
February 15, 2012

Jed Jacobsohn/Getty Images
What do former Arizona Diamondbacks players Randy Johnson and Devon White have in common?
Sure, they both found success in baseball, but in many ways, these two men could not be more different.
Johnson is a wonderful retired left-handed pitcher from Walnut Creek, Calif. who stood at 6'10" inches, won five Cy Young Awards, threw a no-hitter 14 years before throwing a perfect game and picked up a Triple Crown and World Series MVP Award along the way.
White is a year older than Johnson and is from Kingston, Jamaica. During his playing days, White was a switch-hitting, right-handed outfielder who, at 6'1", was nine inches shorter than Johnson, but likewise used speed and cunning to win himself seven Gold Glove Awards and three World Series titles.
Johnson went to college—USC—while White was drafted by the California Angels straight out of high school. Johnson pitched for six teams over his 22-year career. White played for six over just 17 years.
Though both men played for the Diamondbacks during their respective careers, they never were teammates. Johnson became an Arizona legend during two separate stints with the club (1999-2004, 2007-08), while White had a cup of coffee with the expansion franchise in 1998 before leaving for the Los Angeles Dodgers in 1999.
Still, both men hold a notable Arizonian distinction—Johnson and White are two of the only Diamondbacks to have been named to both an AL and NL All-Star team while making their final All-Star appearances with the D-Backs.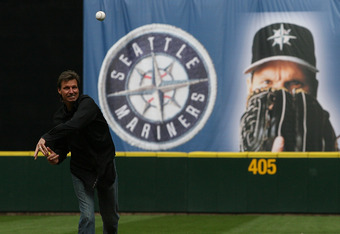 Otto Greule Jr/Getty Images
With former Oakland A's All-Star pitcher Trevor Cahill joining the Diamondbacks on what appears to be the upswing of his career, hopes are high for his contributions to the starting rotation in 2012—but is he NL All-Star worthy?
In the midst of an 18-8, 2.97 ERA performance in 2010, Cahill was named an American League All-Star, though in the end, he never made it into the 2010 Mid-Summer Classic at Angel Stadium of Anaheim.  
In what might be a double-edged sword, pitchers are not voted for by the fans, but by players, with the respective All-Star team's manager stepping in to round out his desired All-Star staff.
Last year, reigning World Series champion San Francisco Giants manager Bruce Bochy notoriously shunned Diamondbacks Cy Young candidate starter Ian Kennedy and NL saves leader J.J. Putz in front of their own fans during the 2011 Mid-Summer Classic held at Chase Field, electing instead to include several Giants pitchers on the squad, including Tim Lincecum, Ryan Vogelsong and closer Brian Wilson, whose year was decidedly worse than Putz's.
With recent news that retired St. Louis Cardinals manager Tony La Russa will return to manage the NL All-Stars in 2012, the Diamondbacks should be pleased.
Not only does La Russa not have a vested interest with a rival NL West franchise—unlike Bochy—he may very well invite D-Backs skipper and reigning NL Manager of the Year Kirk Gibson to coach. Gibson undoubtedly would campaign for some extra D-Backs on the 2012 NL All-Star roster.
La Russa and Cahill are both Oakland Athletics alumni, though it is doubtful such an affiliation will tip the scales for Cahill's selection. La Russa managed the A's from 1986-95, serving as AL All-Star skipper from 1989-91.
Also diminishing Cahill's chances of selection are teammates Kennedy and Putz, who both had much better 2011 seasons than Cahill himself did in 2010—Cahill was 12-14 in 2011 with a 4.16 ERA and 147 K.
With a 21-4, 2.88 ERA, 198 K season in 2011, Kennedy stands to make his first All-Star team in 2012, while Putz (45 saves in 49 chances, 2.17 ERA) appears to be the candidate most likely to join Johnson and White as two-league Arizona All-Stars.
Putz made the 2007 AL All-Star team with the Seattle Mariners in 2007, a year in which he converted 40-of-42 saves while posting a 1.38 ERA, .153 opposing batting average and 0.70 WHIP in relief.
And as long as the Diamondbacks have outfielder Justin Upton (2009 and 2011 NL All-Star) and catcher Miguel Montero (2011 NL All-Star), it's not as if the league must select Cahill as Arizona's charity pick.
Barring something going terribly wrong and Kennedy, Putz, Upton and Montero somehow being unable to make the 2012 All-Star game, Cahill will likely be watching this season's Mid-Summer Classic, like all of us, from home.
Instead, the most probable scenario places Putz on that same plinth as Johnson and White. Putz came up big for the D-Backs in 2011, helping Gibson and company go worst-to-first and set the stage for a repeat 2012 performance.