NFL Rumors: Best Backup Plans for Pittsburgh Steelers without Rashard Mendenhall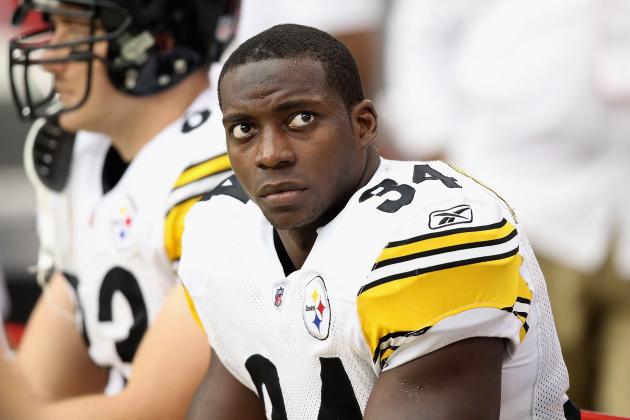 Christian Petersen/Getty Images

The Chicago Tribune is reporting that the Pittsburgh Steelers general manager, Kevin Colbert, is currently unsure on the timetable of running back Rashard Mendenhall's return.
Colbert was quoted saying, "I never feel good about an ACL until (about) a year, "I'm not a doctor, but that's my mindset. If he gets back before that … it's a bonus."
Rashard Mendenhall suffered a season-ending tear in his ACL in the Steelers' regular-season finale on Jan. 1st, 2012. If Colbert is right, that would push Mendenhall's return to Jan. 1st, 2013, which would be too late for the Pittsburgh Steelers and would undoubtedly place Mendenhall on the physically unable to perform list.
If Mendenhall isn't able to return for the 2012 NFL season, the Steelers could be in trouble. It's time for the Steelers to start thinking about a backup plan in case Mendenhall can't return.
Ahead is a list of five possible backup plans for the Pittsburgh Steelers, if they do indeed have to face their 2012 schedule without their Pro Bowl running back. Enjoy.
Begin Slideshow

»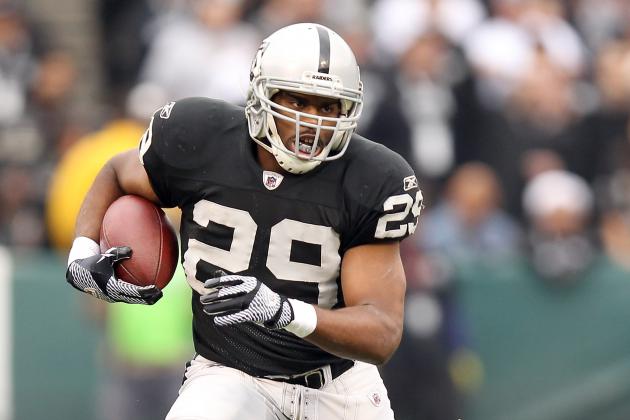 Ezra Shaw/Getty Images

There are some potential franchise running backs available in the 2012 free-agency market, like Michael Bush, Mike Tolbert, Matt Forte and Marshawn Lynch to name a few. If the Steelers are seriously doubting the 2012 return of Rashard Mendenhall, then it might be worthwhile to see if they can make a run at signing one of the above mentioned backs.
The best possible options for the Steelers would be to sign a player like Michael Bush or Mike Tolbert, as those players both match the Steelers' physical style rushing attack. While Michael Bush isn't exactly on the same level as Rashard Mendenhall, he would still be a major upgrade over the other running backs on the Steelers' depth chart.
The foundation of the Steelers' offense is a gritty and physical rushing attack, and without the talents of Rashard Mendenhall, their rushing attack will be more of a liability than a strength. If the Steelers have to place Mendenhall on the physically unable to perform list before the season starts, they would be foolish not to try and get a running back like Bush or Tolbert that can bolster their rushing attack.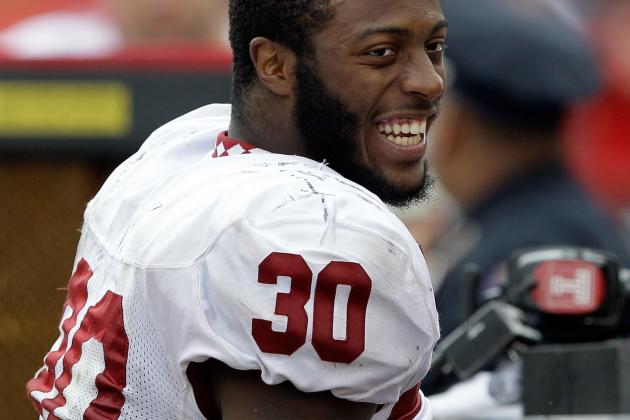 Rob Carr/Getty Images

The 2012 NFL Draft is full of senior running backs that are physically ready to compete at an NFL level, like Temple's Bernard Pierce, Ohio State's Dan Herron and USC's Marc Tyler. Even if Mendenhall is able to return before the start of the 2012 NFL season, the Steelers would be wise to go after one of the above mentioned running backs, because it would help solidify their depth at the running back position.
Pierce, Herron and Tyler are all running backs that would immediately be able to fit into the Steelers' physical rushing attack. All of those players are above 212 lb. and they play with the kind of physicality that is notorious with the Pittsburgh Steelers.
The Steelers' best bet would be to use their fourth-round draft pick to try and grab Bernard Pierce, who carried Temple's football program to a bowl game in two of the last three seasons. At 6'0'' and 220 lb., Bernard Pierce has an NFL ready body that could seriously help the Steelers out in short-yardage situations.
If Pittsburgh is without Mendenhall for at least part of the 2012 season, signing Bernard Pierce would undoubtedly be a wise move to make, because it would strengthen an otherwise underwhelming stable of talent at the running back position.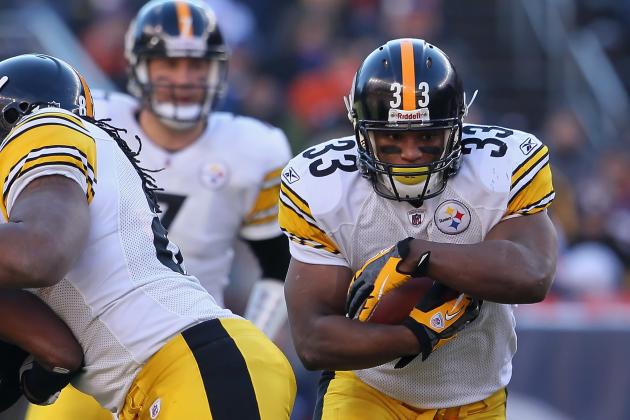 Jeff Gross/Getty Images

The Steelers' second best option at the running back position that is still currently on their roster is Isaac Redman. In 110 carries over the span of the 2011 NFL season, which included a 121-yard performance in their playoff loss to the Broncos, Redman accounted for 479 yards, three touchdowns and two lost fumbles.
While that production earned a yards per carry average of 4.4 yards, which was better than Mendenhall's 4.1 yards per carry average, it still brings into question whether or not Redman has what it takes to be the featured running back in the Steelers' run-heavy system. There's no doubt that Redman 6'0'' and 230 lbs, has the size and physicality to be a featured back, but the Steelers would be taking a big risk by relying on him to replace Mendenhall's Pro Bowl production.
One of the positive aspects of giving Redman Mendenhall's starting spot, is that Redman is a much better receiver out of the backfield than Mendenhall was, which would add a level of complexity and depth to an otherwise one-dimensional Steelers rushing attack. Taking a risk on Redman could pay off for the Steelers, because they wouldn't have to use another roster spot or cap space on another running back. On the other hand it could backfire on the Steelers if he doesn't perform.
This backup plan for the Steelers probably isn't the smartest one, but it could be the most realistic.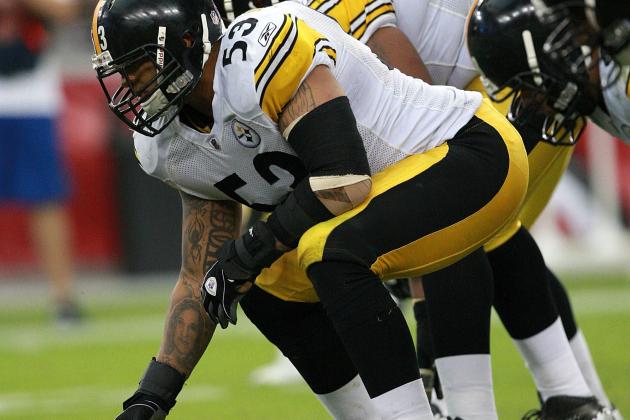 Karl Walter/Getty Images

One of the Steelers' biggest problems last season was the inconsistent play of their offensive line, which gave up 42 sacks over the span of the 2011 regular season. While the Steelers' poor offensive line play was in large part due to untimely health issues and nagging injuries, the fact is that the Steelers' O-Line has a lot of room for improvement.
Even if Rashard Mendenhall is able to return for a portion of the 2012 NFL season, the offensive line must improve if the Steelers are going to contend with teams like the Baltimore Ravens and the New England Patriots in the AFC.
Instead of focusing on adding depth and talent at the running back position, the Steelers could move in another direction by trying to add depth to their offensive line. There are a lot of guys like Jared Gaither, Anthony Collins and Jeff Backus that could really help solidify one of the Steelers' main weaknesses.
If the Steelers decide to bolster their offensive ling through free agency or the 2012 NFL Draft, they might be able to buy enough time with their back running backs Redman, Moore and Clay, before Mendenhall's return. Adding talent to the Steelers' offensive line would be a smart move because not only would it benefit their rushing attack, but it would also help protect quarterback Ben Roethlisberger, who's on the ground more often than not.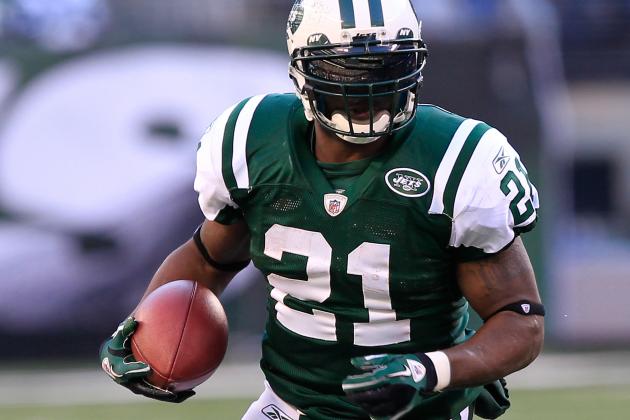 Chris Trotman/Getty Images

The final backup plan that the Steelers could go with is to focus on signing a veteran running back to a one-year deal, which would help them buy time until Rashard Mendenhall's return. The Steelers' best options here would be to add former Jets' running back LaDainian Tomlinson.
LaDainian Tomlinson, at only 32 years old, still has some gas left in the tank, and the Steelers would undoubtedly provide him with a legitimate opportunity to play for a Super Bowl-caliber team, which is something that is important to the NFL veteran. Last year, Tomlinson's production declined, accounting for only 280 yards and one touchdown on 75 carries, but that doesn't mean that he's still not a good running back.
In the right system, like the Steelers' run heavy offense, Tomlinson could bring a level of depth and complexity coming out of the backfield that the Steelers haven't had recently. There's no doubt that Tomlinson isn't the same running back that he once was, but he's not that old, and if given the right opportunity there's no doubt that Tomlinson could return to some resemblance of his Pro Bowl form.
If Mendenhall is put on the physically unable to play list, going after a veteran NFL running back like LaDainian Tomlinson would be a very wise move for the Steelers to make.