UFC on Fuel: Which Fighter Has the Most to Lose?
November 24, 2016
There are fighters who are in danger of getting cut on the UFC on Fuel card, but few have built up the momentum that Aaron Simpson has, and none are in as precarious a situation.
Simpson has won three fights in a row and is moving ever closer to title contention as long as he wins his next few fights. There should be no problems with this except his age.
Simpson is 37. Unless he can find the fountain of youth or whatever magical trick Randy Courture was able to use to stay dominant in MMA he is quickly becoming long in the tooth. He may not have had a storied stint in MMA with only an 11-2 career, but most of it has been against decent opposition.
His best opponents, Chris Leben and Mark Munoz, both beat him in back-to-back losses, and it took three victories before he made it back to the main card.
Aside from one fight in 2000, Simpson's career started in 2007 while he was in his early 30s.
Simpson is facing a relatively new face in Ronny Markes, but if he looses it will take at least a year for him to build back up to TV card status.
He doesn't have that time. By the time he turns 40 he will need something akin to a Cinderella story to get past the ever evolving young guns being brought into the UFC. If he wants to win a title he will need a miracle.
Simpson needs to not only win, but look impressive at the same time. If he can win a bonus it will only help him.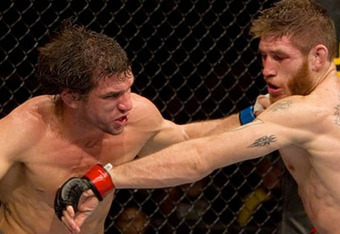 If he loses to the unknown Markes it will be devastating.
The UFC is based on pay-per-view, and many of the buys they get are based on the best fighting the best, though perception plays a part as well. When a fighter loses to a top name fans are more willing to brush it under the rug than when a no name beats them.
Simpson would be in less danger if he was facing another Munoz or Leben. He isn't.
Facing a fighter like Markes has no real upside for Simpson. If he runs through him, he was supposed to. If he doesn't then he wasn't that great a fighter.
That isn't true, but again, perception is part of the whole when it comes to the UFC brand.
So Simpson needs to look amazing and get his fourth win in a row. If he does he will move on to greater things and have a shot of fighting for the title before he is 39.
If not, he may want to reassess his job options.
Matthew Hemphill writes for the MMA and professional wrestling portion of Bleacher Report.  He also hosts a blog elbaexiled.blogspot.com that focuses on books, music, comic books, video games, film and generally anything that could be related to the realms of nerdom.