7 Reasons Aaron Rodgers Will Repeat as NFL MVP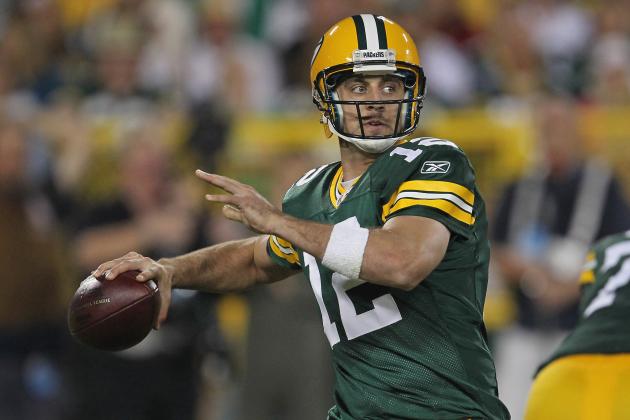 Jonathan Daniel/Getty Images

Green Bay Packers quarterback Aaron Rodgers, recently awarded the NFL's MVP trophy, is the favorite to win the award in a repeat performance in 2012. Coming off a largely successful regular season with a 15-1 record, Rodgers and the Packers are in the perfect position to match their success.
While Drew Brees and Tom Brady both put together seasons also deserving accolades, Rodgers was clearly the best—winning the award with a 48-2 margin.
As the new king of the NFL, Rodgers will be back in 2012 looking to repeat as MVP and hoping that defending this title will go a little bit better than the failed attempt at defending the Lombardi Trophy in 2011.
Begin Slideshow

»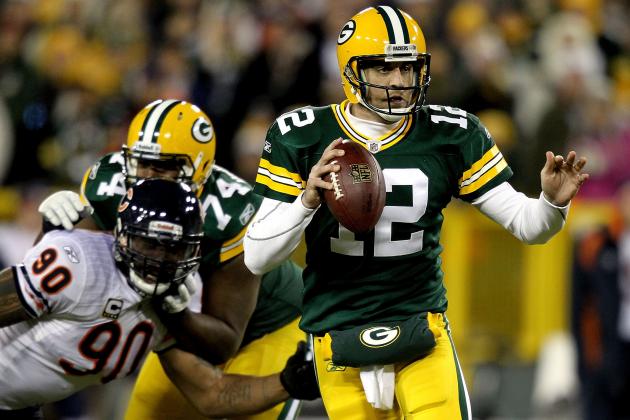 Matthew Stockman/Getty Images

Going into the 2011 season, it was pretty clear that Tom Brady was the best player in the NFL, the Godfather. Aaron Rodgers had just joined the "elite club" following his incredible playoff performance and Super Bowl victory.
By the end of the year, Rodgers left little room for debate about who was the best player in the league.
With the torch being passed from Brady to Rodgers, it appears that the 28-year-old Rodgers will keep it for the time being with Drew Brees following close behind. While both Brees and Brady put up spectacular numbers, it was Rodgers' efficiency that set him apart.
Outside of two games, Rodgers was mechanical; he sliced up opposing defenses and carried a record-setting Packers offense. The most impressive piece of the puzzle that was Rodgers' 2011 masterpiece was just how careful Rodgers was with the football, turning the ball over just six times in 15 games.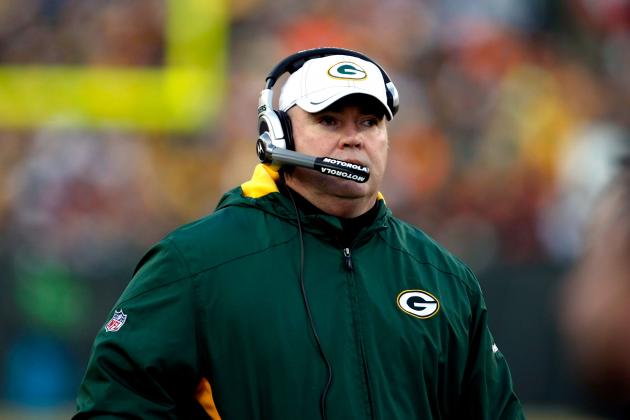 Scott Boehm/Getty Images

While the Packers lost their offensive coordinator, Joe Philbin, to the Miami Dolphins, they promoted Rodgers' QB coach Tom Clements to fill the vacancy. With head coach Mike McCarthy and Tom Clements back, Rodgers will get consistency from the coaching staff that is so important in the NFL.
McCarthy and Clements have done a great job developing Rodgers into the player he has become and should continue to mold him regardless of Clements' new title.
Rodgers will get a new QB coach—former TE coach Ben McAdoo is set to take over for Clements. The move shouldn't have much of an impact on Rodgers, who will still get plenty of coaching attention from McCarthy and Clements.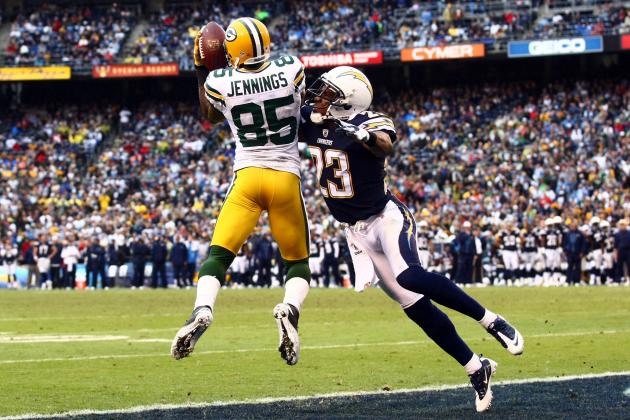 Donald Miralle/Getty Images

One of the reasons for Rodgers success is the number of playmakers that he is surrounded by on offense. Luckily for Rodgers, most of those players will back next season, especially his two favorite targets, Greg Jennings and Jordy Nelson.
There are four question marks on the offensive side of the ball who may or may not be back in 2012.
The two most important figures are center Scott Wells and tight end Jermichael Finley. Every indication is that the Packers will bring back Finley, but things are more uncertain regarding Wells. The other two, Donald Driver and Ryan Grant, may not return because of financial reasons.
With so many of weapons returning and a fairly consistent offensive line compared to what he played behind last season, Rodgers will be extremely comfortable in the offense.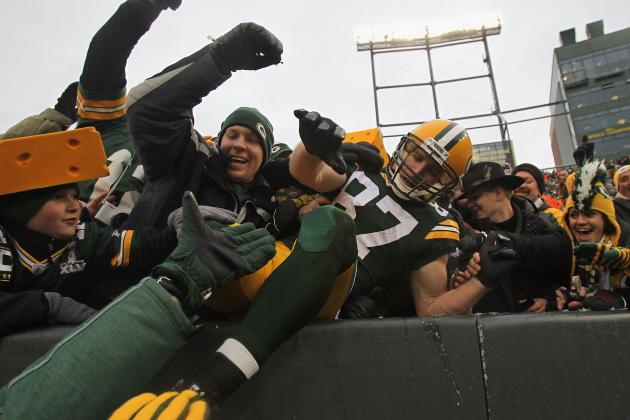 Jonathan Daniel/Getty Images

With so many returning players on offense and a defense, the Packers should be one of the best teams in the league, if not the best. The Packers success last year ultimately helped Rodgers in his MVP candidacy, and it should be the same way next season.
If Rodgers can lead the Packers to another 14-16 win season, there is no reason that the reigning MVP shouldn't be given the crown for the second straight year.
Stephen Dunn/Getty Images

Ever since Rodgers was drafted by the Packers, he has made improvements each season. Year after year, Rodgers has slowly progressed from looking like a bust and wasted first-round draft pick to the best quarterback in the league.
In his first year as a starter, Rodgers showed many he could be the future, but still looked like a player getting his feet wet. In his second year, Rodgers took steps toward commanding the team and lead the Packers to the playoffs before being quickly bounced.
Rodgers continued to develop in his third year. He got hot at the right time and carried the Packers to the Super Bowl. Last year, Rodgers' fourth season, he got even better and broke the NFL record for quarterback rating in a single season.
After last year, it's hard to imagine Rodgers playing at a higher level than he did in 2011. Most Packers fans would gladly settle for a repeat of last year's success mixed with 2010's playoff success.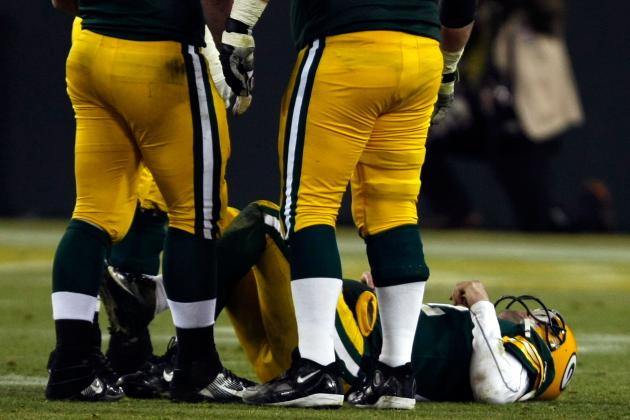 Scott Boehm/Getty Images

After the embarrassing one-and-done playoff appearance the Packers put out in 2011, this team has a lot to prove in 2012. A player that has always been driven by a desire to prove critics wrong, Rodgers is likely to be a mad-man on a mission in 2012.
To use Ron Wolf's famous quote about the Packers in the late 90s, Rodgers and Co. will do everything in their power to prove they are more than "a fart in the wind" following their Super Bowl XLV victory.
By failing in 2011, Rodgers built an opportunity to have new goals and to prove new haters wrong.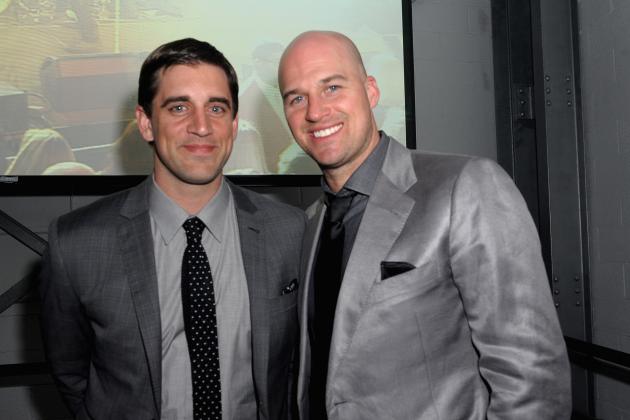 Gustavo Caballero/Getty Images

Right now, Rodgers is everywhere. He was all over the NFL playoff broadcasts in his "Discount Double Check" commercials. He was in Indy during Super Bowl week to receive his MVP award and was a guest analyst on NBC's Super Bowl pregame show.
With Rodgers' marketability at an all-time high, he will have a ton of eyes on him in 2012. Good or bad, every move that Rodgers makes on and off the field will be watched closely. He is quickly becoming the face of the NFL, and Rodgers' success will be good for the league.
The problem with being at the top is that expectations will be extremely high for Rodgers. With so many positive factors working in his favor, Rodgers will have every opportunity to take advantage and win a second straight MVP trophy.