New York Yankees: Multiple Teams in on A.J. Burnett, Pirates Still the Favorites
February 15, 2012

Leon Halip/Getty Images
When the week started, it looked like A.J. Burnett was on the verge of being dealt away from the New York Yankees.
It's not that simple anymore.
There's at least three new teams in the mix for the 35-year-old starter. According to CBS Sports and WFAN's Jon Heyman, the Cleveland Indians have now expressed interest in Burnett.
still optimism for yankees/pirates deal. could take a few days but pitts may pay $13M of aj's $33M. Indians, angelshave checked in

— Jon Heyman (@JonHeymanCBS) February 14, 2012
The deal would have swapped Burnett in exchange for designated hitter Travis Hafner.
However, around 4p.m. on Tuesday, the deal was pulled off the table, according to Bryan Hoch of MLB.com.
A.J. Burnett to Indians for Travis Hafner was indeed discussed, but no longer on the table, MLB.com has learned.

— Bryan Hoch (@BryanHoch) February 14, 2012
The Los Angeles Angels have also been a team that has made their interest in Burnett known, according to Ken Rosenthal of FOX Sports.
Sources: #Angels interested in Burnett, but they are on his no-trade list and he wants to stay east. #Pirates heavy favorite. #Yankees #MLB

— Ken Rosenthal (@Ken_Rosenthal) February 14, 2012
Burnett, however, has the Angels listed as one of the 10 teams on his no-trade list and would prefer to play on the East Coast, especially since Burnett and his family live in Baltimore.
There is a fourth team involved in the Burnett trade talks, according to Heyman, but nobody knows which team that is yet.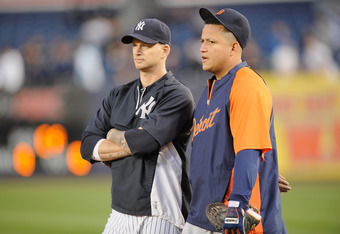 Patrick McDermott/Getty Images
Heyman said that the Pirates are still the favorites to land Burnett if a deal gets done.
Wallace Matthews of ESPN said that there is a lot of optimism right now of a deal getting done and that both teams are in "stare-down mode."
That makes a lot of sense right now. It's like out of the old Western movies: two cowboys are in the streets staring down waiting for the other to draw.
It's not just the Pirates in the mix for Burnett anymore, but it's a matter of what the Pirates are going to offer to sweeten the deal—prospects or taking on more money from Burnett's salary?
In the end, I think the Pirates will take on a little more money for Burnett rather than give up prospects, anywhere in the $12-15 million range.
What began as a pretty cut and dry trade has now become very interesting. Whether this deal gets done at the end of the week or carries on remains to be seen.
Stay tuned, Yankees Universe.