Knicks Basketball: Jeremy Lin-Tim Tebow Comparisons Are a Joke, Right?
February 15, 2012

Chris Chambers/Getty Images
When I first heard that people were comparing Jeremy Lin to Tim Tebow, I assumed they were joking. 
Seriously? Tim Tebow and Jeremy Lin? 
It's not even close, ladies and gentlemen. 
Jeremy Lin was an undrafted player out of Harvard where he never once played in an NCAA tournament game. He qualified for a few postseason awards but never won any. 
Lin was All-Ivy League first team and holds several conference records. That's nice. Then there's Tim Tebow. 
Tim Tebow was the starting quarterback on a Florida team that dominated college football. Tebow started for almost his entire Florida career. Florida was the dominant team in all of college football. Tebow played key roles on two National Championship teams in 2007 and 2009.
Tebow also won the 2007 Heisman Trophy.
Lin's Harvard education would automatically eliminate him from "underdog" status if he were pursuing almost any post-college career except for professional sports.
The University of Florida is to professional sports what Harvard University is to the legal, financial and medical professions. If it's not, then at the very least it's of Ivy League Quality. The Florida men's basketball team won two national titles while Tebow was starring for the football team. Harvard was noticeably absent from the NCAA Finals in both years.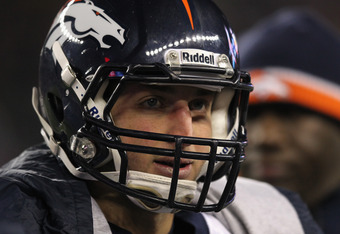 Jim Rogash/Getty Images
When the professional drafts were held, Tim Tebow was chosen in the first round of the NFL Draft. Jeremy Lin? No one drafted him at all.
Tebow went to the Denver Broncos where he didn't start. He sat on the bench biding his time. Jeremy Lin went to the NBA developmental league, and he was cut by two professional NBA teams as well.
While Tebow languished on the Broncos bench, his fans ponied up money to buy a billboard in Denver begging the team to start Tebow. Jeremy Lin? No billboards, no underground surge of fan support begging the Knicks to start him. Lin simply sat on the bench until he was asked to play. When he was asked, he responded.
What really separates Lin from Tebow though is those pesky numbers. Yes, both teams have produced the all-important "wins" with their respective leaders at the helm.
However, Tebow's Denver team won games through a variety of metrics. Defense and special teams both played key roles in the Broncos' surge. Tebow was the quarterback and emotional leader but he was producing some of the worst passing numbers in the league. That's not denying Tebow credit—it's reality.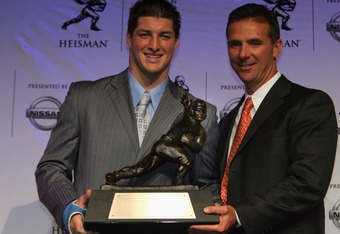 Chris Trotman/Getty Images
Lin has also played a key role as an emotional leader of the Knicks over the course of their current six-game win streak. He's also leading the team in both scoring and assists. Lin has scored more points in his first five NBA starts than any NBA player since the 1976 NBA-ABA merger.   
That would be like Tebow leading his team in rushing and passing during Denver's streak—while also breaking a slew of rookie passing records or records for passing in first starts at Quarterback.  
Instead, you have Tebow with a pass completion percentage of 46.5 and Lin shooting 50 percent over the current win streak. For those not completely familiar with both sports a quarterback should be completing a higher percentage of his passes than an NBA player's field goal percentage.  
Lin isn't a one-man team. He is not the only reason that the Knicks are on a winning streak right now. Tyson Chandler and Iman Shumpert have both stepped up their defensive games and Chandler is rebounding at a high rate. Lin may also be slightly aided by the absence of Carmelo Anthony who would be taking many of the shots that Lin has found himself taking. 
The comparison of Lin to Tebow is absurd, mainly because one of the two players is an actual underdog rags-to-riches story and the other quite simply is not.
What Tebow did this past season in the NFL was miraculous. He led his Broncos team to the playoffs and then produced a dramatic win over the league's best defense in an overtime thriller. That's what teams are paying for when they draft someone in the first round of the NFL Draft.
What Lin is currently doing with the New York Knicks is far more outside the realm of expectations. We're talking about an undrafted player from a non-traditional college basketball school taking one of the most historically relevant NBA Franchises on a memorable win streak.
So if you're looking for an NFL underdog story to compare Jeremy Lin to, that's fine. It's not Tim Tebow, though.