NHL Trade Rumors: Lightning Defenceman Kubina Expected to Be Traded Soon
February 17, 2012

Paul Bereswill/Getty Images
The NHL trade gates seemed to have opened up today.
The Philadelphia Flyers were able to acquire defenceman Nicklas Grossman from the Dallas Stars.
In return, the Stars acquired a second round pick for this year's NHL entry draft, as well as a third round pick in the 2013 draft.
In the meantime, the San Jose Sharks acquired center Dominic Moore from the Tampa Bay Lightning, as well as a seventh round pick for the upcoming NHL entry draft. The Lightning were able to acquire a second round pick in this years' draft.
It doesn't look like Lightning general manager Steve Yzerman is finished dealing yet.
Defenceman Pavel Kubina is out of the line-up in tonight's game versus the San Jose Sharks.
As reported by TSN, a trade involving the veteran blueliner is in the mix. Therefore, Yzerman felt that it was best for Kubina to sit out during tonight's game versus the Sharks.
It is still unknown where he is going to land.
It is also uncertain what kind of return the Tampa Bay Lightning will get for him: They would likely get draft picks and prospects in return.
Kubina would improve any playoff contending team due to his experience as a 2004 Stanley Cup champion.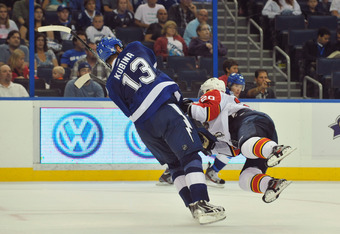 Al Messerschmidt/Getty Images
Kubina's leadership would also come as an advantage to any NHL team. The 34-year-old would be a great presence in the locker room, especially in a playoff atmosphere.
He has also proved to be reliable on defence.
Lightning are currently the worst defensive team in the whole league. In 56 games so far this season, they have allowed 189 goals against.
Kubina has sustained a plus-1 rating in the plus/minus category. This is not bad for playing on a team that has the worst defensive numbers league-wide.
He is also able to provide some offense to any team in the NHL, although his production on this end has dropped slightly compared to last season, when he recorded 23 points.
This time round, he is on pace to record 16 points by season's end. It also does not help that Kubina is currently riding a nine game pointless streak.
If he joins a playoff contending team, expect those offensive numbers to increase.
However, it seems like Kubina is down to his last moments in Tampa Bay before moving on to the next stage in his NHL career.
Keep your eyes and ears open for more details throughout the evening.