Chicago White Sox: Is Fukudome a Reliable 4th Outfielder or Useless Cubs Reject?
February 15, 2012

Rob Carr/Getty Images
The history of the Chicago White Sox is littered with former Cubs whose performances failed to meet even the lowest of expectations. The list includes Ron Santo, Jaime Navarro and the most recent addition, Will Ohman.
Will Kosuke Fukudome be the next disappointment?
I certainly think so. 
Kenny Williams, like many White Sox general managers before him, seems to think that an ex-Cub will be a remedy to the woes the Pale Hose endured in 2011. He has signed Kosuke Fukudome, who played with the Cubs from 2008 through mid-2011, for what will amount to $1 million to become the White Sox fourth outfielder in 2012.
This signing is a mistake on many levels, but I'm going to focus on Kosuke himself.
Kosuke Fukudome is 35 years old and it is clear that he left his peak years far behind in Japan. If he continues to produce at his usual level, he will bat a touch north of .250. As mouth-watering as that number clearly isn't, it becomes even less appetizing when you realize that the White Sox are rebuilding.
The majority of the veterans on the team are still in Chicago only because no other team in it's right mind would want them. Mark Buehrle is in Miami, Sergio Santos (inexplicably) is in Toronto and Carlos Quentin is in San Diego.
Don't lie to yourselves, White Sox fans. Kenny may deny the state of the team, but that doesn't mean you should. That means the focus needs to be on the young talent in the organization, such as Jordan Danks, who is 25. Kosuke Fukudome is 35. The math is easy.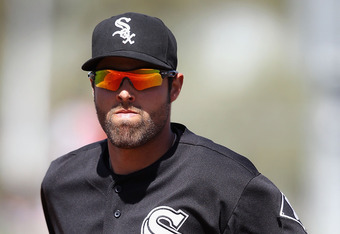 Christian Petersen/Getty Images
I'm not saying that Kosuke won't be able to function as a fourth outfielder. He is certainly capable of playing at the Major League level. However, investing an extra $1 million in a veteran when you already have the necessary player in the organization is just silly. But never fear, Sox fans. Silly is Kenny William's middle name.   
The signing of Kosuke is yet another example of the bizarre fixation Kenny maintains with certain players no matter where they go or what they do (Ken Griffey Jr. being a fantastic example). Williams put forth a solid push to sign Kosuke before the Cubs shot themselves in the foot with a 4-year, $48 million contract offer and this is a fact Kenny has yet to forget.
In fine Kenny fashion, he waited until there was virtually no interest and when the time was finally right he was able to swoop down and get his man. The signing has piqued the interest of a few baseball heads, but it certainly won't be changing any preseason predictions.
Brace yourselves, Sox fans. A terrible storm is coming this season and even the mighty Kosuke Fukudome won't be able to stop it.