2012 NFL Free Agency: New Orleans Saints Open Letter for Valentine's Day
February 15, 2012

Al Messerschmidt/Getty Images
Dear 2012 Free Agent:
I'm sorry for the belated nature of this note. Happy Valentine's Day! I must apologize, but remind you that we've been so busy lately. After dropping our divisional round playoff game in January, our scouts and coaches went into full offseason mode. 
With that in mind, we've been grading both draft prospects and you—our immensely talented free-agent targets. We've been attempting to sign some of our highly esteemed players who have helped us become a fine organization these past six years (some of you are included in that pool of players).
In short, we've rolled up our sleeves and are getting our hands dirty in hopes of providing the essentials for our family. We're doing this because when you decide to join our family, the goal is to prosper and get better.
That's the thing you must know about our family—we expect excellence and leave no stone unturned in our pursuit of it. As you know, we have the finest of coaches in the entire league in Sean Payton. Among the best tacticians in the entire game, Sean is also known as a master motivator and someone who cares about you and understands you.
Perhaps you haven't paid a ton of attention to the news lately, but we also recently signed a new defensive coordinator, Steve Spagnuolo, who won a Super Bowl in 2008 with the New York Giants. He brings great experience and fits in very well with our familial approach to player relationships. We are so excited to be bringing him into our family.
We are convinced that commitment to excellence isn't just a slogan, as it is with other organizations, but an applicable truth to the way we operate day in and day out. We have noticed you seem to fit very well with that vision. You too expect excellence, and for that reason, we want you. Heck, we don't just want you, we need you.
Whitney Curtis/Getty Images
The truth is that our love for you is easy, easy like Sunday morning. We want you there with us every Sunday morning as we prepare for battle.
We understand you have concerns. You're asking, "Am I going to get paid what I deserve?" "Will I be the guy?" Mostly "will we win?"
The answer to all of these questions is yes. We can pay you market value because that's what we do. You will be the guy because we only bring in players whom we have a vision for success on our roster. And yes, we will undoubtedly win, especially if you join our team.
Mostly, I want to assure you that a relationship is never easy. Our marriage will have ups and downs. We will not win every game. Sean Payton and his coaching staff may ride you too hard at times. You may even feel as if you're being underpaid.
But know this—WE LOVE YOU! We will never stop loving you! We are committed to you long-term and will do whatever it takes to make it work.
I almost forgot to mention that should you join our team this spring, you will have an opportunity to make history. Our city and our home stadium—the Mercedes Benz Superdome—is hosting Super Bowl XLVII. With you by our side, we have a chance to become the first team to ever host a Super Bowl. Wouldn't you love to be a part of that?
We beg you to take a chance. Take a chance on love. Take a chance on us. Take a chance that you will be more fulfilled in our relationship than you would be with anyone else.
Here's the last thing: We aren't looking for just a one-night stand. We want this thing to last. We want you to be remembered as a member of the Saints organization for the rest of your life. We would love to retire your jersey and have you enter the Hall of Fame as a member of our organization. We are serious.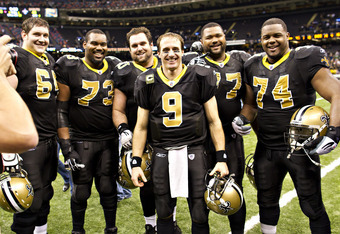 Wesley Hitt/Getty Images
Lots of other teams aren't looking for that kind of commitment. We are.
So, Free Agent X, whether we already know you and have a working knowledge of each other, or we're meeting for the first time, we have one simple request: Be mine! Please!
Love, 
The Entire Saints Organization
XOXO
P.S. Mr. Brees, Mr. Nicks, Mr. Colston and Mr. Porter, you're already Saints for life, so stop flirting with those whores and come back to your true love. Thanks!