Jake Peavy, 5 Other Chicago White Sox Facing the Deciding Point in Their Careers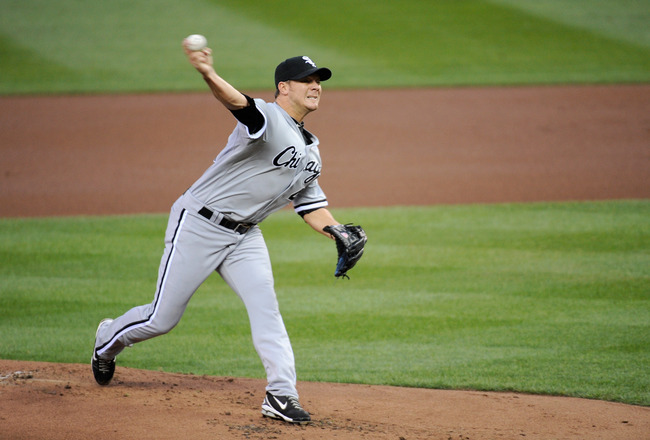 Hannah Foslien/Getty Images
Times are changing for the Chicago White Sox. Kenny Williams spent the offseason trying to get the White Sox roster a bit younger while slimming down the payroll. In some ways, he succeeded. Williams didn't re-sign any of the White Sox's free agents (Mark Buehrle, Juan Pierre, Ramon Castro and Omar Vizquel), all of whom will be 33 or older on Opening Day.
Even without those few players, the White Sox have a few players who don't have many years of major league time left. Paul Konerko is 36 years old. Jake Peavy's only 30, but is losing his effectiveness.
A few other players are either up there in age or don't have much time left as a major leaguer. While one of those older players is the newly acquired Kosuke Fukodome, he doesn't make this list since he was signed just for this season to get what's left of his ability.
Follow along for analysis of some White Sox players for whom Father Time is lowering his eyes.
Jake Peavy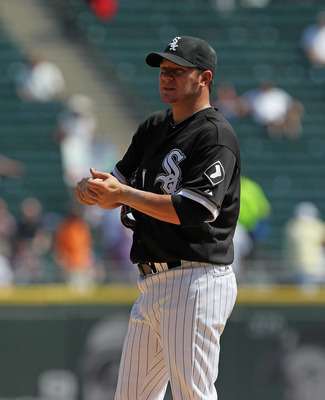 Jonathan Daniel/Getty Images
Jake Peavy turns 31 at the end of May and he'll be looking at the last year of his contract with the White Sox.
Peavy hasn't been durable while wearing a White Sox uniform. He failed to start 20 games, strike out 100 batters or pitch 120 innings in each of his two full seasons.
Peavy has struggled with injuries. His shoulder was bothering him towards the end of the 2011 season.
His stuff has been fading. Peavy struck out 7.8 and 7.7 batters per nine innings in 2010 and 2011, respectively. He had more hits allowed than innings pitched in 2011, the first time since his rookie year in which he did that.
On the bright side, Peavy had his best walks-per-nine-innings rate (1.9).
Peavy doesn't have much of a shot at pitching a full season. He hasn't pitched 30 starts since 2007 and hasn't pitched 162 innings since 2008. When asked whether he's 100 percent, Peavy said, "I'm as 100 percent as I can be. I don't know if I'm 100 percent as to what I was four years ago."
That doesn't sound good.
A reasonable estimate is 16 starts and 95 innings pitched for Peavy. He might not be healthy enough to pitch long innings and sustain himself physically down the stretch.
Now, Peavy should be able to sign a contract with another team after this season. He probably will have enough stuff in him to pitch 10 or 15 starts as a spot starter. Perhaps he could turn into a reliever to extend his career.
At any rate, Peavy's window to pitch most of a year and start 25 or 30 games is closing. He could reach his breaking point in 2012.
Paul Konerko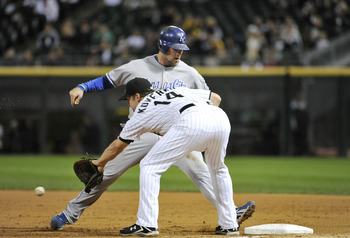 Brian Kersey/Getty Images
Paul Konerko is becoming advanced in batting years. He defied his age by collecting more than 30 home runs and 100 runs batted in in 2010 and 2011 in his mid-30s. Those strong seasons came after two subpar seasons.
However, age 36 is a breaking point for hitters. Last season, Chipper Jones was the only player age 36 or older with an above-average on-base-plus-slugging rate.
Konerko seems to recognize that age could get to him soon. He stated last week that he may retire after 2013, which is the last year of his contract.
In an interview with Comcast SportsNet Chicago, Konerko said, "In all reality, I would see it ending after next year or maybe another year. I mean, at some point you have to go home and be around your kids and have other things to do."
Retiring at age 37 would be good timing for Konerko. He would save himself some of the grief of losing physical capability. Also, Konerko would relieve himself of the pressure to condition harder to stay in the same condition to perform every day for six months straight.
By seeing the twilight of his career before it hits him, Konerko is demonstrating a measure of prescience that many players refuse to exercise. Others, such as Ken Griffey Jr. and Omar Vizquel, have pushed themselves in old age to cement their legacies or reach milestones.
Konerko likely recognizes that he doesn't have a Hall of Fame legacy to cement or the ability to reach 500 home runs. Thus, he can avoid the the pain of playing until he has absolutely nothing left.
Matt Thornton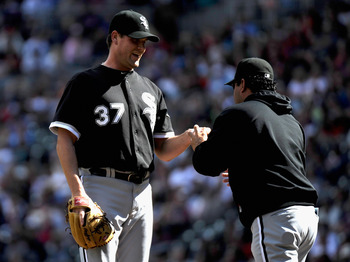 Hannah Foslien/Getty Images
The White Sox had been looking to trade Matt Thornton, and for good reason. Thornton, 35, is looking at his last years of true value.
Thornton's basic numbers have been pretty good in recent years. He's pitched at least 60 games in each of the past six seasons. He posted earned run averages below 3.00 from 2008 to 2010. He's had more strikeouts than innings pitched in each of the last four seasons.
However, Thornton's stuff is falling off. His ERA jumped 0.65 to 3.32 in 2011. His walks per nine innings rate went up for the second year in a row. Also, his strikeouts per nine innings rate dropped significantly in 2011 (from 12 per nine innings to 9.5 per nine innings).
In 2005, Thornton had a negative wins above replacement figure for the first time since 2005.
Thornton's window of effectiveness is closing. Seemingly unable to deal Thornton and his $5.5 million salary, the White Sox should hope to get what outs they can out of Thornton while he can still mow down hitters.
A.J. Pierzynski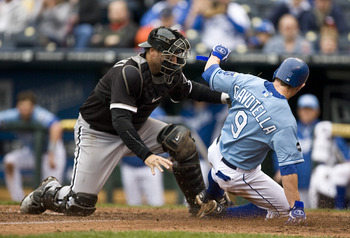 Ed Zurga/Getty Images
A.J. Pierzynski is coming down to his final years as a starting catcher. Pierzynski barely cracked 500 plate appearances in his last two seasons. He played 129 games in 2011 and started only 112 at catcher. He missed time in the summer due to injury.
Monitoring Pierzynski's effectiveness at the plate is difficult. He's been up and down his whole career. He had a .300 on-base percentage and a .688 on-base-plus-slugging rate in 2010, and then posted a .323 on-base percentage and .728 on-base-plus-slugging rate in 2011.
Pierzynski isn't known to be much of a defensive catcher. He doesn't stop base-stealers due to his slow reaction time. He's posted a negative defensive wins above replacement figure in nine of the last 10 seasons.
White Sox followers should keep an eye on how Pierzynski's health holds up. He may experience some wear if he starts everyday throughout the season. The White Sox may try to start Tyler Flowers from time to time to give him some rest.
Don't be surprised if durability becomes an issue and Pierzynski fails to play 120 games and pick up 500 plate appearances.
2012 is Pierzynski's last year under contract with the White Sox. Since the White Sox are in rebuilding mode, they likely wouldn't bring him back after this season. How he holds up this season is a good indication of how much he'll be able to start in future seasons.
Adam Dunn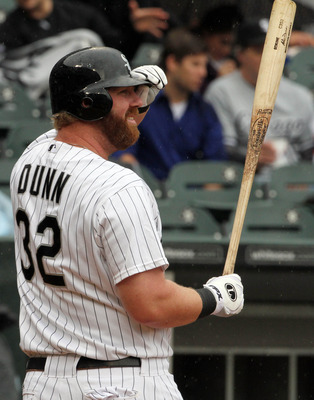 Tasos Katopodis/Getty Images
Adam Dunn is one who many will keep an eye on, both in Chicago and nationally, to see if he can return to form. Dunn is coming off an historically poor year. He had the fewest runs batted in (42) and lowest on-base-plus-slugging rate (.569) in the history of the designated hitter position.
Also, he had a career low in home runs (11).
Dunn was 31 years old last year, and now, at age 32, whether he can bounce back may be in question.
If someone were to ask Baseball Prospectus, the answer is yes. Colin Wyers, who engineered the PECOTA algorithm, which projects a player's success based on past performance, projected Dunn to be the second-best hitter for the White Sox this season.
Based on regression, Wyers states that Dunn will be closer to years prior to 2011.
Hence, Wyers believes that 2011 was about the worst Dunn could be expected to do and that he'll come somewhere close to his career average (hence, regression to the mean).
White Sox fans want to hope that Wyers is correct. Any sort of success by the White Sox in 2012 hinges on Dunn's production. If he can produce this season, then the White Sox have some value in Dunn for a couple more years.
If not, then Dunn's contract remains a bad one with which the White Sox are stuck for two more years.
Brent Lillibridge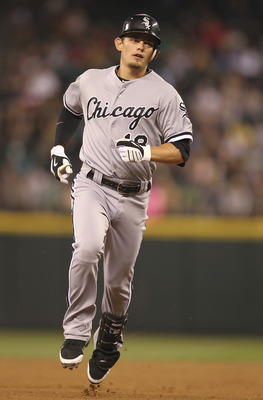 Otto Greule Jr/Getty Images
Brent Lillibridge is different from other players on this list. He isn't 30 years old yet, and he hasn't played in the majors for a long time. Lillibridge is facing a moment of truth in his MLB career.
Entering his fifth MLB season, Lillibridge will see whether he has the capability to hang around at the major league level.
Lillibridge saw the most playing time of his career in 2011. In his first season spending the whole year at the major league level, Lillibridge saw 216 plate appearances in 97 games, starting most of his games. He had a .340 on-base percentage and an .845 on-base-plus-slugging rate.
His 13 home runs were two more than Adam Dunn's total.
Now, remember that Lillibridge was a key point of dispute between Kenny Williams and Ozzie Guillen. Guillen liked playing him, while Williams wanted him to play Adam Dunn and Alex Rios instead.
With Guillen gone, Lillibridge is missing an advocate. Williams will likely have Robin Ventura start Dayan Viciedo, Alex Rios and Alejandro De Aza in the outfield and Adam Dunn at designated hitter.
Also, Williams will likely ask that Lillibridge not play too much since they have Kosuke Fukudome.
Lillibridge will likely lose a significant number of plate appearances, barring injuries from starters. It'll be interesting to see what he can do now without receiving many starts. He'll have to work hard to show that he can hang around on the bench for more than a couple of years.
Keep Reading

Chicago White Sox: Like this team?