Pat Summitt and her Tennessee Lady Volunteers Healin' and Dealin'
February 14, 2012
Happy Valentine's Day, Coach Pat Summitt, and congratulations on your team's impressive 91-54 victory last night over Southeastern Conference-leading Kentucky.
Those Lady Wildcats, along with talented outfits representing outposts as remote as Delaware and Green Bay, have generated a fair bit of buzz during a very entertaining season of women's college hoops.
But the season winds down, conference tournaments are right around the corner, so the Tennessee Lady Volunteers must be rounding into shape, even in this uniquely challenging moment in their glorious history.
Last week saw disappointing losses to scrappy squads from South Carolina and Vanderbilt—though you just have to love Vandy's little point guard Jasmine Lister, don't you?
Senior post Glory Johnson, despite a bad wing, has been shouldering more than her share of the UT load thus far as senior Shekinna Stricklen and sophomore Meighan Simmons have struggled to recover their stride and stroke, respectively.  In the second half of Thursday's Vandy game, Stricklen appeared more athletic, Simmons much smoother—a trend that carried over to Monday's nationally televised tilt.
The return of Taber Spani's feathery touch from elbow surgery and the continuing development of point guard Ariel Massengale and the frighteningly athletic Cierra Burdick, both just freshmen, should allow the multi-talented Johnson (no longer wearing a shoulder harness as of the UK game) to return to her role as all-purpose, double-double pest, rather than the focal point of the Lady Vols' offensive attack.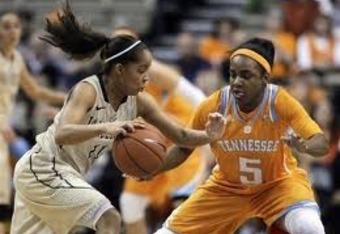 Even the gutsy but ailing Coach Pat had some spunk on display at Thompson-Boling Arena last night, both for her players and a game official.
A solid postseason performance seems more likely than it may have only a few days ago, but Miss Glory and her fellow seniors better hold off on ordering any Final Four paraphernalia for now.
As the season has settled in and the cream has risen, there's a clear Big Four in NCAA Women's Basketball: the Baylor Lady Bears, the Stanford Lady Cardinal, UConn's Lady Huskies and the recently-upset Notre Dame Fightin' Irishwomen.
History has taught us, though, that March Madness provides upsets, heartwarming as well as heartbreaking stories and memorable moments aplenty.
Is it in the cards for this team and this coach to manufacture a minor miracle?
Good question.
Isn't it pleasant to be considering it again?