Houston Astros: 10 Candidates to Be the Next Big Castoff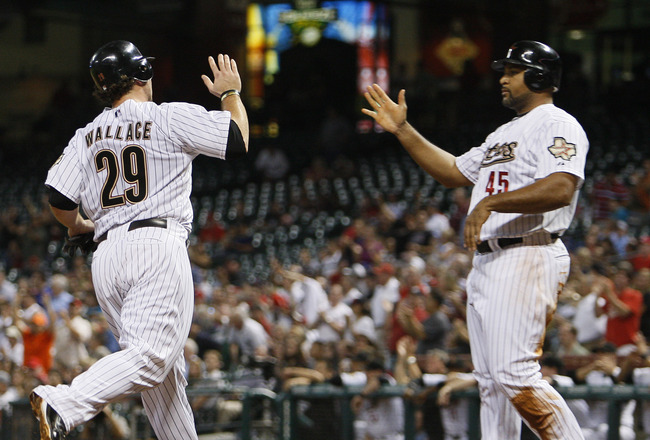 Bob Levey/Getty Images
In the past two years, the Houston Astros have traded away Michael Bourn, Hunter Pence, Lance Berkman and Roy Oswalt. With the team no closer to contention entering 2012, fans should expect a few more players to be changing addresses and uniforms.
There are not many players who should feel confident that they will be in Houston for the whole season, specifically Jordan Lyles, Bud Norris, J.D. Martinez and Jose Altuve.
With that said, these are 10 candidates that could be sent out in the near future.
Jason Bourgeois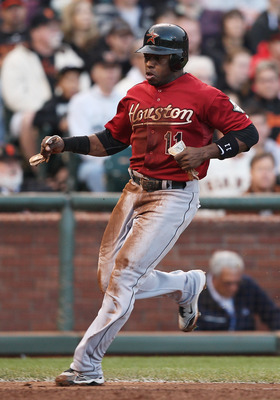 Tony Medina/Getty Images
Jason Bourgeois filled in nicely for Michael Bourn in the second half of last year and played pretty well. For the season, he hit .294, had 31 stolen bases and did a good job defensively dealing with Tal's Hill.
The problem is that he is 30, and his best asset as a player, his speed, will start to decline. His value won't be any higher than it is right now, and while the Astros tend to hold on to a player too long (Brett Myers), they should look to move Bourgeois now.
Chris Johnson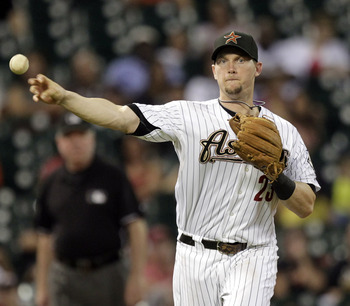 Bob Levey/Getty Images
Chris Johnson really struggled in 2011 after a strong second half in 2010. His average dropped over 50 points, from .308 to .251, and he hit four fewer home runs and 10 fewer RBI in 13 more games.
It seems to be strictly a numbers game when it comes to Johnson. It seems like the Astros want to give Jimmy Paredes the first chance to secure the third base position, a spot that has been a revolving door of players for the better part of a decade.
With Carlos Lee as the primary first baseman, the Astros will give Brett Wallace a look at third base to try and find a way to get him on the field, and Johnson could end up being the odd man out.
Brandon Lyon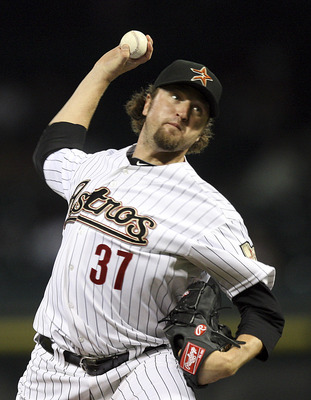 Bob Levey/Getty Images
I am surprised the Astros are giving Brandon Lyon a chance to compete for the closer spot in spring training. He is coming off major shoulder surgery and was 4-for-8 in save opportunities with an ERA over 11 last season.
He will need to show major improvement to have a chance at the closer spot, and if he doesn't, I can't see the Astros keeping him in the bullpen with the size of his contract.
Jason Castro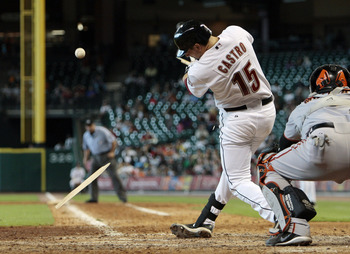 Bob Levey/Getty Images
The chances of the Astros moving Jason Castro are not likely, but it might not be a surprise if the Astros go this route. The 10th overall pick in the 2009 draft has played a total of 67 games over the past two seasons, hitting only .205.
The reason the Astros would even entertain this idea is because Castro is developing a lengthy injury history in a short period of time. He tore his ACL and meniscus in spring training last season and had to have foot surgery in December from an injury sustained in the Arizona Fall League.
Brett Wallace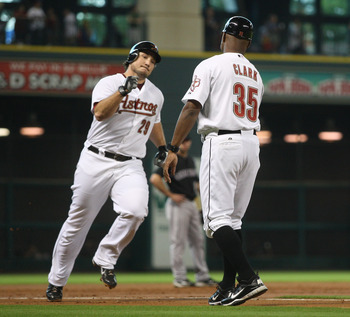 Eric Christian Smith/Getty Images
Brett Wallace came over to the Astros as a spin-off of the Roy Oswalt trade two seasons ago and saw the most major league action of his career last season, hitting .259 and only five home runs through 115 games.
The problem is that he saw his monthly batting average quickly drop throughout the season from .388 in April to .105 in September. Even though he is still young, Wallace may not have a way to get on the field, as he struggled defensively at third base earlier in his career, and Carlos Lee is taking over at first.
The Astros could look to move him early this season based on probably the biggest selling point in a trade: potential. But if they wait, the strength of that argument could quickly slip away.
J.A. Happ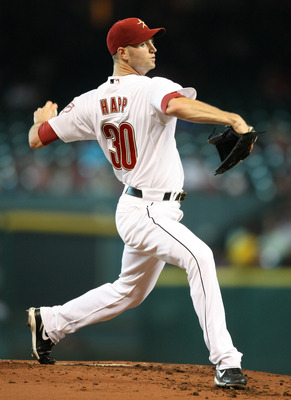 Eric Christian Smith/Getty Images
J.A. Happ came over to the Astros in the Roy Oswalt trade from the Phillies and hasn't looked like the pitcher that finished second in the NL Rookie of the Year voting in 2009.
Happ is 11-23 for the Astros since that trade and had an ERA of 5.35 last season. Many envisioned Happ as a solid second or third option in the rotation, but right now, he looks like a back-of-the-rotation guy who doesn't eat a lot of innings.
If—and it is a big if—Livan Hernandez and Zach Duke perform better than expected, Happ may end up as the odd man out of the rotation.
Brett Myers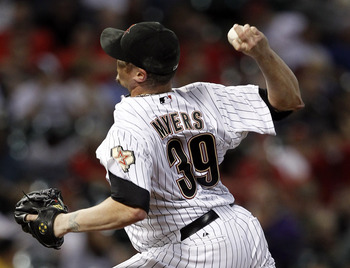 Bob Levey/Getty Images
Brett Myers struggled for the majority of 2011 until September rolled around and he went 4-1 with an ERA of 2.62.
If Myers starts the season off strong, it wouldn't be a surprise to see him the first to be moved. He is in the final year of his contract and is a veteran arm that can contribute in the rotation or out of the bullpen for teams.
Wandy Rodriguez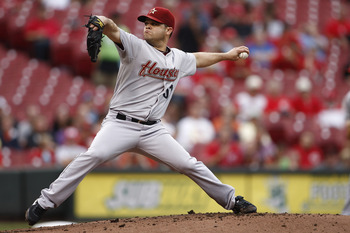 John Grieshop/Getty Images
Wandy Rodriguez's name seems to always come up as a player who could be on his way out, and if it wasn't for the large contract he currently has, he probably would be out by now.
Wandy has had a record around .500 each season with an ERA around 3.50.
The problem is he's not been able to show the consistency needed to be considered a top-of-the-rotation type pitcher. Some years, he has started strong and faltered down the stretch, and other years, it is the opposite.
He still has value and talent, enough so that teams will show interest in him, however if the Astros really want to move him, they will need to pay some of his salary.
Carlos Lee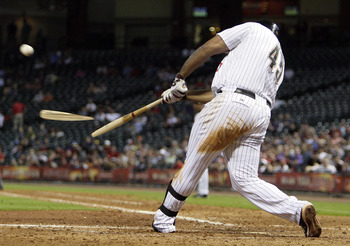 Bob Levey/Getty Images
For years, fans have been hoping that the Astros could move Carlos Lee and his massive contract. Well, he is in the final year of his deal, and after a bounce-back year last year, there is some growing interest.
Generally, it's been American League teams that would be interested because Lee could step in at the DH spot, but with the shift to first base, National League teams could take notice.
The Astros hope to move him, as this will relieve the logjam at the infield corner positions and give some younger players opportunities to show if they are ready for the big leagues.
Brad Mills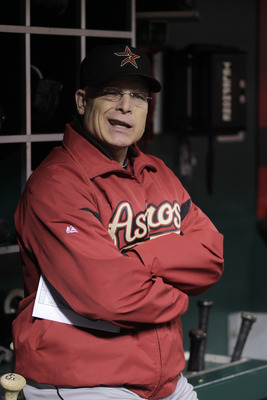 John Sommers II/Getty Images
Sorry, Brad Mills. You make this list, too.
If the Astros get off to a slow start, the manager will be the front-runner to be the first to go. Generally, new leadership wants to put its mark on the organization from top to bottom, and managers are sometimes a casualty.
Mills did a great job in the second half of 2010, after the Berkman and Oswalt trades kept the Astros competitive and playing good baseball. However, the young players who looked to be moving in the right direction (Chris Johnson and J.A. Happ) regressed in 2011, and the team just didn't compete.
Now, the Astros don't need to be winning the NL Central right out of the gate, even though that would be nice. They need to look competitive, and the younger players need to show marked improvement from 2011.
If that doesn't happen, Mills may end up being the first candidate to be cast off by the Astros.
Keep Reading

Houston Astros: Like this team?