NBA Rumors: Indiana Pacers Must Not Waste Cap Space on J.R. Smith
February 14, 2012

Streeter Lecka/Getty Images
The Indiana Pacers may have some interest and certainly have the cap space to sign J.R. Smith when he is eligible to return to the NBA, according to ESPN's Marc Stein. They should bow out and let another team deal with the high-volume shot-taker.
Smith is expected to return to United States soil tomorrow after his lengthy and tumultuous time with Zhejiang Golden Bulls in China.
Many competitors are expected to be vying for his services, including the Los Angeles Clippers, New York Knicks and Minnesota Timberwolves.
Smith just isn't a fit with the carefully built and inexpensive roster that Indiana has put together. 
They only have 13 players under contract and pay just $50,165,981 to them this season according to HoopsHype.
The Pacers are already one of the worst teams in the league in assist numbers, averaging just 18.0 per game. Over J.R.'s seven-year NBA career, he's dished out just 2.0 per contest.
Of course, he also takes over 10 shots a game and almost half of those are three-pointers.
Indiana isn't a team that likes to fire too many from beyond the arc, and Smith's averages would represent almost a third of the current shots they take per game from deep.
It's woefully obvious that GM David Morway needs to provide coach Frank Vogel with another scorer off the bench, as Andrew Perna has pointed out the starting five score 72 percent of the team's total and only play 67 percent of the minutes.
However, the team needs to resist giving a chemistry-killing shooting guard like J.R. a contract this season.
Indiana has a bright future ahead of them and should be a competitor in the East for years to come with their core as it is built now. They should look elsewhere to find an efficient bench player.
Chris Kaman is one option, and the team has the cap room to absorb his expiring $14 million contract without having to give any salary back.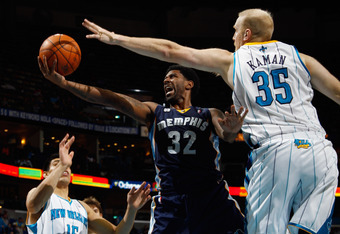 Chris Graythen/Getty Images
This is an ideal scenario for both parties, as the New Orleans Hornets are reluctant to take on any additional expenses and would rather receive a draft pick to build with in the future.
Renting him for one year and perhaps re-signing the former All-Star to a more reasonable deal this summer just makes much more sense than bringing over a beleaguered ball hog such as Smith.
Kaman has size and efficient low-post scoring, as well as a defensive presence and willingness to move the ball around.
These are all ideal attributes for a Pacers team hoping to make a deep playoff run in 2012, not some gunner like J.R. Smith.