MLB Trade Rumors: Los Angeles Angels Foolish to Pursue Yankees' AJ Burnett
February 14, 2012

Al Bello/Getty Images
With the New York Yankees actively shopping AJ Burnett to anyone who will listen, the list of potential suitors appears to be growing. The Pittsburgh Pirates have been in on him from the start, but Ken Rosenthal of FOX Sports reports that there is a potential playoff team in on the much-maligned pitcher.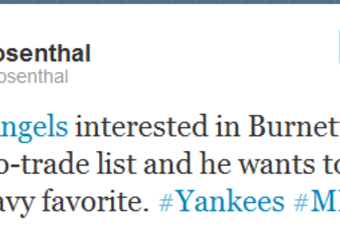 Despite the Angels' appeal as a championship contender, their pursuit of Burnett makes no sense for two reasons. The first reason being, as Rosenthal said, Burnett is not going to pitch on the west coast. 
Burnett's wife and family live on the east coast. He has never shown any interest in wanting to pitch out west and he likely worked the Yankees for a limited no-trade clause to make sure he didn't end up way out west. 
The second reason that the Angels are wasting their time is because their rotation is loaded already. Their Nos. 1-4 starters are as good as any team in baseball, with the possible exception of Tampa Bay. Dan Haren, Jered Weaver, C.J. Wilson and Ervin Santana give this team a chance to compete every day.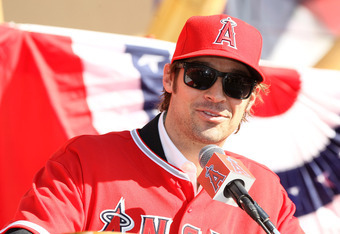 Stephen Dunn/Getty Images
Garrett Richards struggled in limited action last season, but he has the potential to be a mid-rotation starter if he can figure out his command. Manager Mike Scioscia can just plug him into the No. 5 spot in the rotation and hope to catch lightning in a bottle. 
Richards is 12 years younger than Burnett, and at least has some upside to him—even if he doesn't reach it this season, he will cost significantly less than Burnett. 
The Angels might see an opportunity with Burnett, but he would not make that much of a difference for a team that has the kind of rotation depth they have. Where the team should be focusing its energy is making sure that Mike Trout plays everyday. 
Trout is the best prospect in baseball and would be a significant upgrade over the waste of space that is Vernon Wells. He was brought up last season, but Scioscia clearly didn't trust him and kept him on the bench a lot more than he should have. 
Burnett is not the missing piece for the Angels. He would not necessarily put the Pirates over the top in the National League Central, but at least they can offer him the east coast home he covets and a better opportunity to succeed.
After all, the competition in the division is as soft as the Stay-Puft Marshmallow Man.