Notre Dame Football: Power Ranking Fighting Irish QBs for 2012 Season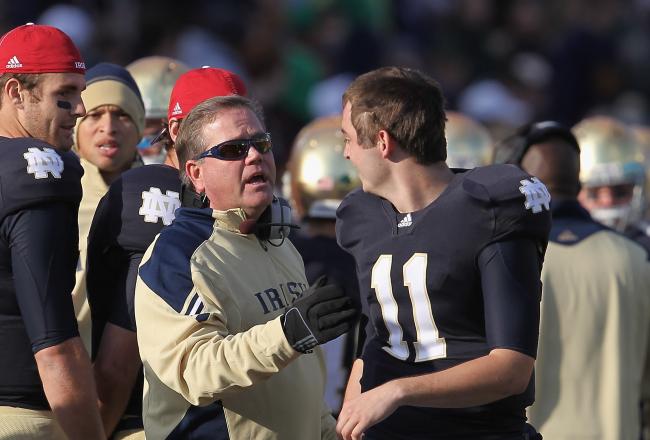 Jonathan Daniel/Getty Images
Brian Kelly has a very tough decision in the coming months, as deciding on a starting quarterback will not be easy. Notre Dame has four solid candidates to choose from and figuring out who the best one is will take some time.
However, that doesn't mean that some don't have an advantage already. Of the four, some are better than others right now and that's how I'll rank them. These rankings can easily change as the spring and summer move on.
Of course, if Kelly is smart, he will have decided on a starter sometime shortly after the spring game and just stick with him. Last season, Kelly didn't pick a starter until a week before the season began and that ended up blowing up in his face.
Kelly has to make sure that he gives the starter ample time to work with the first team so he will be fully prepared for an intense season.
Which Notre Dame QB is the Best?
With that said, here's how I rank the Fighting Irish's quarterback depth chart.
1. Andrew Hendrix
A year ago, Hendrix probably didn't think he would play at all. After Dayne Crist was benched, though, Hendrix was able to get his opportunity to shine.
He ranks at No. 1 for me because he's a dual-threat QB capable of beating you in multiple ways. In brief moments this past season, Hendrix showed that he can excel.
It's time for him to get more opportunities because Tommy Rees wore out his welcome last year. Listed at 6'2", 220 pounds, Hendrix has the speed to frustrate defenses, as well as the arm to make big throws.
Hendrix gained valuable experience in the few games he played in last year and that will help him succeed in 2012.
2. Tommy Rees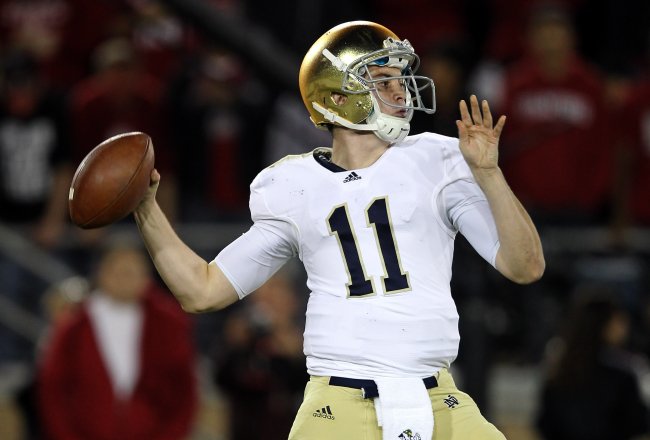 Ezra Shaw/Getty Images
This may not sit well with some Fighting Irish fans, but Rees is still a solid option for Notre Dame.
Yes, last year was a struggle for Rees, but because Kelly stuck with him it shows that the head coach likes the talent Rees has.
Hendrix has better mobility, which is why he gets the top spot, and Rees made several mistakes last season. That doesn't mean is horrible by any means though.
Rees gets the No. 2 ranking because his experience in Kelly's system is strong and that definitely makes a difference when competing. However, Rees can certainly be surpassed as the practices continue.
3. Everett Golson
The main reason Golson comes in at No. 3 is because he doesn't have the in-game experience. Still, Golson is a very skilled quarterback that's going to give Kelly a lot to think about this spring and summer.
Golson is likely to surprise many this offseason, but for right now, he ranks as the third-best option.
Listed at 6'0", 185 pounds, Golson really needs to bulk up more before the season starts, but his speed is what entices everyone. The dual-threat quarterback can make defenders miss with ease, but it's unclear how he is in the passing game.
Sure, Golson can throw it well, but without any college experience it's tough to truly gauge how good he is, which is why he comes in at No. 3. In time, though, Golson definitely has the talent to thrive, meaning Kelly's life won't be getting easier anytime soon.
Will Gunner Kiel Be the Starter in 2012?
4. Gunner Kiel
Being the new kid in town, Kiel is still going to get plenty of looks as the starter. He was an extremely coveted and highly rated recruit, so you know the talent is there.
Since he is enrolling early, Kiel will definitely be able to give the other quarterbacks a run for their money when it comes to the starting position.
It wouldn't surprise me if Kiel is higher than No. 4 once the depth chart is released, but for now, he's at No. 4 because he has zero experience against college players.
Golson doesn't have experience either, but he's been in Kelly's system longer and has been practicing against great players on his team.
Listed at 6'3", 215 pounds, Kiel has the ability to quickly make a name for himself at Notre Dame, but because the Fighting Irish are stacked at the quarterback position, I think Kelly will redshirt Kiel to use him in the future. Look for Kiel to be doing big things at Notre Dame in a couple years.
This article is
What is the duplicate article?
Why is this article offensive?
Where is this article plagiarized from?
Why is this article poorly edited?

Notre Dame Football: Like this team?