2012 Missouri Grand Prix: Cesar Cielo and Amanda Weir Clean Up in Sprints
February 14, 2012

G. Newman Lowrance/Getty Images
A different kind of celebration and excitement took hold of Mizzou Aquatic Center this past weekend, where swimmers gathered for another chance to gain valuable race experience against potential opponents at the 2012 Olympics this summer.
By the end of the meet, spectators were not only hearing starting beeps—but wedding bells.
There was a lack of presence from American swimmers at the meet, instead replaced with a heavy presence of Canadian and other international swimmers.
The men's 100-meter breaststroke had a few American swimmers coming in behind Brazilian Felipe Lima, who finished with a time of 1:00.89.
Eric Shanteau, the American record holder came in second before U.S. Open record-holder Mark Gangloff.
Cal Aquatics' teammates Nicholas Ferrif and Damir Dugonjic finished with respectable times within three seconds of the current world record. A few races later, Shanteau won the 200-meter breaststroke, showing his dominance in the stroke—and to further convince us of his competitiveness this summer in London.
While Dana Vollmer will almost certainly represent the U.S. at the Olympics in the 100-meter butterfly, Christine Magnuson is still contending for the other roster spot. She put in a competitive time of 58.85 behind Canada's Katerine Savard and Elaine Breeden.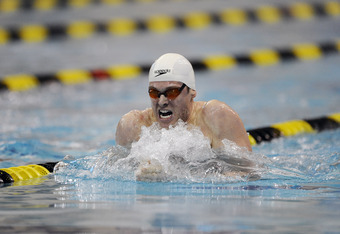 G. Newman Lowrance/Getty Images
The premiere event of Michael Phelps that is the 100-meter Butterfly, was won by American Tyler McGill—just ahead of Auburn Aquatics training mate Frederick Bousquet of France.
The sprint races lacked a spark with times far off of record pace. Amanda Weir won the 50-meter freestyle with 25.44. Weir was closely tailed by Jane Trepp, who finished just five one-hundredths of a second later.
Brazil's Cesar Cielo, currently holding the world record, finished with a time of 22.13 in the men's race. Bousquet came in second and 36-year-old Jason Lezak rounded out the top three with a time of 22.75.
Amanda Weir won for the second time in the 100-meter freestyle. Cielo also won the second sprint with a time of 49.51. Bousquet and Lezak did not do as well the second-time around, with Lezak placing seventh and Bousquet finding a disappointing place in the B Final.
Perhaps, the most exciting part of the meet took place at the podium after Matt Grevers accepted his gold medal for the 100-meter backstroke. After receiving his medal, he called his girlfriend—fellow American swimmer Annie Chandler—to the podium and proposed.
A shocked Chandler gladly accepted, and immediately the couple was surrounded by congratulatory praises from friends and family.