Tiger Woods Is out of Excuses After Pebble Beach Collapse
February 14, 2012

Jeff Gross/Getty Images
I have argued since my first time writing here that Tiger Woods' decline was not caused by a swing change and injuries. While they played some factor the main problem was that mentally he is no longer as strong. The 2009 PGA Championship and his personal life scandal are the cause of this decline.
The excuses for and by Woods were always based on a temporary physical issue. He had injuries and was learning a new swing. Once that was resolved, he would resume being the dominant golfer that he had been.  
Tiger has been working with Sean Foley since August of 2010. He has been healthy since the WGC Bridgestone Championship in August of 2011. You can no longer say "wait until he is healthy" or "wait for the swing to click." Both have happened, and it is clear that he is not the same golfer who won 14 major championships.
That golfer was one who thought he was invincible, both on and off the course. He had never blown a lead in the final round of a major. He also had been perfect in regular tournaments since 1996, a year that began with him as an amateur. This invincible demeanor was the main reason that he became such a dominant player.
Tiger did have incredible talent that would have won multiple majors without a strong mind. Greg Norman and John Daly both had demons between the ears yet managed to capture two majors each. They both had awe-inspiring talent that evoked disbelief among other pro golfers. Tiger had the perfect mindset to go along with this talent.
The combination of losing to Y.E Yang at the 2009 PGA Championship and the scandal in his personal life damaged his feeling of invincibility. He has not recovered from this and it is very possible he never will. From his teenage years he had believed he was going to be the greatest golfer ever. He had dominated every level of competition from juniors to amateurs to the pros. He never had any reason to doubt himself until 2009.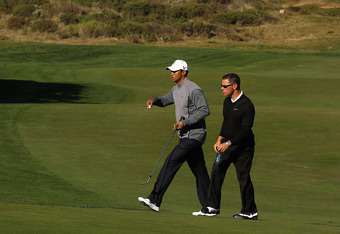 Ezra Shaw/Getty Images
Since the Australian Open in November, Tiger has greatly improved his play from the putrid display seen at the 2011 PGA Championship. That is no surprise. He was too good to be a guy outside of the top-50 in the world.  
In the Australian Open, however, he shot 75 on Saturday then bogeyed two easy holes on Sunday after a hot start and lost by two strokes. He won the Chevron World Challenge, an unofficial event with 17 golfers. That hasn't seemed to help his confidence.
He hit six greens in regulation at Abu Dhabi in the final round after he entered tied for the lead. He lost by two shots two Robert Rock. He entered the final round at Pebble Beach four strokes off the lead in third place. He only trailed by two after Charlie Wi made double bogey on the first hole.
Woods was sitting two strokes off the lead on Sunday with 17 holes to play on a course he has dominated. He proceeds to make five bogeys over the final 12 holes and shoots 75, dropping to 15th place. He hit only nine greens in regulation and watched partner Phil Mickelson shoot a 64 to win.
The bottom line is that you would not see the old Woods pull off choke jobs like this. He would not have let Mickelson beat him by 11 shots on a Sunday. He certainly would not have two straight final rounds where he collapsed when in contention.
Tiger has gotten back to being one of the top players in the world. However, he is nowhere close to the dominant legend that he used to be.