NCAA Tournament Sleepers: Murray State and 7 Mid-Majors That Will Ruin Brackets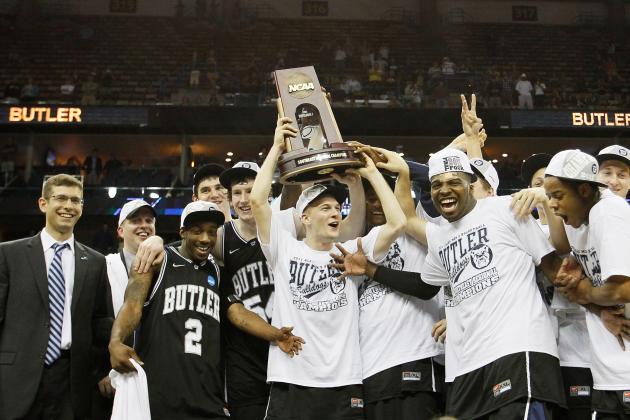 Kevin C. Cox/Getty Images
Can anybody do what Butler has done the last two years?
March is a time where dreams come true and where dreams are shattered.
It seems to happen, every year. The past two years, Kansas and Pittsburgh were knocked out in the second round.
Both games had wild endings. Northern Iowa won on a fast break three-pointer, and Butler got fouled on a rebound with one second to play.
Northern Iowa and Butler must have been living a dream. Kansas and Pittsburgh must have felt crushed.
So what's going to happen this year? We won't have a good idea until selection Sunday. Matchups play a huge role when it comes to upsets. That doesn't mean we can't start making predictions.
There's always the chance that none of these teams make noise in the tournament. It's unlikely, but it's possible.
Anything can happen in March. Who would've ever thought 15-seeded Hampton State would knock off 2-seeded Iowa State in the 2001 NCAA tournament? Maybe something like that will happen this year—I would love to see it. That's what makes March Madness so special.
Begin Slideshow

»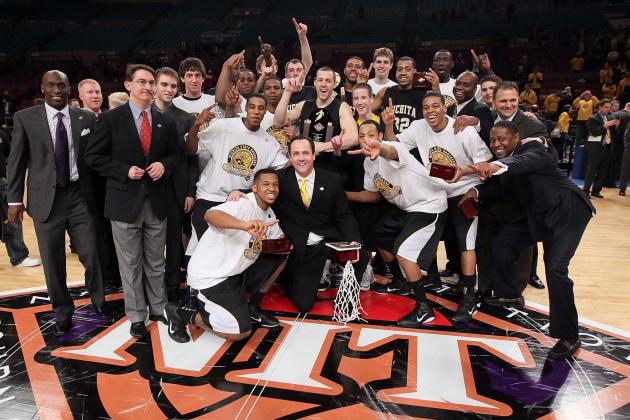 Jim McIsaac/Getty Images
After winning the NIT championship game last year, the Shockers may be ready to make an NCAA tournament run.
Wichita State appears be on a mission. Over the past week, they clobbered Creighton, 89-68, and whooped up on Northern Iowa, 82-57. The Shockers may be ready to unleash a fury because the polls aren't giving them enough respect.
The Shockers are a force to be reckoned with down low. They outrebound their opponents by seven rebounds a game.
Garrett Stutz is their star post player. Stutz is averaging 14.7 points a game and getting 7.9 rebounds a game. If he can force his way down low, the Shockers can make a surprising run in the tournament.
Wichita State takes care of the basketball. They only turn the ball over 12 times a game. If you take care of the basketball, you win games.
They take good shots—shooting 48 percent from the field. When you shoot close to 50 percent as a team, you're doing something right.
They're decent from outside, where they shoot 36 percent. Joe Ragland can knock down the big outside shot, as he's shooting 47 percent.
Defensively, they're solid. The Shockers are allowing opponents to shoot 39 percent from the field. Their perimeter defense is significantly better as opponents are only shooting 29 percent from outside.
As of right now, the Shockers have the most legitimate shot to make the Sweet Sixteen because of their all around play.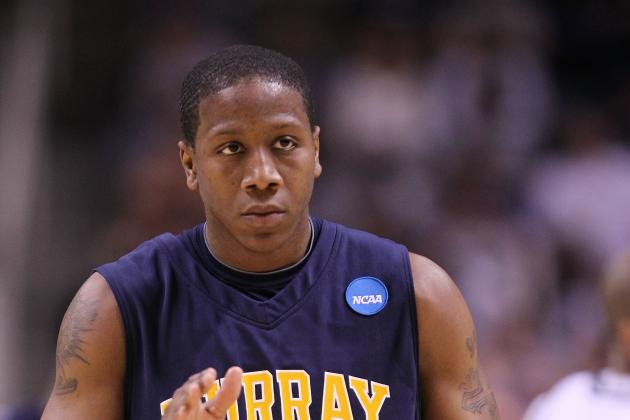 Jed Jacobsohn/Getty Images
Isaiah Canaan is one of the nations top point guards.
Murray State wasn't known by many before this season. Now everybody knows who they are because they were the last team to pick up a loss. They may have needed that loss, psychologically.
Nonetheless, the Racers have the potential to make it to their first Sweet Sixteen and beyond. They may be the most athletic team out of these seven mid-majors.
The Racers have a superstar, Isaiah Canaan, who is their point guard. The kid can do it all; he's averaging 20 point per game and can shoot lights out. Canaan is shooting 48 percent from the field and outside.
He's a game changer, when he's on, Murray State can make a game-changing run.
It's not just Canaan, Murray State shoots well as a team—at 47 percent from the field and 41 percent from the perimeter.
Nobody wants to face a team that can light it up from outside. Aside from Canaan, Donte Poole, Jewuan Long and Stacy Wilson are all shooting better than 39 percent from three-point territory. If one guy is off, another one can step up.
The Racers have superb perimeter defense. Their opponents only shoot 29 percent from outside, but inside the post, it's a different story as teams are shooting 42 percent overall. That's because they don't have much of a post game.
They're a terrible rebounding team—only outrebounding their opponents by two.
That's because Murray State doesn't have any height. Their tallest player is 6'9" and everybody else is 6'7". Ivan Aska is their most reliable post guy but he's going to struggle when he battles a guy that's 6'9" or taller.
This team can make a Final Four run, but their post game has to improve.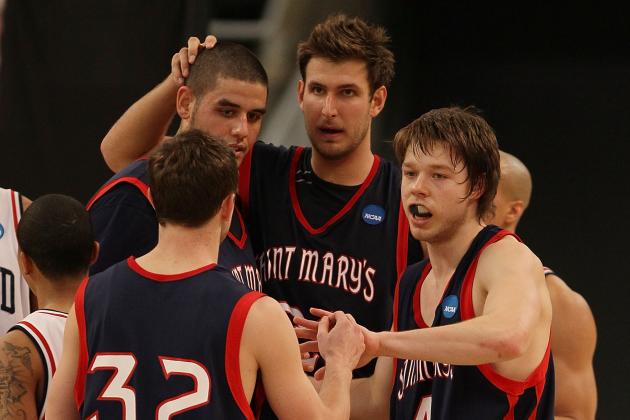 Elsa/Getty Images
Two years ago, St. Mary's made the Sweet Sixteen. Can they go further this year?
They're back! The Gaels are ready to make another Sweet Sixteen run this year. Two years ago, they made a stunning Sweet Sixteen run.
They'll get a taste of March this weekend, when they travel to Murray State.
St. Mary's has a lot of size, with have six guys over 6'9". This means they can rebound the basketball. They're outrebounding their opponents by eight a game. Opposing teams don't get many second-chance opportunities.
Their are two stars to watch out for. Matthew Dellavedova is a great point guard. He's averaging 15.7 points a game and six assists a game.
Down low, the Gaels have Rob Jones. He's averaging a double-double at 15 points and 10 rebounds a game.
Offensively, St. Mary's is solid. The Gaels shoot the ball well—as a team they're shooting 47 percent. They only turn the ball over 11.5 times a game. This leaves them plenty of chances to get a good possession.
Then we have the Gaels' downside. Ever heard of the saying, "Defense wins championships"? The Gaels have to improve their defense. Opponents are shooting 42 percent from the field and 36 percent from outside. If they want to be this year's Butler, they're going to have to improve defensively.
If the Gaels improve defensively, I think these guys can make a Final Four run.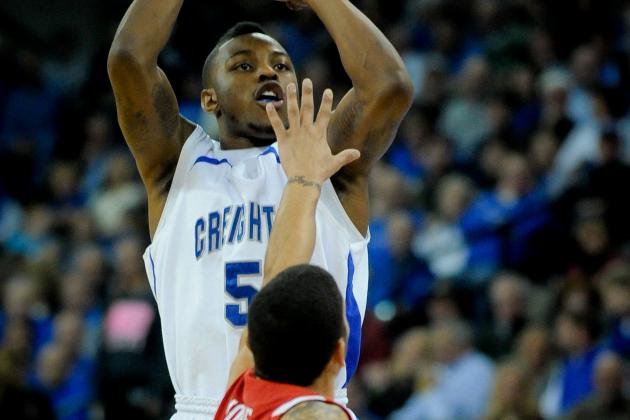 Eric Francis/Getty Images
Creighton has a great offense but where's the defense?
Yes, Creighton has lost two games in a row and they're in danger of falling off this list.
However, the Bluejays are still a superb team. This isn't a team you want to see in the tournament. Offensively, they're the best team in college basketball. They are the best shooting team in the country—shooting 50 percent from the field.
They can light it up from outside, too, as they are shooting 42 percent.
They're led by a superstar, Doug McDermott. He may be one of the most versatile players in the country. He's averaging 22.9 point and eight rebounds per game. McDermott is shooting 60 percent from the field and 49 percent from outside.
It's always nice when you have a 6'7" forward that can play inside and outside like he can.
On the downside, where's the defense, Creighton? Teams are shooting 43 percent against you and 35 percent from outside. You run into a good shooting team and you may be in big trouble. Wichita State thrashed them, because they had no answer on defense.
If Creighton can get their defense together, then they can make a long run in the tournament. If they don't, you may see them out early.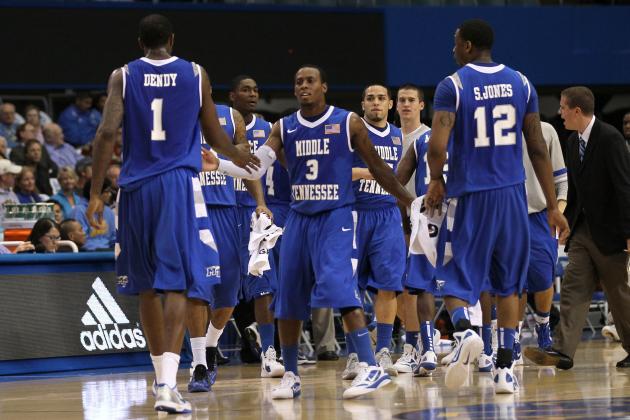 Stephen Dunn/Getty Images
You don't want to run into a team like the Blue Raiders.
Middle Tennessee State is a great team that plays offense and defense.
The Blue Raiders make great decisions on offense. They shoot 49 percent from the field and shoot a decent 36 percent from three-point land. Kerry Hammond and Raymond Cintron lead the team in three-point shooting. Both players are shooting better than 40 percent from outside.
Inside, they're led by big man LaRon Dendy. Dendy averages 14 points and seven rebounds a game. He can shoot from the outside if he has to, although he's much more efficient as a post player.
Defensively, the Blue Raiders are solid. Opponents are only shooting 39 percent from the field and 30 percent from outside. Any team that can play solid defense and offense can be a threat during March.
The Blue Raiders are a scary team to face. Nobody wants to see them on their side of the bracket.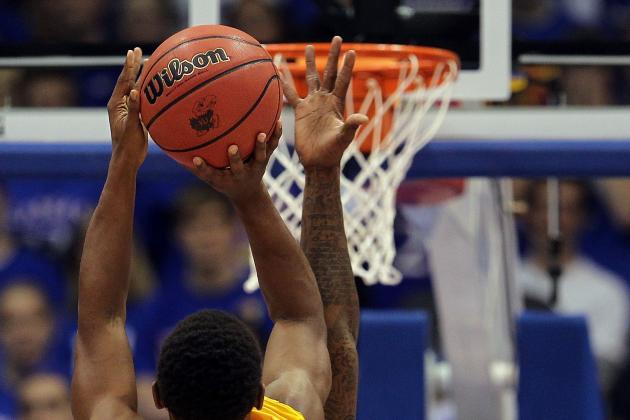 Jamie Squire/Getty Images

These Long Beach State 49ers are on a roll.They've won 12 games in a row and just keep on winning.
Why are they winning? You can ask Casper Ware, Larry Anderson and T.J. Robinson about that. Ware and Anderson run the backcourt while Robinson gives them a post threat. The threesome score 60 percent of their points each game.
The 49ers don't overwhelm you in any particular way. They aren't that great defensively nor do they overpower people on the boards, as they only outrebound their opponents by five.
Opponents shoot 43 percent against them, which is a concern come March.
Long Beach just wins games. Can they be a threat in March? With the right matchup they can. They do have three leaders who can put up the numbers to help them win.
They do have quality wins against Pittsburgh, Xavier and Auburn. Their six losses came to Kansas, Louisville, Kansas State, UNC, San Diego State and Montana. Their only bad loss is the Montana loss.
Playing a tough schedule can lead to success in March. That's why they're undefeated in conference right now.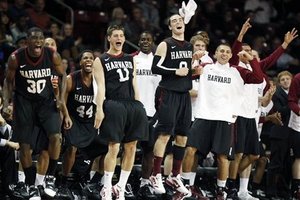 Harvard is a team that can make some noise in the tournament.
Jeremy Lin isn't the only good basketball player from Harvard. This year's team is trying to make some noise.
The Crimson can frustrate you by playing slow ball. It may not be exciting, but we've seen teams make long tourney runs using this style. They're only allowing 54 points per game while only scoring 65 points a game. Sure, it's boring, but they're winning.
A fast team may get frustrated with the Crimson, because they're going to take their time on offense.
Harvard has a great perimeter defense; opponents are only shooting 31 percent from three. Overall, opponents are shooting 40 percent from the field, which isn't great, but it isn't terrible.
None of their players are flashy, three players average at least 10 points a game. Keith Wright is their best player and averages close to 11 points and eight rebounds per game.
Harvard looks like a very average team statistically, but they play slow ball. Teams that play slow ball may frustrate a team that wants to run. The Crimson have the potential to make a tourney run.