February 16, 2012
The Road to WrestleMania has officially begun. The Showcase of the Immortals is less than two months away. But there's another pay-per-view that the WWE is offering us before WrestleMania. The annual Elimination Chamber PPV is being broadcasted from Milwaukee, Wisconsin this Sunday.
The most neglected pay-per-view of the year, Elimination Chamber suffers because of its placement between two of the 'Big Four' events of the year—Royal Rumble and WrestleMania. 
This year's event actually might be a pretty decent show. But there might be a big disappointment waiting to happen as well.
Today, I'm going to analyze each match on the card, and determine which match will be the most disappointing. 
As of writing this, the complete card of the PPV is as follows:
1. CM Punk (c) vs. Dolph Ziggler vs. Chris Jericho vs. The Miz vs. R-Truth vs. Kofi Kingston in an Elimination Chamber Match for the WWE Championship. (Chris Jericho will be the sixth entrant)
2. Daniel Bryan (c) vs. Big Show vs. Wade Barrett vs. Cody Rhodes vs. The Great Khali vs. Santino Marella in an Elimination Chamber Match for the World Heavyweight Championship.
3. Beth Phoenix (c) vs. Tamina Snuka for the Divas' Championship.
4. John Cena vs. Kane in an Ambulance Match.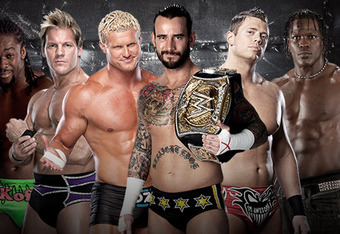 Raw EC Match Participants.
There might be another impromptu match added to the card, but as of now these four matches are the only ones announced.
Now let's analyze each match.
1. Raw Elimination Chamber Match
This match has some of the best in-ring performers the WWE has to offer. Add to that the intrigue of whether Punk will overcome the odds or whether Jericho will topple him to be the champion on the way to WrestleMania. This match might steal the show.
We're sure to see R-Truth getting bothered by Little Jimmy, and Kofi Kingston will definitely have the spot of the night. 
Jericho is the sixth entrant in this match as he won a Six-Pack Challenge two weeks back on Raw, so it'll be interesting to see what number Punk draws. Also, Sunday might be the first time both of them will actually wrestle each other since Jericho returned. So that will surely be something to watch out for.
2. Smackdown! Elimination Chamber Match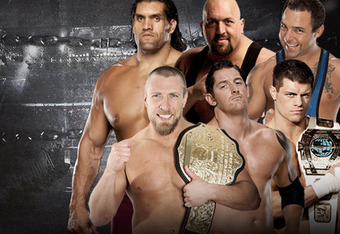 Smackdown! EC Match Participants.
Santino Marella replaced Randy Orton (who is suffering from a concussion) in this match after winning a Battle Royal on this week's Smackdown! tapings. He is used as a filler and he'll be the first eliminated wrestler in the match. One spot in the match was basically wasted. Someone like Drew McIntyre should have gotten a chance in his place.
While this match has some great in-ring talent with the likes of champion Daniel Bryan, Cody Rhodes and Wade Barrett, it also has two big giants, Big Show and The Great Khali. This certainly limits the amount of big spots this match can have. So it certainly isn't going to be a wrestling classic.
While Big Show is decent in the ring for a giant, Khali can't wrestle a broomstick, so that is a disadvantage.
Randy Orton's exclusion is a huge blow to this match, as it now lacks the star power that an Elimination Chamber Match normally carries. Also, now that Orton is injured, this becomes the most predictable match on the card. Daniel Bryan looks like a sure shot to retain retain on Sunday, as no other wrestler fits into the title plans the WWE has for WrestleMania.
3. Beth Phoenix (c) vs. Tamina Snuka for the Divas' Championship
Normally, I wouldn't even discuss a Divas' match, but this one could be a good match if given decent time. Tamina has been on a roll this past month winning every match she has been in, and now she finally gets her title shot against one of the most talented women in the roster, Beth.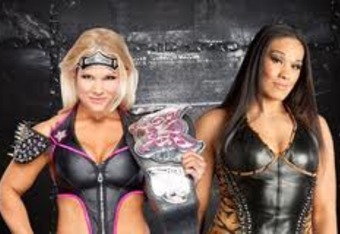 Divas' Championship Match.
Beth will most likely retain her title, as there are plans of her facing Kharma at WrestleMania. Either way, I see Kharma making an appearance after the match and laying out the champion.
4. John Cena vs. Kane in an Ambulance Match
This lackluster rivalry will finally come to an end this Sunday. Judging by how the feud has gone so far, it seems that a match with such a stipulation would be the best way to end it. 
The match itself will be a brutal affair, with both wrestlers trying to inflict as much damage as they possibly could. Interferences are possible from numerous sources, namely Zack Ryder, Eve and maybe The Rock.
This match also suffers from the problem of predictability. John Cena looks like a sure shot to win the match and the feud as he will need to look strong before his impending match with The Rock at WrestleMania. 
My Verdict:
I think the Smackdown! Chamber match will be the most disappointing simply because of its participants and its predictability.
Santino Marella is a joke and he will only be used a comedy act in the match. Furthermore, Big Show, while a nimble wrestler for his size, isn't the perfect EC Match participant. And the less said about The Great Khali, the better. 
Whatever he may say, Cody Rhodes already holds the Intercontinental Title and is not going to win the World Title and hold two championships together. Wade Barrett might be considered a dark horse, but as I said, he doesn't fit into the title plans for WrestleMania against Sheamus. Besides, we have already seen Wade Barrett vs. Sheamus in the recent past. 
So because of the aforementioned reasons, and the easily predictable outcome of the match, I think the Smackdown! Elimination Chamber Match will be the most disappointing match this Sunday.

That's it for now, folks. Which match, in your opinion, will be the biggest letdown come Sunday? Hit the comments section and let me know!
Thanks for reading and cheers!


Like the new article format? Send us feedback!