Pac-12: Where Does the Conference Stand on Postseason College Football Playoffs?
February 14, 2012

Steve Dykes/Getty Images
Postseason college football playoffs and Washington's hiring of Tosh Lupoi from California were both briefly addressed by Pac-12 Commissioner Larry Scott at yesterday's Pac-12 Studios groundbreaking ceremony. 
Pac-12 Studios, the soon-to-be headquarters for the Pac-12 Conference's TV and digital networks, will be located in downtown San Francisco.  The headquarters should be up-and-running in the summer, in time for the launch of the Pac-12 Network. 
The Pac-12 Network will both supplement coverage and provide greater exposure of Pac-12 sporting events and athletes, alongside the conference's 12-year, reportedly $3 billion deal with ESPN and Fox. 
The network will televise more than 850 live sporting events, including: all Pac-12 Conference football and men's basketball games that are not carried by ESPN and Fox, and "unprecedented exposure for women's sports and Olympic sports."
Regarding the conference, Commissioner Larry Scott had a few words to say: "It's an exciting time for college sports in general, and there's no more exciting place to be than the Pac-12. We've got a great dynamic and bold vision for the future of college sports and the future of our conference."
With the conference expansion, ESPN and Fox contract, Pac-12 Network, Big Ten Partnership and now talks of tournaments and festivals in China, "bold" may be somewhat of an understatement of Larry Scott's vision for the future of the Pac-12 Conference. 
Scott briefly addressed Washington's hiring of Tosh Lupoi (former Cal player whom Rivals.com named 2010 National Recruiter of the Year) two weeks before signing day.  Scott mentioned that conversations occurred between the conference and Washington in the wake of Tosh Lupoi's hiring.  Without getting specific in terms of recruiting, Scott said that the league is always monitoring, "to make sure schools are following the rules."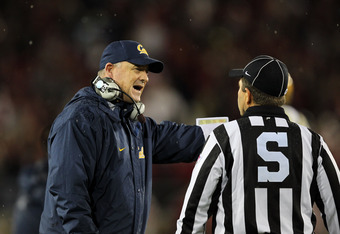 Ezra Shaw/Getty Images
Lupoi recently spoke about his move to Washington, saying, "I think he (Cal coach Jeff Tedford) was understanding of the opportunity that was offered here (Washington) and the reasons to want to start something new… If a young man is making a decision based solely off of the recruiting coach or position coach, then I honestly think his priorities are probably not at the right place…"
Cal linebacker coach Kenwick Thompson recently addressed the situation when he mentioned that the recruits that came to the Bears "are the ones that are supposed to be here, and the others are the ones we'll deal with come game day."
ESPN's Ted Miller gave a great assessment of the awkward situation. He pointed out there were some disappointments in addition to Cal's recruitment wins: Ellis McCarthy, Jordan Payton and Kenneth Walker going to the UCLA Bruins, Arik Armstead going to the Oregon Ducks, Shaq Thompson going to the Washington Huskies.
On the upside, as Miller pointed out, Cal still ended up with a top-25 class, led by No. 2-rated QB Zack Kline. What they need to do now is move forward and start winning in 2012.  Something Bears coach Tedford doesn't see as a problem: "The perception that we are in trouble is wrong, because we aren't in trouble."
The Pac-12 Studios groundbreaking also presented a chance to get some insight into both Commissioner Larry Scott and the Pac-12 Conference's position on options for a revised BCS/playoff model for postseason college football.
For the time being, Scott said, the conference "has stopped short of taking a position."  Scott mentioned that the conference could devise its own plan or join in on one from another conference prior to the BCS meetings in April. 
While not commenting specifically on the Big Ten's four-team playoff plan, Scott said, it was indicative of "an open-mindedness." 
The Southeastern and Atlantic Coast Conferences proposed a four-team playoff in 2008, which was ultimately shot down by the Big 12, Big East, Big Ten, Notre Dame and the Pac-10. 
NCAA President Mark Emmert spoke last month in favor of a four-team playoff.  And Arizona State University President Michael Crow recently called for the end of college football's Bowl Championship Series, in favor of an eight-team playoff separate from the major BCS Bowls: Fiesta, Orange, Rose and Sugar. 
Larry Scott, like with almost everything he does in the Pac-12, wants to "look at it (postseason college football) with a fresh set of eyes and be creative… There are, we believe, improvements that can be made and need to be made in postseason college football. We're not there with any particular plan or endorsement yet."
The question of there being too many bowl games, with many taking subpar teams, is constantly brought up.  So change to the current system, or at the very least some critical analysis, seems justified. 
Whatever the Pac-12 Conference and the other decision-makers decide regarding postseason college football, like everything else in college football lately, it will be interesting to sit back and watch it all unfold.