Philadelphia Phillies: Grading GM Ruben Amaro's Offseason Moves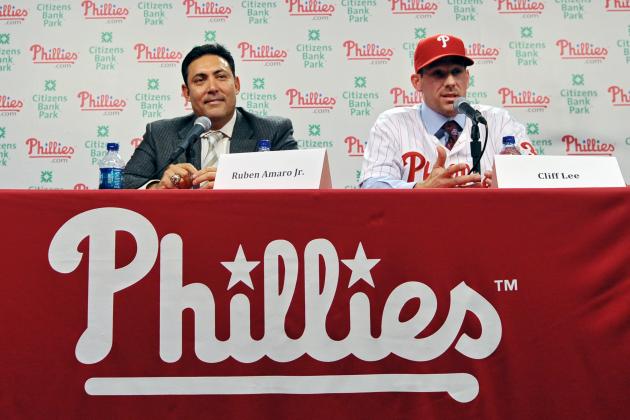 Drew Hallowell/Getty Images

Phillies fans have recently been accustomed to big offseason moves.
After completing a blockbuster trade for Roy Halladay, and then swooping in and stealing Cliff Lee as a free agent the year after, Ruben Amaro has made it his mission to bring the top names to Philadelphia.
Because this has been Amaro's claim to fame ever since he took over as GM after the 2008 season, Phillies fans and media have almost expected Amaro to bring a star to the city every single season. It even seems that anything short of that is considered an offseason failure.
In 2012, Amaro did make a blockbuster move but it was in the form of a closer and with guys like Jose Reyes and Prince Fielder leading a very talented and versatile free agent class, Amaro's signing of Jonathan Papelbon wasn't exactly the amazing move some may have expected.
With guys like Halladay, Lee, Ryan Howard and Chase Utley occupying a good portion of the team's current salary, bringing in more superstars wasn't likely. Despite this however, Amaro did make some minor moves to bolster the Phillies bullpen and bench depth.
As spring training nears, it is time to evaluate some of these moves and hand out Amaro's 2012 offseason report card.
Begin Slideshow

»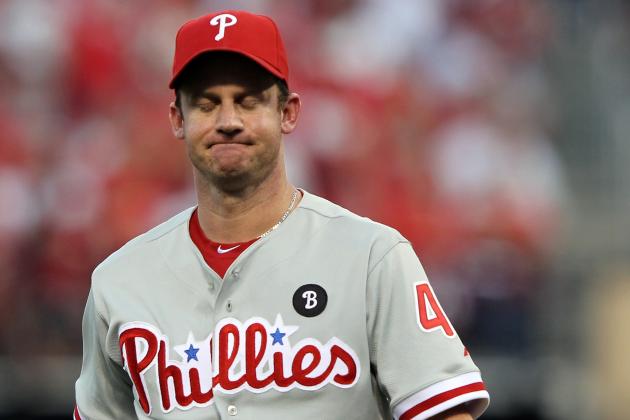 Jamie Squire/Getty Images

For the Phillies, not picking up the options on closer Brad Lidge and RHP Roy Oswalt, makes a lot of sense.
For a team where pitching has most recently been one of its biggest strengths, Oswalt and Lidge became dispensable as bullpen and starting rotation depth made it possible for the Phillies to let these two walk.
Brad Lidge especially has had a storied history with the Phillies. His perfect 2008 campaign won't soon be forgotten, but the memories from that World Series have begun to fade. Since 2008, Lidge has really failed to produce as the Phillies had hoped.
Roy Oswalt came as a midseason pick-up—completing the Phillies rotation that in 2011 boasted four aces. Unfortunately for both Oswalt and the Phillies, the "Four Aces" didn't have as much team success as advertised.
Sure Cole Hamels, Roy Halladay and Cliff Lee finished in the top five in Cy Young voting, but Oswalt suffered from a back injury and saw his stats decline as the season progressed.
With Vance Worley emerging in his rookie season and Kyle Kendrick having some success in a spot starting role, the Phillies have options for someone to replace Oswalt. They also have a ton of young arms waiting in the wings as well as a few veteran bullpen signings.
It simply was not worth the money owed to him to keep Lidge.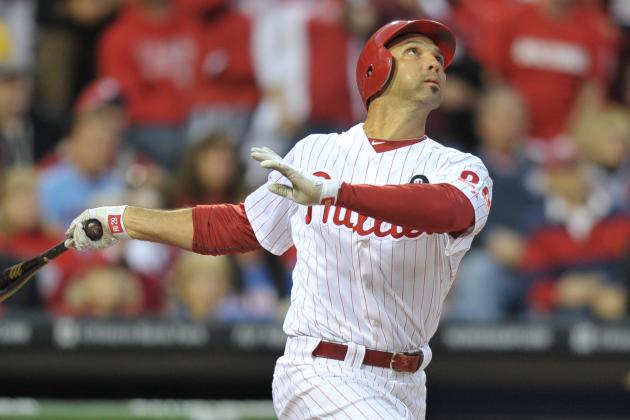 Drew Hallowell/Getty Images

It was thought that when Raul Ibanez declined the Phillies offer of arbitration, that the soon-to-be 40-year-old lefty was going to go the route of retirement.
It turned out however that Ibanez wasn't done, and that despite leaving the Phillies, he still wants to play baseball elsewhere.
Ibanez will likely be headed to the American League where he can be a DH, but in the meantime the Phillies didn't lose much offensively by getting rid of Ibanez.
His .245 batting average last season, and significantly decreased speed will be replaced by John Mayberry Jr.—or one of the other Phillies acquisitions.
Although Ibanez will be missed among fans, it made sense for Amaro and the Phillies to go in another direction when looking for an outfield bat.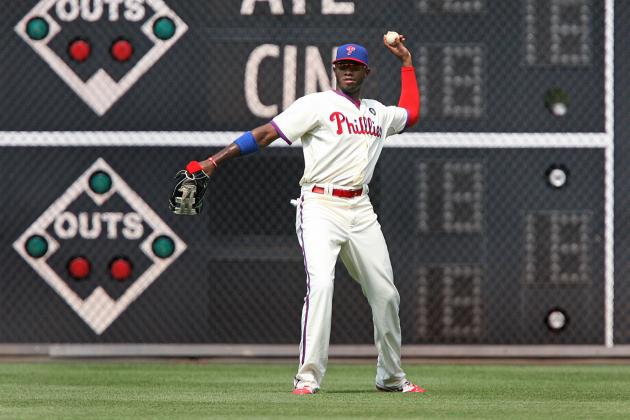 Hunter Martin/Getty Images

Domonic Brown went from being a top notch prospect that the Phillies organization once called, "untouchable," to a guy whose future is in serious doubt as he will be exercising his third and final option with the team as he starts the 2012 season in the Phillies minor league system.
Brown's career has not at all been what the Phillies had expected out of the youngster.
His swing has not transferred well in the majors, and he has too many inconsistencies in his offensive and defensive play. Although it is not certain, it seems that Brown is likely to go the way of so many other prospects before him that just didn't pan out.
For Ruben Amaro and the Phillies, placing Brown in the minors to start the 2012 season is the best option. The team has continually tried to develop Brown's raw power and swing into a solid offensive game but it hasn't quite worked out.
The Phillies' outfield has enough depth to keep Brown in the minors, but the bad part about the decision is if RAJ and company choose to bring Brown up in September or for the postseason.
With another call-up, Brown exercises his third and final option which will force the Phillies to make the decision to option him or place him on waivers.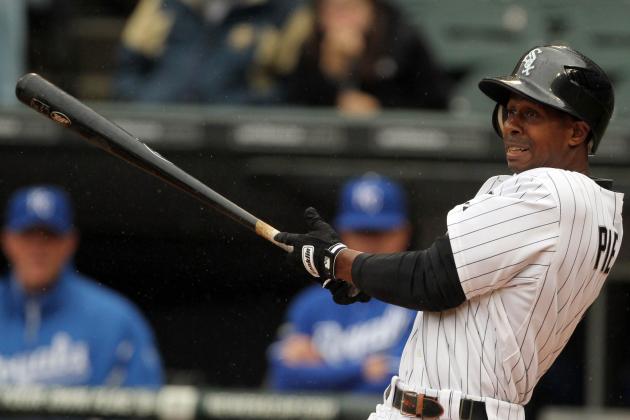 Tasos Katopodis/Getty Images

Signing Juan Pierre to a minor league contract with an invitation to spring training really has no downside for the Phillies. In fact, it may even amount to a steal if the 34-year-old can win a spot out of spring training and produce similar numbers to the ones he did last season.
Pierre has played CF for most of his career but he has a fair share of LF experience including the past two years with the White Sox. If he earns a spot out of spring training, he will likely split playing time in left with John Mayberry, Laynce Nix or Scott Posednik—a non-roster spring training invitee.
If he wins a spot on the bench or in the field, Pierre provides the Phillies with speed, something that the team has really missed in the past few years. In 2011, Pierre stole 27 bags and just a year prior stole over 60 bases. He still has good speed and could provide a good one-two punch with either Jimmy Rollins or Shane Victorino.
Because the move is extremely low-risk but has the potential for high reward, Amaro and the Phillies brass get pretty high marks on taking the chance on Juan Pierre.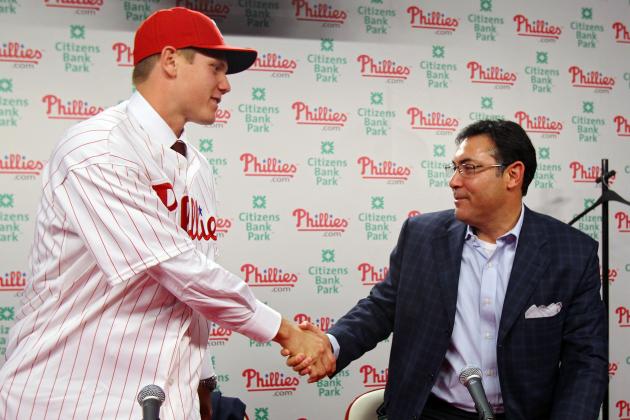 Len Redkoles/Getty Images

Jonathan Papelbon became a very rich man this offseason. In fact, when he inked his 4 year, $50M dollar deal, he became the highest paid closer in the history of baseball.
Getting Papelbon was the big offseason splash made by Amaro and company this year. He may not have been the top-ranked free agent but he was one of, if not the best closer available on the market.
Unfortunately for the Phillies, getting Papelbon meant saying goodbye to Ryan Madson, a decision the team may regret based on how the contract negotiations panned out.
One thing Papelbon does for the Phillies is fill a closing void that has really been open ever since the 2008 World Series. Since Brad Lidge went down on his knees in celebration of the championship, the Phillies have seen a revolving door when it comes to 9th inning duties.
With Papelbon signed to the team, it is no doubt that he will be the opening day, closing day and playoff closer probably for as long as he is on the team.
With every upside there is a downside, and Pap's downside may just be that the Phillies overpaid to get him.
Although Papelbon is a great closer, I can't give Amaro an A on this decision because the money spent on Papelbon as opposed to the money Ryan Madson actually signed for in Cincinnati (1 year, $8.5M), may have the Phillies shaking their heads if they find they cannot hold on to Cole Hamels and Hunter Pence in the long term.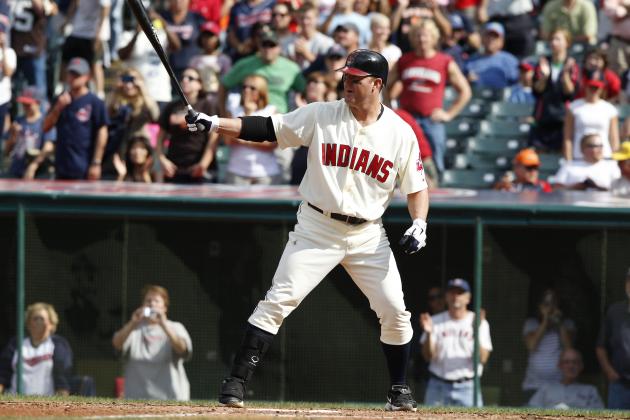 David Maxwell/Getty Images

For the Phillies, signing Jim Thome to a one-year, one million dollar deal makes complete sense.
Not only are they bringing in cheap bench help to essentially replace Ross Gload, but they are also bringing back one of the most beloved personalities in Phillies recent memory.
Thome comes back to the Phillies primarily to be used as a pinch hitter. His bat is still pretty good as he hit 15 HR and 16 doubles in about 90 games last season. Thome also may see some spot starts at first until Ryan Howard is healthy and ready to return.
Having Thome back on the Phillies is a win-win for both guys. Thome returns to the team that he pretty much put on the map in terms of attracting big name free agents, and the Phillies get a guy who gives them better offensive numbers than Ross Gload.
Even if Thome doesn't pan out, his one million dollar salary is low enough for the Phillies to take the risk on their former star first baseman.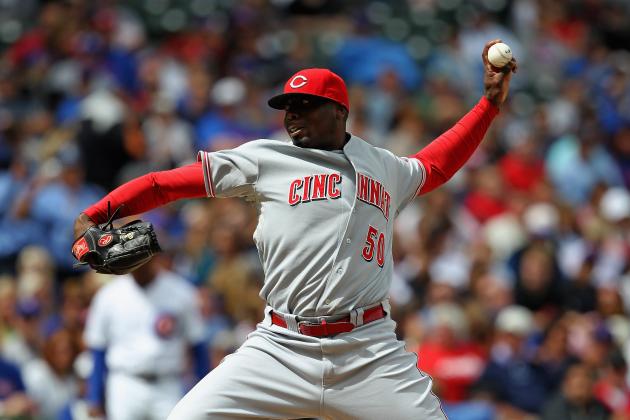 Jonathan Daniel/Getty Images

The Phillies are taking a bit of a risk in signing the pitcher known as the "D-Train."
That said, by paying him a mere $850,000 over the course of a one-year contract, they could just strike gold from the former rookie of the year.
Willis will be owed less than a million dollars in 2012 meaning that the Phillies don't really have much to lose if he doesn't have a good season.
Willis will be pitching out of the bullpen for the Phils for just the third time in his career but the Phillies feel that if he is to regain his pitching magic, the best place for career resurgence will be in the bullpen and as a lefty specialist.
Over the course of his career, left-handers have hit .200 against him and last season that number was even lower at a stellar .127. The Phillies hope that Willis can repeat this kind of success in 2012.
If for whatever reason he doesn't, the Phillies will still have a pretty good pinch hitting bat off the bench.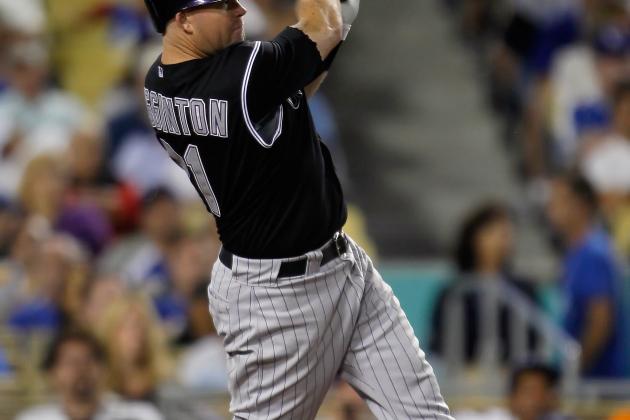 Jeff Gross/Getty Images

Ty Wigginton's main role in 2012 will be as the fill-in guy. Just like the man he is replacing, Wigginton will be looked to as a bench guy who can fill in at short, second and primarily at third when need be.
Acquiring Wigginton in a trade barely cost the Phillies as the price will only be cash or a player to be named. They received cash with the trade so paying Wigginton's salary will only be partly on the Phillies.
Wigginton is only two years removed from his All-Star campaign with the Orioles in 2010. He is a solid player with stats a little bit better than Wilson Valdez, the man he is replacing.
Wigginton has by all means no better than average talent, but he is a guy that can step in at a handful of positions if and when the Phillies need him to.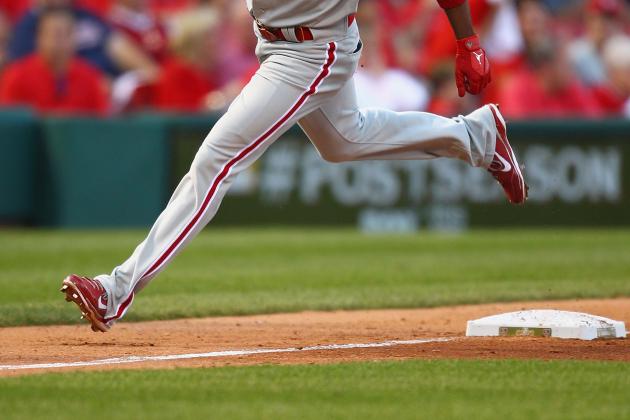 Dilip Vishwanat/Getty Images

When Ben Francisco came to Philly it was as part of the Cliff Lee package deal. His presence was pretty overlooked at first as fans were just so excited to see the pitching and surprising hitting talents of their newest pitcher.
Much wasn't expected of Francisco but in his short time in Philly, he managed to provide a pretty good right handed bat off the bench and he even played a good amount of time in the OF and saw relative success.
In the offseason moves that the Phillies made it was easier for them to get rid of Francisco in order to avoid paying him the salary raise he was due to get. To replace him, the Phillies acquired some other cheaper bench alternatives from both the right and left handed side of the plate.
They also bolstered the OF with the acquisition on Hunter Pence last season and the emergence of John Mayberry, making it easier for the Phils to part with Francisco.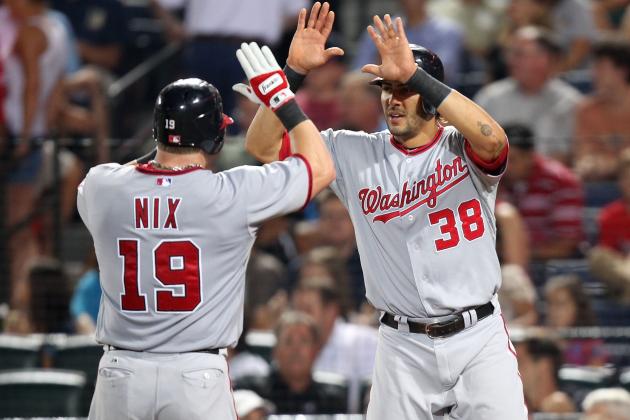 Mike Zarrilli/Getty Images

Laynce Nix is just one of a handful of second tier players that Amaro brought to the Phillies on relatively cheap contracts.
Initially it seemed that the Phillies were targeting Michael Cuddyer of the Twins, but his price proved too steep and Nix was just one of the alternatives the Phillies added to bolster their bench and add depth to the line-up.
The left-handed Nix is expected to split time and platoon in left field with the right-handed Mayberry. He is one of the few players Ruben picked up in the offseason that will actually get a good amount of playing time during the season.
Similar to Ben Francisco, Nix is just an average player offensively. Although he had an okay season last year hitting .250 with 16 HR, Mayberry had better offensive numbers and looked primed to take over as the everyday starting left fielder.
If Mayberry has continued success, Nix might spend 2012 riding the bench and his salary might end up being money better spent.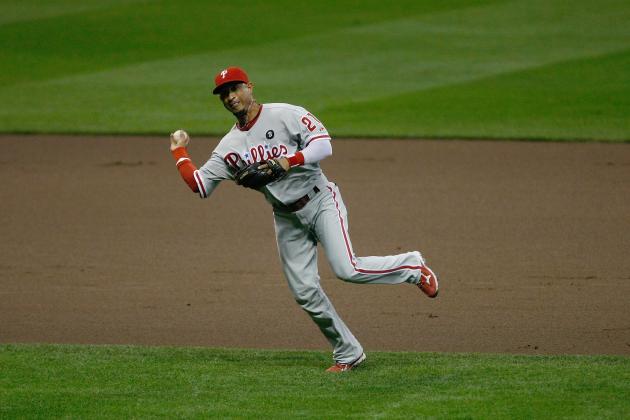 Scott Boehm/Getty Images

Wilson Valdez was a great and cheap commodity for the Phils.
In 2011 he was owed a mere $500,000+ and he was well worth the money as he was able to step in for Chase Utley, Jimmy Rollins and even Placido Polanco at different times during the season. Not to mention he had a win/loss record of 1-0 after recording a win after pitching in a 19 inning game.
In order to replace Valdez, the Phillies picked up Wigginton. His stats basically mirror Valdez with the one exception being that Wigginton has better power numbers in both HR and RBI.
In the end, it is likely that this little boost of power helped Amaro make the decision to acquire Wigginton in a trade and to trade away Wilson Valdez.
Hunter Martin/Getty Images

Chad Qualls signed with the Phillies on a one-year, $1.15M dollar deal. It is likely in 2012 that he will be one of if not the main set-up guy to new closer, Jonathan Papelbon.
Qualls is a pretty good bullpen guy but bringing him to the team leaves one less spot open for the young and up-and-coming minor league guys ready to breakthrough. Guys like Justin DeFratus, Michael Shwimmer and Philippe Aumont will be competing to earn a spot in spring training.
Personally, I'm not a huge fan of this move just because I think the Phillies have incredible depth in the bullpen as it is. They have veterans in Jose Contreras and David Herndon as well as Dontrelle Willis who will be making his full season bullpen debut.
They also have young arms including the ones I mentioned above—in addition to Michael Stutes and Antonio Bastardo.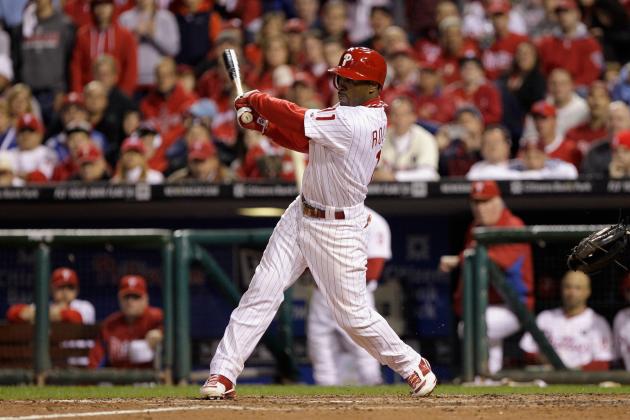 Rob Carr/Getty Images

Bringing Jimmy Rollins back to the Phillies was one of the top items on Ruben Amaro and the entire Phillies' organization's offseason to-do list. Fortunately they were able to bring him back and at a pretty reasonable price.
I would love to give this move an A but I think that the Phillies gave in more than they had to when it came to signing Rollins. It became obvious that not many other teams were interested in Rollin's services especially at the amount he was asking for.
The Phillies did get Rollins cheaper than what he had asked for, but I think they could have given him even less and still managed to keep him in red and white pinstripes.
That said, Rollins is such a huge part of this Phillies team.
Even if it turns out that his offense is declining, his defense is pretty much unchanged and he still has good speed on the base paths. Also, Rollins is the emotional leader of this team both on the field and in the clubhouse. He has charisma and a great motivational attitude.
If the Phillies ever are to win another World Series in the next five to ten years, a big part of it will be because of Rollins' leadership and that alone is a good reason for keeping J-Roll on the team.