One More Year of David Ortiz: Debating the Merits of the Red Sox Deal
February 14, 2012
Stephen Dunn/Getty Images
In the end, it was simply a "meet me halfway" agreement. 
David Ortiz and the Boston Red Sox, who had been at odds over a potential future contract since the end of last season, settled on a one year deal worth $14.575 million. That's basically the midpoint between Ortiz's requested $16.5 million and the Red Sox counter-proposal of $12.65 million. 
For the team and the player, it's a win-win. The Red Sox have had their fair share of negative press since last September first. Ortiz, in spite of some sub-par seasons recently, has been and still is one of the biggest bats and biggest personalities on the team. 
It's fairly obvious that Ortiz wanted to return to Boston and that Boston wanted Ortiz to return. It's important for fans to remember that this deal, regardless of whether or not they think it's a good value, is a good thing for the team. 
The player and the team weren't about to part ways. They were headed to arbitration. Arbitration hearings always produce a result. Someone wins and someone loses.
Sometimes though, both sides lose. Not literally, since that would be impossible, but in an arbitration hearing the only way to sell your case to the arbiter is to point out the shortcomings of the player involved. 
That's the type of thing that can cause hard feelings. There's a reason that teams work hard to avoid arbitration. One is that losing will definitely cost them money. The other reason though is that, even if a team wins, they can still lose. Sometimes players take things personally; it can't be avoided.
How exactly would David Ortiz—a hero of the most significant postseason run in Boston Red Sox history—be expected to feel if he had to sit though a hearing in which the Red Sox sat there and laid out a list of compelling reasons against his own proposed contract?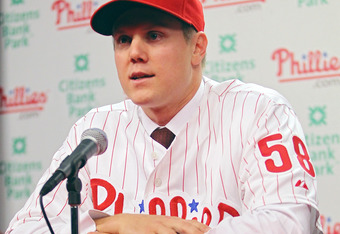 Len Redkoles/Getty Images
There are those that would claim that Ortiz on the open market would never have gotten anywhere near the money that the Red Sox initially proposed, never mind the $16.5 he had requested. Those people are probably right, but that's of almost no consequence.
Ortiz does hold greater value to the Red Sox. It's the type of value that the St. Louis Cardinals had hoped Albert Pujols held in St. Louis. It's actually rather rare in sports these days, and Ortiz as the Red Sox' designated hitter is where he should be. And of course, he is coming off a great year.   
It's not as if there were a ton of other quality DH options out there. It's also not as if the money saved on a hypothetical Raul Ibanez or Valdimir Guerrero signing could be spent on improving the right field or starting pitcher slots.
The past offseason's free agent class was strange. The outfield options weren't that tempting. If you're concerned with durability or clutch hitting, then letting Ortiz walk and signing Carlos Beltran to play right field is not the solution you're looking for.
Neither is Roy Oswalt, who has suffered back problems and is in already 34. Remember, the Ortiz contract is for only one year.
Signing any of the big free agents might have cost less than the $14.575 million for the upcoming season, but there would have been more years, more commitment and more cost down the road. That all equals more risk.
Ortiz doesn't represent a ton of risk for the Red Sox. Can he handle the pressures of playing in Boston? Yes. Can he handle the fans and the media? Yes and yes. Can he hit in the clutch? Yes again.
Can he hit left-handed pitching? Lost in this debate about the merits of signing Ortiz is that many of the aging potential DH replacements have numbers that are headed in a downward direction. In addition, they also have problems hitting either left-handed or right-handed pitching. For years, Ortiz had the same issues.
Over his entire career facing left-handed pitching, Ortiz has a batting average of .264 and an OPS of .813. Last season, at the age of 35, Ortiz hit .329 with an OPS of .989 against left-handers. He only had 8 of his 29 home runs against lefties, but he had only half as many plate appearances against them as he did right-handed pitchers.
In other words, at an age where many players decline or plateau, Ortiz improved.
It's anyone's guess how much gas is left in the Ortiz tank. Maybe this is the year he starts a precipitous decline? Maybe it's in two years or even more?
Ortiz has never really been much more than a designated hitter. The wear and tear of innings and hours spent playing in the field has been avoided for much of his career.
The deal Ortiz signed with Boston is without question above market value. Then again, it's hard to place a "value" on some of the things Ortiz has done over his Red Sox career.
This has been an offseason that saw the departures of Terry Francona, Theo Epstein and Jonathan Papelbon. Jason Varitek's and Tim Wakefield's respective futures are also in question. The return of Ortiz might be worth spending a bit more on.