WWE: Triple H's 25 Best Matches of His 17-Year WWE Career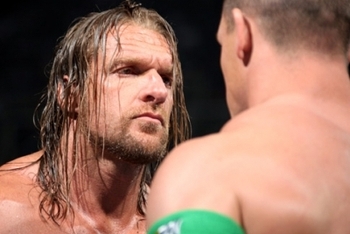 Photo from ign.com
Triple H has been involved in a large number of WWE's pivotal moments and unforgettable matches.
The Harley Race of our generation was such a fixture atop the WWE for so long, it's easy to undervalue his greatness.
He blends brawling with technical wrestling and possesses both a fervent passion for the sport and a comic-book superhero body.
Whether in a Street Fight, Last Man Standing Match or inside the Elimination Chamber, he has enriched the WWE library.
Honorable Mention
Backlash 2004 vs. Chris Benoit vs. Shawn Michaels
Night of Champions 2011 vs. CM Punk (No DQ)
No Mercy 1999 vs. Steve Austin (Anything Goes)
Raw 2000 with Chris Benoit vs. Chris Jericho and the Rock
Armageddon 2002 vs. Shawn Michaels (Three Stages of Hell)
Vengeance 2005 vs. Batista (Hell in a Cell)


25. RAW 2000 vs. Taka Michinoku
"Triple H almost breaking Taka in half..."
A lesser known gem started out with Triple H not knowing who he'd be defending his WWE championship against. His surprise opponent was the Japanese sparkplug, Taka Michinoku.
With the Acolytes at ringside as Michinoku's insurance policy, the match moved along at a rapid pace. Triple H hasn't often worked with guys as quick and agile as Michinoku and the unexpected chemistry they had was wonderful to watch.
Throw in a defiant Earl Hebner and a rabid crowd and this match had the feel of a classic early.
The chaos at the end, Kaientai and the Acolytes interfering, the McMahons getting involved, was indicative of how Raw felt at that time. Anything could happen. We felt like were sitting on a faultline and it rumbled every Monday.
24. No Way Out 2008 Elimination Chamber
"Good lord, what a match!"
Triple H has been right in the middle of some of the best Elimination Chamber matches, and this is no exception.
Chris Jericho and Shawn Michaels began the match with some technical wrestling, countering each other beautifully. Umaga came in and served as the resident powerhouse.
One of the more memorable spots is his double Samoan Drop on Jericho and HBK. He also crashed Jericho's head through the chamber pod glass with his bulldozer of a lower body.
Triple H entered as the penultimate wrestler, with everyone but Jeff Hardy already in. And while this had all the violence and chaos that mark Elimination Chamber matches, it was less intense and a bit slower than some of the absolute best.
23. Backlash 2006 vs. John Cena vs. Edge
"Every time you see these two guys in the proximity of each other, they just literally beat the hell out of each other and they seem to like it."
Like seemingly every match on this list, blood seeps from Triple H's brow, but here it ends up also covering his body like a crimson second skin.
It was a fun match that began with Edge's clever strategy of stepping out of the ring to let Cena and the Game go at it.
This was a well-worked match highlighted by a number of spots that had fans gasping; Cena and Triple H one-upped each other by banging Edge's head on the table, Lita got a Triple H spinebuster and the Cerebral Assassin dished out an electric chair drop to both Cena and Edge.
In the end, Cena won, which might hamper some people's enjoyment of it. But as good as the win made Cena look, Triple H's enraged sledgehammer barrage made him look better.
22. Survivor Series 2009 vs. Shawn Michaels vs. John Cena
"Did that just happen?"
This match has perhaps the most shocking opening in recent memory as Shawn Michaels superkicks his own partner from the get go. Even with Cena's goofy-faced overacting, the moment was perfect.
Michaels had one of his many fantastic Survivor Series performances in this one.
Highlights include Cena kicking Michaels out of the corner into the FU which Michaels countered into a DDT, Triple H's spinebuster through the table, an extreme number of on-point superkicks and a frantic ending.
This main event had a fantastic pace and is an underrated match mostly due to anti-Cena sentiments.
21. No Mercy 2000 vs. Chris Benoit
"Benoit's like a carnivore with a big porterhouse steak in front of him."
This well-respected match had Triple H dominating early, even throwing in some of his underrated technical skills.
Triple H didn't have the chemistry with the Rabid Wolverine that Kurt Angle or Chris Jericho did, but they still worked fantastically together.
Ferocity defined this match. Both men held nothing back, and we were the beneficiaries.
The Pedigree to Crossface counters alone were worth the ticket price.
20. Backlash 2000 vs. The Rock
"Austin, Austin, Austin!"
Whenever these two megastars stepped into a ring together, they elevated their games.
With everyone from the referee (Shane McMahon) to Pat Patterson against him, it felt as if there was no way the Rock would win this. The seemingly insurmountable obstacles in front of him made for a particularly dramatic match.
The double Rock Bottom through the table was an unforgettable moment.
When Austin's music came on, the crowd couldn't have exploded any louder. Seeing him just whack everyone in sight with a steel chair was beyond satisfying.
The story and the action kept the audience tense and satisfied throughout. All in all, it was a tremendous addition to the resumes of both The Rock and Triple H.
19. RAW 2003 vs. Shawn Michaels
"He can smell and taste the blood. He can smell and taste the heavyweight championship of the world.""
Of the many battles in the Triple H and Shawn Michaels rivalry, this one might get overshadowed by street fights and Last Man Standing type matches, but is one of the better straight wrestling matches.
Set in Michaels' hometown of San Antonio, Texas, this saw their usual excellent chemistry coupled with some vintage Ric Flair dirty tactics.
The Heartbreak Kid kicked the second rope into the Game's nether region and dove onto both Flair and Triple H on the outside.
Throw in a surprisingly fair officiating job by Eric Bischoff, and it's no wonder the crowd was so keyed up as the climax hit.
18. Rebellion 1999 vs. The Rock (Cage Match)
"The champion, Triple H, is a bloody mess."
This back-and-forth dramatic battle is one of the best cage matches WWE has ever put on.
Triple H and the Rock had their usual superb chemistry and made full use of the violence possible in a steel cage.
The ease in which the Rock scaled the cage again and again is a testament to his otherworldly athleticism.
The chaotic and surprising ending is what makes this match special.
Earl Hebner taking the chair from Triple H, Chyna slamming the door on Rock's head, the Rock leaping off the side of the cage; it all added up to awesome.
Note: I couldn't find a quality clip of this match, but included highlights of the Rebellion 1999 pay-per-view which features the match.
17. SummerSlam 2000 vs. Kurt Angle vs. the Rock
"This is damn sure personal."
In terms of storyline, the Rock felt like a third wheel in the Kurt Angle vs. Triple H rivalry. But once the action began, the Rock brought it, showing off his and Triple H's fantastic chemistry.
Kurt Angle was not involved for so long; it was easy to forget it was a Triple Threat match. So when he finally did come in, it felt like we were receiving a bonus match.
The Triple H and Angle tension over Stephanie McMahon was crafted well, and the in-ring action itself built beautifully to a fever pitch.
16. SummerSlam 1998 vs. The Rock (Ladder Match)
"How much more can these two human beings take?"
A slow, grinding pace built to a highly charged climax.
This was not as innovative as some other ladder matches, but brutal and exciting enough to make up for that.
Triple H took more than his share of nasty bumps on the steel. In retribution, he delivered a baseball slide, knocking the ladder into the Rock's chin.
A few less attempts at each man ramming their heads into the railings would have improved this, as would less interference at the end, but as it stands, is still an incredible thrill to watch every time.
15. RAW 2004 Evolution vs. vs. Shelton Benjamin/Chris Benoit/Mick Foley/HBK
"That quick, that quick…the kick, the cover."
Evolution may not have been the second coming of the Four Horsemen that Flair and Triple H wanted, but it will go down as one of the better stables to be put together.
In a match that might have seemed too crowded with egos and bodies, everything clicked. The fans were loud throughout, elated at every chop and helped elevate the action with their energy.
I would expect no less from a Chicago crowd.
Every guy got a chance to shine and given such a short time to work with, they held nothing back. The match managed to sustain its steamrolling momentum until it unraveled into a brawl.
Michaels ended it with a superkick for the ages.
14. Survivor Series 2005 vs. Ric Flair (Last Man Standing)
"Babe Ruth just hit one last home run."
Not many people expected such a classic when they saw this match on paper.
The drama of the old friends turned bitter enemies and the protege turning on his mentor combined with a top-notch performance by both men stole the show.
The action quickly turned gruesome when Triple H opened Flair's head with a screwdriver and the Nature Boy spent the rest of the night wearing his vintage crimson mask.
The crack of the kendo stick, some amazing Flair sell jobs, and Joey Styles screaming, "Oh my God!" throughout, took this to the next level.
13. Royal Rumble 2004 vs. Shawn Michaels (Last Man Standing)
"Shawn Michaels may have just kicked his way into the World's Heavyweight Championship."
Michaels and Triple H have had better matches together, as this one is slow in spots, but the hatred between them was entrancing.
Two titans slugged it out, until they were both bloodied, battered and neither one could stand.
Michaels played up the courage angle well. He and Flair are the absolute best at selling being barely able to stand.
Jim Ross added to the tension and emotional power of the match with especially emotive commentary.
The crowd booed the draw finish, but it was a fitting, poetic end.
12. Judgment Day 2002 vs. Chris Jericho (Hell in a Cell)
"A head jarring, spine tingling, brain scrambling DDT!"
Triple H and Chris Jericho's brutal confrontation is the most underrated Hell in a Cell match and is not spoken about nearly enough.
An unexpected hardcore side of Jericho came out that night.
Him standing on top of the cell beating Triple H with a barbed wire covered 2x4 is haunting.
Jericho's shoulder was bloodied the hard way and both men donned crimson masks by the end. Even the ref, Tim White, was a bloody mess.
The only thing that really holds this match back is how much it mirrored Triple H and Cactus Jack's Hell in a Cell tussle.
11. SummerSlam 2002 vs. Shawn Michaels (Street Fight)
"Does he have no conscience? Does he have no heart? Do you have no soul? You son of a bitch."
Fans were so excited about Shawn Michaels returning after his back surgery that they would probably have been satisfied with a subpar performance by his standards.
Who knew he'd hop back in the ring like he'd never left?
With matches like this, it's easy to understand why WWE overdid their rivalry. Michaels perfectly complemented Triple H's power with exciting agility and the former friend turned bitter enemy routine was compelling for a long time.
This built up HBK as a heroic, big-hearted competitor and Triple H as a dastardly heel.
A ladder, a bent trash can, leather belts and of course a sledgehammer all played their part.
Michaels splashed the Game through a table. Broken wood and wires curled around them, creating a lasting image of their human car wreck.
Jim Ross' tirade after the Triple H attack is one of the most poetic and intense pieces of commentary ever. The match is worth watching just to hear that.
10. Judgment Day 2000 vs. The Rock (Iron Man Match)
"We're surrounded by a pool of Triple H's blood."
There's an argument to be made that this epic was The Rock's finest match.
The pacing and storytelling were near perfect. Anticipation swelled as Triple H built a big lead.
The tension between Shawn Michaels (the guest referee) and Triple H added to the drama.
A planned spot or a happy accident, the Rock throwing the Game out of the ring into a cameraman was an unexpected, shocking moment.
The heartbreaking ending for the Rock could have been handled better, but still was plenty powerful.
9. Survivor Series 2002 Elimination Chamber
"By God, I don't believe it, I don't believe it!"
The first-ever Elimination Chamber Match was the highlight of the 2002 Survivor Series.
The recipe that WWE followed was first to construct a demonic metal structure and then to fill it with future Hall of Famers and then watch the sparks fly.
The match featured highlights aplenty: Kane throwing Jericho through the glass, Rob Van Dam's various daredevil stunts, Michaels being thrown into the glass, blood gushing from half of the guys' heads.
Poetically the match ended with Triple H facing off against his former (and future) partner, Shawn Michaels in a great one-on-one battle. Seeing Michaels win the title after his absence made the event that much more special.
8. No Way Out 2000 Cactus Jack (Hell in a Cell)
"Somehow, some way Cactus Jack is standing."
While Mick Foley has of course made a huge name for himself inside the Hell in a Cell, Triple H has been there time and time again, putting on big-time matches inside that structure.
Foley's career on the line, you expected him to do anything to win, and he did. In this barbaric and bloody fight, we saw barbed wire be sawed into a man's face, creative chair usage and Foley tearing his arm open as he destroyed one of the cell's walls.
The crowd appreciated everything these men put themselves through to tell their story. Fans screamed as Foley lit the barbed wire 2x4 on fire and chanted as he fell through the cell roof and indented the ring.
7. Fully Loaded 2000 vs. Chris Jericho (Last Man Standing)
"By God, count faster. Put them out of their misery."
You will certainly see more violent Last Man Standing matches, but few as excellently executed. What began with a grinding pace swelled and swelled like a symphony.
Chris Jericho was on the receiving end for most of the punishment, especially early on. Seeing Y2J persevere through all of Triple H's brutality made Jericho look like a valiant warrior.
The match featured one of the most painful looking abdominal stretches caught on film, convincing shots with TV monitors and Jericho clamping the Walls of Jericho on Stephanie.
6. New Year's Revolution 2005 Elimination Chamber
"The force, the strength, the power, the pin, the elimination."
Charged with uncertainty and brimming with intensity, this is clearly one of the best Elimination Chamber matches of all time.
The star power is immense even before you add Shawn Michaels as the special guest referee.
Jericho and Benoit start it off, tapping into their superb chemistry and long history. Benoit quickly becomes bloodied, Jericho is especially impressive.
There are no eliminations early, allowing all of the wrestlers to showcase their abilities. In the end, only the members of Evolution remained.
Triple H bleeding across the nose, cracks in old alliances widening, many fans would have loved to have seen this go on much longer.
5. Raw 2001 with Steve Austin vs. Chris Jericho and Chris Benoit
"By God, it's going to continue."
It's no surprise that the greatness of this match is overshadowed by the injury Triple H suffered during it.
The guts it took for Triple H to not only finish a match with a torn quad, but to take the Walls of Jericho, is unbelievable.
There have rarely been so passionate an audience and so supercharged a match.
It had all the classic tenets of a tag team match yet done by such powerhouses, everything felt novel and exhilarating.
As Jim Ross voice's faded, the momentum swinging back and forth, fans witnessed one of the finest tag teams matches in WWE history.
4. Royal Rumble 2000 vs. Cactus Jack (Street Fight)
"Cactus Jack is a human pincushion."
With these two men's names on the marquee, you'd expect nothing less than the shockingly brutal slugfest they produced.
Is it insanity or toughness that Mick Foley took such a beating just a year after the I Quit match with the Rock?
Foley as usual, took nasty bump after nasty bump. Triple H broke a chair over his back. Foley even had thumbtacks protruding from his face when it was all over.
Triple H took his fair share of pounding as well, most notably a piledriver on a table that didn't give at all.
Trips and Foley fought hard in a makeshift alley with barbed-wire bats and garbage cans, delivering another vicious match, the blood flowing, the crowd entranced.
3. WrestleMania 27 vs. Undertaker (No Holds Barred)
"What did we just see? What did we just see?"
The Undertaker's use of Johnny Cash for his entrance music added to an already Old West showdown feel.
With the streak on the line, two greats battled it out, delivering violent impact after violent impact.
Undertaker crashed through the Cole Mine plexiglas. Triple H gave the Phenom a spinebuster through the announce table.
Like Michaels' and Taker's WrestleMania wars, finishers failed to finish, making the wrestlers seem invincible, pushing the crowd into a frenzy.
Channeling Michael Myers of Halloween, the Undertaker continued to rise no matter how much punishment he endured, no matter how many chair shots he had cracked across his back.
Few words spoken in a wrestling ring as been as powerful as the Game screaming, "Stay down!"
At the end, with Triple H caught in the Hell's Gate, struggling like a man being dragged down into the ocean by a tentacled sea creature, the story they'd been telling climaxed with swollen drama.
2. WrestleMania 20 vs. Shawn Michaels vs. Chris Benoit
"Year after year, mile after mile, continent after continent, but Benoit never gave up."
Three of the greatest performers ever on the biggest stage in wrestling helped create one of the most emotional moments in WWE history.
Shawn Michaels and Triple H's great chemistry alone might have produced something special. Aided by Benoit's excellence, the match was taken to new heights.
Jim Ross lost his voice, screaming throughout this thrill ride. This earned its main-event status through escalating drama and some great spots like a double suplex through the table and Triple H grabbing Michaels' hands before he could tap out.
In the end, it was Benoit's moment and a raucous pro-Benoit crowd watched as he and Eddie Guerrero embraced, cried, victorious while confetti rained down on them.
That image will leave a lump in your throat regardless of how many times you've seen it.
1. No Way Out 2001 vs. Steve Austin (Three Stages of Hell)
"Austin's wearing the Game's ass out with a steel chair."
Every fall could stand on its own as a great match. Together, the standard wrestling match, Street Fight and steel cage sections of this match form a masterpiece.
With the crowd locked in, Triple H and Austin delivered intensity from the opening bell.
Both men came out of this looking incredibly tough, especially Austin who stayed in the figure four leglock to the point that where he came off as superhuman.
Several lasting images were born from this match; Triple H getting smacked in the face with a beer, Austin's blood splattered on the announce table, both wrestlers sliding on the sweat-slicked mats.
The rubble of their war around them, the drama thumping like a heartbeat, there was a fluttering energy in that arena as the cage was lowered. And few endings have been more fitting than Triple H simply collapsing on Stone Cold to gain the win.
Keep Reading