NBA Trade Deadline: Ideas for the Toronto Raptors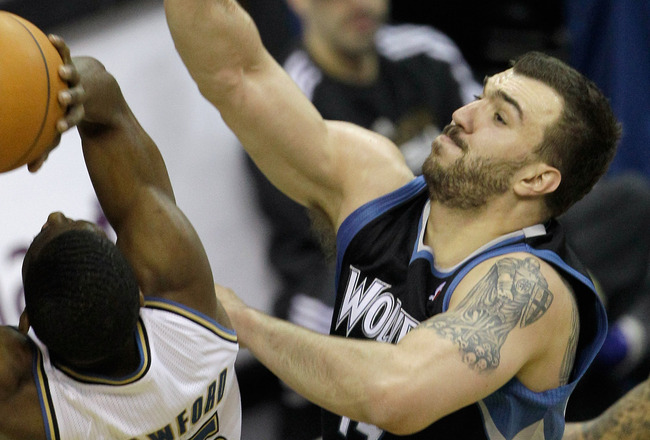 Rob Carr/Getty Images
It's a totally different trade market this season compared to what we had only a year ago. A number of players have stepped up their games, but the fatigue of a laborious 66-game season is already catching up to many veterans.
The Toronto Raptors have been surprisingly competitive this season, but injuries and inconsistent play has forced them out of the playoff picture. The problem is that if Toronto isn't going to make the playoffs, it's only common sense to want them to be as bad as possible so they could secure the highest pick possible.
As the roster currently stands, it'll be hard to compete with the Charlottes and Washingtons of the league, as Dwane Casey has too many skilled veterans to his disposal. Linas Kleiza, Jose Calderon and Leandro Barbosa would be ideal role players on a contender, but on the rebuilding Raptors, they aren't really needed right now.
Luckily for Toronto, shaking up the roster and losing a few games, while trying to build cohesiveness, will help them out in the long run.
There are a number of great fits out there for Toro—some of which have quietly broken out this season, while a few teams just aren't using the talent on their rosters.
Here we'll take a look at some trades for Toronto, which could help both sides involved.
Nikola Pekovic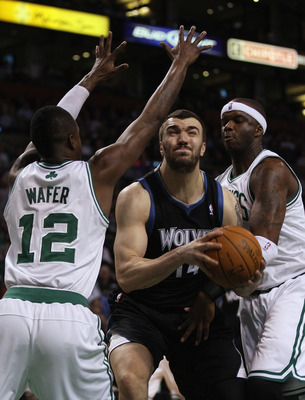 Elsa/Getty Images
Raptors receive: Nikola Pekovic, Brad Miller
T'Wolves receive: Leandro Barbosa, Soloman Alabi, Raptors' 2nd round pick (2012)
Summary:
The Toronto Raptors need a true center down low, and Nikola Pekovic is turning out to be this years Marcin Gortat—your average backup center that unexpectedly leaps into a starting role midway through his career.
Nikola Pekovic is having a career year thus far, sporting a PER of 21.6. Adjusting to 36 minutes of playing time, Pekovic is averaging 18.2 points, 10.4 rebounds, 2.3 steals and one block this season. He has kept out of foul trouble, and he is also second best in the league in field goal percentage making 63 percent of his shots.
The 26 year old Pekovic was only a rookie last season in the NBA, and last season could have just been an adjustment period for the European big man.
The Raptors don't really need Barbosa right now, and Bryan Colangelo isn't a big fan of second rounders either, this deal could be a major steal for Toronto.
The Minnesota T-Wolves have a similar player to Nikola Pekovic in Darko Milicic, and they are seriously lacking a starting caliber shooting guard .
This trade would land them the quick Leandro Barbosa who enjoyed his career years playing alongside Steve Nash, the All-Star Ricky Rubio is most commonly compared to.
The trade up front could be enough for Minnesota, but to sweeten the deal, the Raptors will also be absorbing the contract of the redundant Brad Miller and throwing in a second-round draft pick.
Overall this is a great trade for both sides and should be explored.
Devon Harris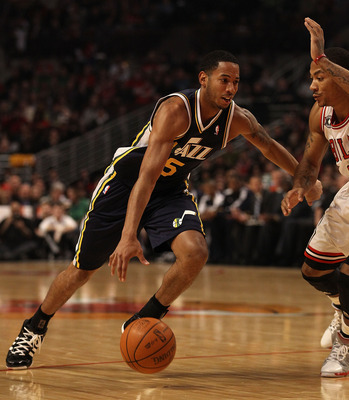 Jonathan Daniel/Getty Images
Raptors receive: Devon Harris, top-five protected 1st round pick (2012)
Jazz receive: Jose Calderon
Summary:
The Toronto Raptors ought to make make use of Jose Calderon's up year.
This trade will give them a struggling point guard in Devon Harris, but how many times have we seen struggling players excel in Raptors' uniform? This becomes especially true considering the Jazz are only a game behind the Blazers, as they try to secure a playoff seed.
Harris could enjoy a turn around in production similar to what we saw from Jerryd Bayless and James Johnson (both of which were bench warmers on playoff teams before being traded to Toronto).
In this trade, the real prize for Toronto will be the first-round draft pick the Jazz would forfeit. Sure the Jazz will probably miss the lottery, but no pick should be overlooked in a talented draft class like next years.
The Utah Jazz will replace the slumping Devon Harris with Jose Calderon, one the NBA's premier distributors. Calderon is averaging nine assists despite playing on a very weak offensive squad. On the Jazz, Calderon will have many talented big men to find.
The Utah Jazz will want to keep their draft pick, but they will have a hard time making the playoffs in the stacked Western conference without upgrading their roster—Calderon is a perfect fit.
Overall both teams benefit from the trade; Toronto is given another building block, while Utah achieves relevance only a year after losing All-Star Deron Williams.
Matt Barnes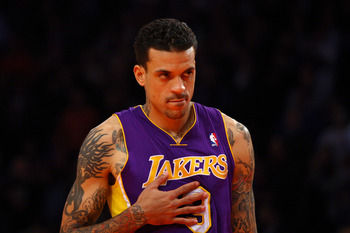 Chris Chambers/Getty Images
Raptors receive: Matt Barnes, 1st round pick (2012)
Lakers receive: Linas Kleiza
Summary:
Although Barnes' $1.9 million salary and Kleiza's $4.6 million salary can not be traded for each other alone due to CBA salary-matching rules, the Lakers can use some of the $8.9 million Lamar Odom trade exception to make this work.
The Toronto Raptors showed interest in Matt Barnes last summer, but he opted to sign with the Lakers for a fraction of what Toronto offered him instead. This trade will give Toronto a decent role player, while also landing them a first-round draft pick.
The draft pick could turn out to be a pleasant surprise for Toronto as the aging Lakers squad has struggled at times this season and is currently only the fifth best team out West.
The Raptors also have more flexibility after moving Kleiza's $4.65 million contract.
The Lakers will receive a huge boost with Kleiza starting for them, as Ron Artest has struggled to produce all season.
Coming back from injury, Kleiza has averaged 10 points and four rebounds in only 21 minutes of play. Adjusted to 36 minutes of play, Kleiza has averaged 18 points and seven rebounds.
The Lakers could find themselves playing basketball in June with a trade like this going through.
Overall the trade is a good deal for both sides, but favors the Lakers the most. What hurts about trading Kleiza is that Toronto is currently in need of a starting small forward, yet Kleiza just doesn't look like the right fit for them. It would be heart breaking to see the Raptors give up Kleiza and watch him break out on another team.
Keep Reading

Toronto Raptors: Like this team?